The S&P 500 gave up 2.43% yesterday to close under the 9 day MA (red line). As I'm writing, the index is a full 38 points off its record high, made just last week. What was the floor could now become the ceiling as I see the 9 day MA as the major pivot point.
On the downside, the next hurdle is the 50 day MA (dark blue line), now about 25 points under current trade. I think it'll give way, and I'm speculating that in the coming weeks we see a 38.2% Fibonacci retracement that drags June futures fully down to 1490.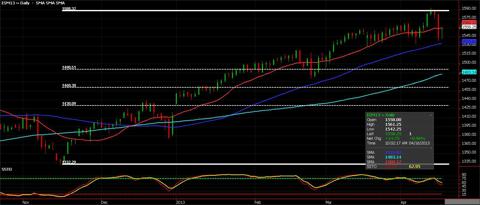 Click to enlarge
I throw a flag in the air for investors who are carrying sizable profits in stock portfolios. It's remarkable, really, after a first quarter that pushed the S&P 500 about 8.5% higher. Most investors would be content making that yield in a full calendar year!
Of course, even as we thirst for returns… I've learned that figuring out how to keep hard-earned money is just as important as making it in the first place. I've suggested before (read my April 4th piece on portfolio insurance), long stock portfolios should seriously consider hedging a meaningful portion of it with short exposure. If the correction does not happen, you simply spent 3-7% of your portfolio's assets on insurance and avoided any potential calamity.
I've also advised clients in recent weeks to gain outright bearish exposure via futures, along with selling calls and buying puts. There is no "one size fits all" strategy, but rest assured… you'll want some protection in the weeks ahead as the better days of this rally seem to be behind it.
Risk Disclaimer: The opinions contained herein are for general information only and not tailored to any specific investor's needs or investment goals. Any opinions expressed in this article are as of the date indicated. Trading futures, options, and Forex involves substantial risk of loss and is not suitable for all investors. Past performance is not necessarily indicative of future results.
Disclosure: I have no positions in any stocks mentioned, and no plans to initiate any positions within the next 72 hours. I wrote this article myself, and it expresses my own opinions. I am not receiving compensation for it. I have no business relationship with any company whose stock is mentioned in this article.