Suez Environmental (OTCPK:SZEVY) is a Paris-based water and wastewater company with a large global reach. Suez is one of the largest players in this highly fragmented industry. Within discussions of the water sector of utility investments, Suez's US-based United Water business unit eventually comes up which drives interest back to its parent. However, as the graphic below indicates, North America revenues, which represents United Water, is a small part of Suez: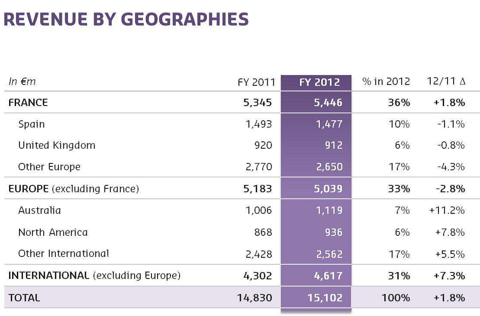 Below is an interesting graphic outlining Suez's international business in both water and wastewater segments: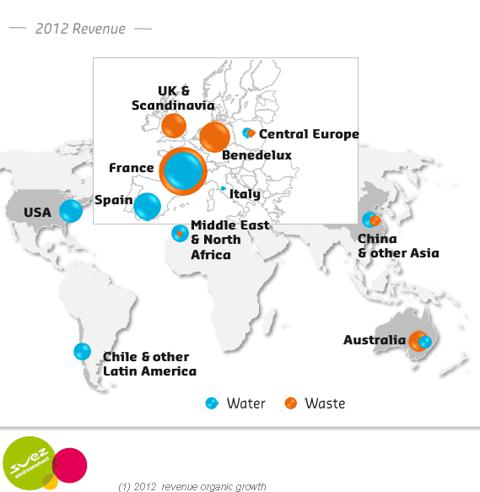 Because Suez is headquartered in France, financials are reported in Euros and converted to USD where indicated at a Euro 1.30 = USD $1. Total revenues for 2012 were USD $11.61 billion with about $720 million from United Water. Last year, France represented 36% of revenues and all of Europe totaled 69% of revenues.
Suez needs to be evaluated as a European water utility with a growing presence in international markets, both developed and developing. Investors will have to feel comfortable with the economics of European utilities prior to considering an investment in Suez.
Compared to US water utilities, Suez's share price could be considered a bargain. However, after looking under the hood, while the numbers seem cheap, margins have been declining. Revenues have increased from euro 13.9 billion in 2010 to Euro 15.1 billion in 2012. Although gross margins remained steady at around 76.9%, operating margins declined from 8.8% in 2010 to 6.9% in 2012. This has created operating income growth of just 1.7% annually over the past three years. Earnings per share have declined from Euro 1.15 ($0.88) in 2010 to Euro 0.45 ($0.34) last year.
The press release for year-end 2012 results is found here (pdf). The year-end presentation (91 pages) is found here (pdf). A recap of 2011 and 2012 financial performance is found here.
Going forward, three analysts offer 2013 estimates, and they are calling for a dramatic turnaround in fortunes at Suez. Earnings estimates per share range from Euro 1.10 to Euro 0.65 for this year and from Euro 1.10 to Euro 0.71 for 2014. This certainly is not a recipe for strong underlying earnings growth that will drive dividends and share prices higher.
Offsetting this lack of earnings growth, and most likely dividend growth as well, are favorable fundamental valuations. For example, Return on Capital Employed is a comfortable 6.9%, but share prices are trading at a trailing PE of 20.2 and an anticipated 2013 PE of 8.8. Free Cash Flow increased 57% in 2012 and amounted to just over $1 billion or about $2.00 a share. Below are comparisons with American Water Works (NYSE:AWK), Aqua America (NYSE:WTR), and American States Water (NYSE:AWR):
| | | | | |
| --- | --- | --- | --- | --- |
| | Suez | AWK | WTR | AWR |
| Price to Sales | 0.2 | 2.5 | 5.9 | 2.2 |
| Price to Book | 0.4 | 1.6 | 3.3 | 2.3 |
| 5-yr Revenue Growth | 4.60% | 5.40% | 4.70% | 9.10% |
| Current Yield | 7.50% | 2.40% | 2.10% | 2.50% |
| Share Price | $6.88 | $42.04 | $32.72 | $56.63 |
| Dividend per Share | $0.50 | $1.00 | $0.70 | $1.42 |
While the dividend is a juicy 7.5% yield, there are French dividend taxes withheld at a rate of 25%. This amount is offset as a credit as Foreign Taxes Paid when filing personal tax returns if held in a taxable account. However, there is no such offset or credit if the dividends are paid into a tax-advantaged account like an IRA.
Share prices of SZEVY have underperformed its peers. Below is a price only chart of AWK, WTR, AWR and the water ETF PowerShares Water Resources (NASDAQ:PHO). Even adding in a substantial dividend yield, 3-yr total share returns would still be a minimum negative -20%.
3-Yr Price Chart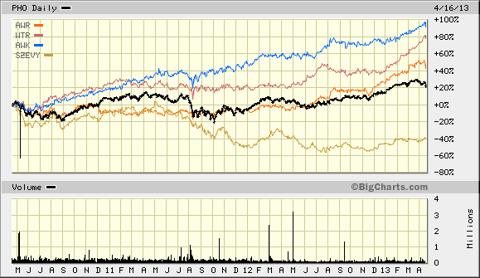 European investment firm Groupe Bruxells Lambert (OTCPK:GBLBF) owns about 7.6% of outstanding shares. However, last fall, GBL issued Euro 400 million ($307 million) of 3-year bonds that are exchangeable for substantially all of GBL's interest in Suez. More information is found here. The terms were very attractive for GBL as the exchange rate provides for a 20% to 27% premium over the market price on Sept. 7, 2012, when the bonds were issues and the interest paid is a negligible rate of 0.0% and 0.5% per year. Groupe Bruxells Lambert is controlled and managed by the Frere family, a group of well-heeled investment managers. If GBL is selling, albeit at a nice premium, investors may want to take notice.
While United Water and Suez Environmental may come up when researching the water utility sector, it may be best to pass, even if share valuations seem attractive compared to their overvalued peers.
Author's Note: Please review important disclaimer in author's profile.
Disclosure: I have no positions in any stocks mentioned, and no plans to initiate any positions within the next 72 hours. I wrote this article myself, and it expresses my own opinions. I am not receiving compensation for it (other than from Seeking Alpha). I have no business relationship with any company whose stock is mentioned in this article.