When Facebook (NASDAQ:FB) took a plunge following its IPO last May, many investors were furious, while others shook their heads and uttered four words: I told you so.
The much anticipated public offering of the social networking giant was less than spectacular as its stock dropped by over 10% during the second day of trading before bottoming out at nearly 50% of its original price. As investors began to sue, Facebook seemed defeated and was touted as an example of an over-hyped dot-com with little chance of ever living up to the lofty expectations.
Indeed, the business world scoffed at investors who had gone all in, only to face bitter disappointment. Now, almost a year later, Mark Zuckerburg looks to have the last laugh as Facebook sits poised for a jump that will do more than simply surpass its opening price of $38.
Revenue Fears
From the beginning, a major criticism of Facebook has been that its primary source of revenue is advertising, a source that is viewed as highly questionable by many due to its perceived uncertainty. This fear seems valid at first glance, as over 70% of Facebook's value can be attributed to advertising-related activity. However, when considering this large percentage, we should look at another large ad company - Google (NASDAQ:GOOG).
According to Trefis, just under 70% of Google's value comes from advertising dollars, a percentage strikingly similar to that of Facebook. Recently, we have seen Google's stock climb to heights never seen before as it topped $800 for the first time, bringing accolades from pleased investors. In actuality, Google and Facebook have similar business models - however, Facebook has not yet capitalized on its vast potential.
Zuckerburg himself said, "I look at Google and think they have a strong academic culture. Elegant solutions to complex problems."
Though the two technology firms are competitors, they agree on this: advertising revenue, though once considered uncertain and unreliable, has become a viable source of income on which successful companies can stake their business. Google has already done this successfully, and Facebook will not be far behind.
Back On Board
You may recall that just days before Facebook's IPO, General Motors (NYSE:GM) caused a stir when it pulled $10 million in advertising out of the popular social site. At the time, GM cited concerns that the ads simply did not work, and the money could be better utilized elsewhere.
However, the auto maker just announced that it will once again be running ads on Facebook using new advertising technology that the networking site has developed in the past 11 months. Why the sudden confidence? Facebook has taken huge steps to improve its advertising and become more competitive with Google in the global market.
Perhaps that is the best way to show Facebook's commitment to growth in this area is its investment in research and development. In 2012, Facebook spent over $1.2 billion on R&D, far surpassing expenditure in this area in previous years.
In fact, Facebook's relative R&D spending was greater than that of Google, Apple, and Microsoft.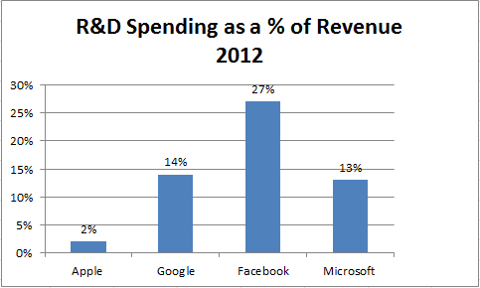 I have heard concerns that Facebook is placing too much emphasis on R&D spending, and that it should follow the formula of companies such as Apple (NASDAQ:AAPL). Apple has long been lauded for its remarkably low costs in R&D, but 2% is a record low. I would argue that neglect in this area has been an important factor in the recent decline in Apple's value, as its stock has slipped by 37% in the past seven months. The iPhone 5, for example, was harshly criticized for being merely an upgrade to its predecessor.
On the contrary, from Mr. Zuckerburg on down, Facebook has embraced the idea that technology developed now will be the key to a prosperous future.
New Horizons: The 'Facebook Phone'
As technology continues to evolve, the marketing needs of companies are continually fighting to keep up with the needs of consumers. Facebook continues to be cutting edge in this market as it prepares to release the 'Facebook Phone.' This phone will run on Google's Android technology and will feature an interface that will allow users greater connectivity to their accounts than ever before.
Facebook has also joined forces with another company, AT&T (NYSE:T), which will be the sole carrier of the new phone. AT&T was the original carrier of the ever popular iPhone, which bodes well for its marketing and distribution of this new mobile device. As AT&T looks to again successfully distribute a highly anticipated product, its past success indicates that the 'Facebook Phone' is in good hands. In its final quarter of 2012, AT&T sold a record 10 million smartphones and continues to lead competitors such as Verizon in smartphone penetration and average revenues per wireless contract subscriber. Moreover, in 2012 AT&T's data revenues grew just under 18% to a $27 billion annualized run rate, a promising number as the company gets ready to market the newest addition to its smartphone arsenal.
Facebook's commitment to mobile advertising is perhaps the strongest indicator of the company's future success. Of its one billion users, Facebook reports that over 600 million regularly access their Facebook accounts on mobile devices, a staggering figure that will only rise in coming years. Although Facebook currently runs ads on its various applications for iPhone and Android, the new interface will take advertising capabilities to new levels, and I've seen some forecasts predicting explosive growth in the firm's revenue over the next 10 years - an eternity in the tech world.
Bottom Line
Facebook is ready to move. The coming explosion in mobile advertising will propel the stock far past original predictions at the time of its IPO. The company's massive user base coupled with new advertising technology and the mobile marketing trend will be one of the most powerful combinations this market has ever seen. Furthermore, GM's renewed confidence in Facebook is a powerful indicator that top firms are ready to take advantage of what the social network has to offer. It seems that the R&D spending is already beginning to prove its worth.
Facebook's days as a disappointing investment are coming to an end, and I am sure Mr. Zuckerburg cannot wait to say it: I told you so.
Disclosure: I have no positions in any stocks mentioned, and no plans to initiate any positions within the next 72 hours. I wrote this article myself, and it expresses my own opinions. I am not receiving compensation for it (other than from Seeking Alpha). I have no business relationship with any company whose stock is mentioned in this article.
Additional disclosure: by Randall Holcombe