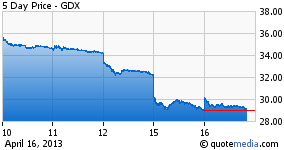 Gold miners have had a horrible run during the past two quarters. The most popular ETF in this space is the Market Vectors Gold Miners ETF (NYSEARCA:GDX), and it has dropped more than 46% since October 2012, while the SPDR Gold Shares (NYSEARCA:GLD) has shed 12.33% during this time.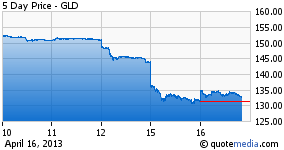 The closing bell on April 15th (2013) echoed as alarm bells among investors involved in the yellow metal, as spot gold suffered the largest single-day drop since 1983. The Dow lost 265 points and the S&P 500 dropped by 36 points or 2.30%, as news of a first quarter slowdown in China panicked investors towards the end of the session. Amidst this chaos, investors stuck with gold miner stocks are wondering what to do next.
Key Business Driven Challenges
Mining companies are facing challenges of rising production costs, reducing profit margins and decreasing cash flows.
Rising Production Costs

One of the biggest challenges that gold miners have faced is, well, producing gold. To be more specific, the cash costs as well as the all-in costs involved in producing new gold has been consistently rising in recent years. All-in costs of producing gold include all costs related to gold mining, that is: exploring, extracting, managing, financing, complying with government and environment related regulations as well as royalties, while cash costs are the costs related to the extraction only.

According to a recent Kitco report, U.S. Global Investors estimates that the average gold mining costs in 2013 would be as high as $1391 per ounce. One may argue that the estimates put forth by gold mining companies such as Barrick Gold and Goldcorp are not this high (their 2013 estimates are $1,000-$1,100 per ounce), their 2012 projections are still higher compared to 2012's reported numbers. Both companies reported fourth quarter all-in costs in the range of $910-$972, so the bottom line here is that the cost of producing gold will continue to increase next year.

Decreasing Profit Margins

Tuesday's significant drop in gold price will thus affect gold miners' profits. From a fifty thousand foot view, they cannot possibly improve their margins if the gold is selling at below $1,400 per ounce and their costs are rising towards the same levels.

Capital Budget Problems and Decreasing Cash Flows

Remember that gold miners in ecent times have spent significant amount of capital in mergers and acquisitions, which seemed plausible with rising gold prices. However, as the bullion price has started falling, investors fail to justify all that spending, and are getting increasingly doubtful about any growth promises these miners may want to make. The only promises that may sound promising at this point are capital budget adjustments resulting in heavy cost cutting and thus better cash flows, but that can affect the stock price only so much. Gold miners like Eldorado Gold Corp (NYSE:EGO) and Newmont Mining Corp had been in the business of pleasing shareholders by associating their dividends with the rising price of gold, probably assuming that gold prices will rise forever. Will these companies end up cutting their dividends now? How will they adjust their capital budgets to rising costs of producing gold?
Key Market Driven Challenges
Concerns Regarding Massive Liquidation

On April 4 2013, the legendary Hungarian-American tycoon George Soros had created a stir in the investment community when he said, "gold was destroyed as a safe haven" in his interview with South China Mining Post.

There is a fear of hedge fund liquidation fueling the bears in the gold trade as well: Known "gold-lover" Billionaire John Paulson lost more than $300 million in personal wealth due to the gold drop. Goldman Sachs Group Inc. (NYSE:GS) reduced its gold forecasts through 2014, and Deutsche Bank AG cut its gold outlook for 2013 by 12%.

Bearish investors feel that irrespective of whether the global economic growth speeds up or slows, gold prices will suffer. If growth accelerates in the U.S., quantitative easing will take away the support for gold prices, and on the contrary, if growth actually slows further, the resulting deflation would put pressure on the price of gold. In addition, a stronger U.S. dollar adversely affects gold prices.

Forced sales by European countries

On April 11 2013, Cyprus was forced to sell most of its gold reserves, and investors fear that such forced sales by Greece and Portugal could follow in the near future, to raise cash and help finance their bailouts.
And Yet…
Take a look at the following table that does a comparative analysis of major gold miners such as Barrick Gold Corp (NYSE:ABX), Goldcorp Inc. (NYSE:GG), Newmont Mining Corp (NYSE:NEM), Yamana Gold Inc (NYSE:AUY), Anglogold Ltd (NYSE:AU) and Randgold Resources Ltd (NASDAQ:GOLD).

Click to enlarge
Many of these gold miner stocks appear undervalued on a P/E and PEG basis. The First Call's 12-Month target estimates are considerably higher compared to current prices, indicating that not all is lost for these companies. In spite of a possible EPS cut in 2013 for these companies, and the fact that investors have started questioning gold's "safe haven" status, I think the sharp declines in both gold prices and gold miner stocks is a market overreaction which should stabilize eventually.
If the gold miners are able to successfully cut capital spending sharply and maybe even cut dividends to ease the pressure felt by rising production costs, chances are that the investors will respect the valuation offered by some of these stocks.
Conclusion
Gold miners are becoming more attractive from a contrarian viewpoint as well as based on their valuation as their stock prices are sliding. Although I am not buying any of these stocks now, I am adding these names to my summer shopping list of long-term investments. Happy investing, folks!
Disclosure: I have no positions in any stocks mentioned, and no plans to initiate any positions within the next 72 hours. I wrote this article myself, and it expresses my own opinions. I am not receiving compensation for it (other than from Seeking Alpha). I have no business relationship with any company whose stock is mentioned in this article.