EU Watchdogs Release "Risk Assessment"
At the moment, the euro area remains quite calm. Although risks have actually increased due to continued economic weakness in both the "core" and the "periphery" (for instance, the depression in Greece continues with full force, with unemployment hitting a new record high at over 27% recently), the markets are still pretending that everything is fine. All it apparently takes is "political will" and the mere threat that the ECB's printing press could swing into action.
Meanwhile, the EU's three "financial watchdogs" have published a report of where they think the biggest risks currently are. As a rule of thumb though, the watched pot rarely boils -- it is the things that are not receiving any attention that are most likely to go wrong. However, we would certainly agree that they do have a point regarding the banks.
"The three supervisory authorities, covering banking, insurance and markets, have been closely monitoring developments in the debt-laden country and expect the winding down of Laiki Bank and the restructuring of the Bank of Cyprus to lead to losses throughout the Cypriot financial sector, the authorities said in joint statement on Friday.

"The risks of direct international contagion seem to be limited," the authorities said, adding that market conditions and deposits in Cyprus have remained relatively stable.

It was the first time the three watchdogs have made public their joint review of financial sector vulnerabilities. The European Banking Authority (EBA), the European Securities and Markets Authority (ESMA) and the European Insurance and Occupational Pensions Authority (EIOPA), plan to publish future assessments twice a year.

"This cross-sectoral work provides EU policy-makers and regulators with an overall view of the risks they face and moves us away from a narrow sectoral approach, and the inherent risk of failing to see the big picture," said EIOPA head Gabriel Bernardino, who is the current chairman of the joint committee.

The watchdogs said near-term risks to the financial sector have abated since September 2012 but banks remain vulnerable to a sudden switch in market sentiment. Financial markets remain uncertain about how banks are valuing the assets on their balance sheets and disclosing the risks they face, the authorities said.

"This uncertainty affects both banking book and trading book assets, and ultimately the valuation of capital," they said. "Supervisors are strongly encouraged to monitor and review the quality of banks' assets and the practices of banks to measure the quality of their assets," the authorities said, adding that watchdogs should set "appropriate incentives" to correct distortions in valuation.

The authorities pointed out that international regulators were working on ways to redesign interest rate benchmarks, following misconduct at banks in the setting of the London Inter-Bank Offered Rate (Libor) and its European equivalent, Euribor.

[...]

The watchdogs also cited banks' increased reliance on and reuse of collateral as a potential concern because it was bolstering financial sector inter-connectedness and contagion risks, something regulators needed to monitor. The weak economy and low interest rates were also taking their toll, hurting profitability at banks and insurers and promoting a potentially unhealthy search for yield by institutional investors, the authorities said.

The watchdog's joint review of vulnerabilities feeds into the deliberations of the European Systemic Risk Board, which involves the European Central Bank and aims to avoid macro economic threats like those that caused the 2007-2009 financial crisis."
(emphasis added)
There can be little doubt that the banking system in Europe remains a powder keg. The same goes for the sovereign debtberg, which we note continues to grow, austerity or no austerity (in an upcoming article, we will come back to the vilification of tax havens and the ongoing attempts by the governments of Europe's highest tax nations to suppress tax competition in order to impose their rapaciousness all over the world).
The fact is that all this bellyaching about "increasing supervision" of banks and the contagion risks presented by the shadow banking sector's hypothecation practices is plainly ridiculous when it should be quite obvious what the problem really is. It won't matter how many new regulations are introduced and how many bureaucracies "keep an eye" on the banking system, as long as it is fractionally reserved and can create credit and money from thin air in almost unlimited quantities (Europe's 1% reserve requirement for overnight deposits is an absurdity). As soon as economic conditions stabilize, the next credit boom will invariably begin and no bureaucrats will be able to stop it from happening or avert its inevitable collapse down the road. In short, the root causes of the euro area's crisis remain misdiagnosed and hence there is no chance of "averting" future crises.
Meanwhile, the markets remain calm, reportedly in expectation of a flood of money flowing out from Japan now that Mr. Kuroda has promised to inflate it into the blue yonder and write a new chapter of history, entitled "Japan's road to the Land of Cockaigne via the printing press." To call all of this signs of a dysfunctional system is the understatement of the decade. As an aside, the yen's sharp decline may also have affected gold: for one thing, the yen is considered a "safe haven" currency (or at least has been considered one up until recently) and secondly, there is probably an irrational fear of Japan "exporting deflation" by dint of the prices of its export goods coming down. Of course falling prices and "deflation" are different things (the effect must not be confused with the cause), so this is actually a bit nonsensical -- but we have heard people make this argument.
A Few Charts - Inflation Expectations Decline Further
Below is a selection of our customary update of credit market charts: CDS on various sovereign debtors and banks, bond yields, euro basis swaps and a few other charts. Charts and price scales are color coded (readers should keep the different price scales in mind when assessing 4-in-1 charts). Where necessary we have provided a legend for the color coding below the charts. Prices are as of Monday's close. It remains a mystery why "safe haven" bonds retain such a strong bid, if it is actually true that the Fed and the BoJ are now printing us straight to economic Nirvana.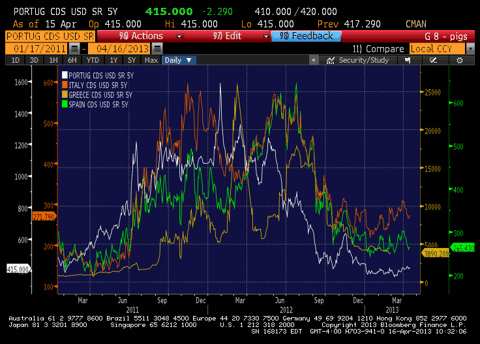 Click to enlarge
5 year CDS on Portugal, Italy, Greece and Spain -- for now, all is well.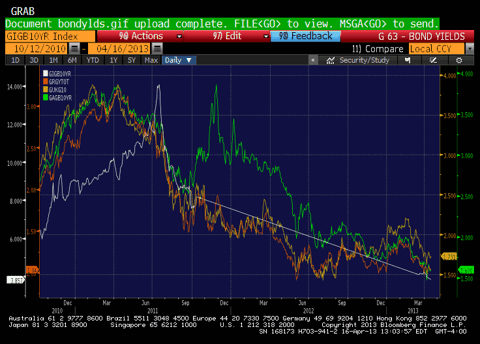 Click to enlarge
Austria's 10 year yield (green), UK gilts yield (yellow), Germany's 10 yr. Bund (orange) -- ignore the white line, Ireland's benchmark bond has been switched from a 9 year to a 10 year issue, hence the straight line on the chart (there are no data for the ten year in this time period). Safe haven bonds continue to enjoy strong demand. The question is: why, if all is well?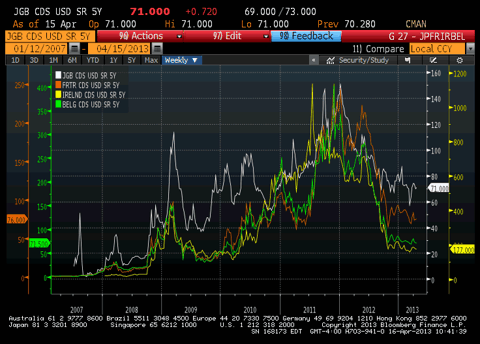 Click to enlarge
5 year CDS on France, Belgium, Ireland and Japan -- did we mention that all is well? Except for the fact that the spread between CDS on JGBs and the rest has begun to widen, that is…
5 year CDS on Latvia, Lithuania, Slovenia and Slovakia -- Slovenia remains decidedly "unwell."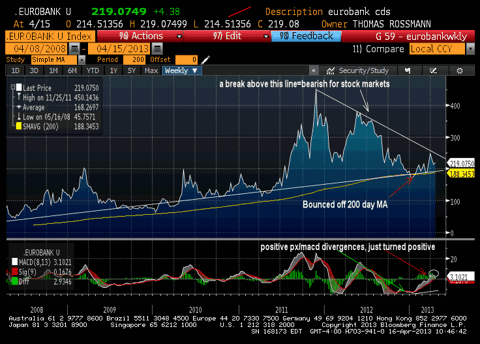 Click to enlarge
A long-term chart of our proprietary unweighted index of 5 year CDS on the senior debt of eight major European banks (BBVA, Banca Monte dei Paschi di Siena, Societe Generale, BNP Paribas, Deutsche Bank, UBS, Intesa Sanpaolo and Unicredito) -- there are a few warning signs in evidence in terms of the technical picture. Note the resistance line: if it is overcome, trouble will be back.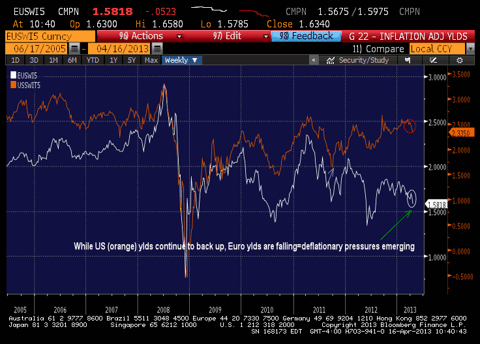 Click to enlarge
U.S. and euro-land inflation expectations -- in Europe, inflation expectations remain extraordinarily low and keep declining -- now it seems that U.S. inflation expectations are beginning to follow suit. This may be the real reason for the recent rout in gold.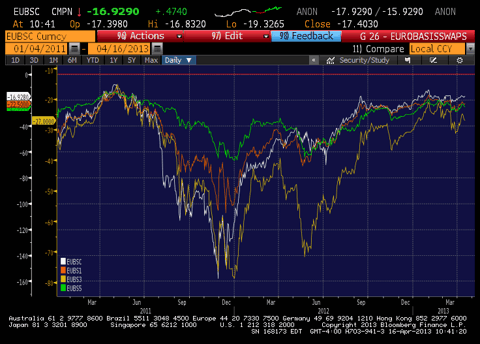 Click to enlarge
Three month, one year, three year and five year euro basis swaps -- all looks fine, except that a few divergences are emerging here as well. Compare them to the early 2011 period.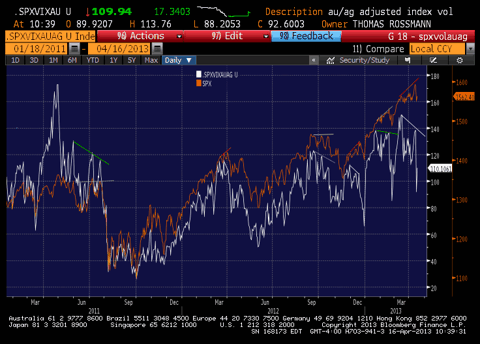 Click to enlarge
Finally, there continue to be growing divergences between the SPX and the gold-silver ratio adjusted VIX. This is usually a strong warning sign of impending trouble for stocks.
Charts by Bloomberg