So, you want a way to capitalize on the eventual legalization of marijuana without being a producer or distributor? The best solution to your problem is investing in Medical Marijuana, Inc. (MJNA.PK). So, you want to double your money in a day? Go to Las Vegas and put it all on black.
Overview
The recent fluctuations in stock prices in the marijuana sector as a whole are obviously attributable to speculators and day traders jumping on and off ship and then on and off again. Recently an article was released by Globe Newswire that commented on MJNA's record setting first quarter 2013 earnings. This record first quarter earnings was preceded by MJNA's fourth quarter 2012 record earnings. Obviously this is a growing company even in an environment where its major sources of revenue are currently restricted due to the legal environment of the United States. After the release of these different earnings reports, the stock price responded correctly by increasing which represented an increase in the perceived fundamental value of the stock. Soon after each of these reports were released, articles (article 1 and article 2) were written attacking the company for either having unaudited and false financials (which they were audited and were found to be accurate) and that the management of the company is somehow not up to par (management obviously is if audited financial growth is any indicator). The stock price dropped after these articles were written as speculators feared other speculator's fears and began selling. As a side note, I do not blame authors of articles for stock price fluctuations. They are merely expressing their opinions even though sometimes these opinions are unfounded. It is the speculators who are to blame for allowing their own opinions to be influenced by someone who may know very little of the company or investing in general. The appeal of the marijuana sector for all investors is obvious. They want to get in on the next big industry while it is still young and restricted which keeps the price down. Their hopes are to get in low and collect large dividends later on when marijuana is legalized and the companies make it.
Not For Speculators:
Hopefully by now you have realized that Medical Marijuana, Inc. is not Medbox, Inc (MDBX.PK). The stock price of Medbox, Inc. went from $6.00 a share on 12 Nov 2012 to $215.00 on 15 Nov 2012. This is a 3500% increase in share price in a matter of three days. I get it. If you would have bought shares of Medbox, Inc on 12 Nov and sold them on 15 Nov then you would be rolling in the money. But, chances are you did not do this. Chances are you heard about this price increase and bought it halfway through its way up or sold it short of its peak. So, you decided that you were not going to miss on the next marijuana mini-bubble. You read a few articles and decided MJNA is the next big thing that will see a huge stock price surge. Well, you are right about one thing, MJNA is going to be a big thing, but it is going to take time for that to happen so you will not see that insane speculative stock price increase that occurred with MDBX. In fact, people must still be hoping that MDBX will repeat its meteoric rise in price which is the only explanation for "investors" to still own the stock at such a high price even though its earnings have been terrible. If the President came out tomorrow and said "America, marijuana is now legal." Then is it would be a great idea to have been looking to make a quick buck on MJNA but that is not going to happen. The road to national legalization will be a long one so the only reason to invest in MJNA is if you are in for the long haul.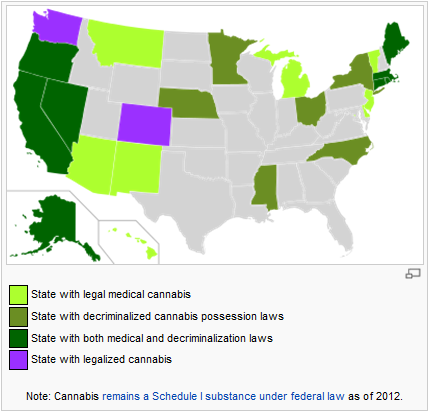 Image source: Wikipedia.
For Investors
The picture above is the best representation I could find on why you should be investing in Medical Marijuana, Inc. There are currently only two states (Washington and Colorado) with legalized cannabis. Cannabis is where MJNA makes its money. However, you can see from the picture that there are many other states with relaxed cannabis laws that will eventually follow in the footsteps of Washington and Colorado. While no one knows for sure, the buzz regarding the national legalization of marijuana is that it will happen before President Obama is out of office. Soon after this occurs the true profitability of MJNA and the marijuana sector will reveal itself. When this happens the fundamental value of the stock will be reflected in the price. The idea of investing in the stock now is to get in low which means future dividends could be double the price you actually purchased the share of stock for. However, there are risks involved in investing in an industry that is currently being held back. The future uncertainty of national laws does place this sector at the higher end of the spectrum regarding risk. So, if you do want to invest in this sector, why buy MJNA and not any other stock? The beauty of MJNA is that it is as diversified of a company in the marijuana sector as you can currently get. While other companies will give you exposure to the sector, they only give you exposure to a limited area of the sector. MJNA owns major positions in multiple companies from growing marijuana to selling it, and selling products that allow others to grow it. Without a doubt it is risky to invest in an individual stock, especially one that may take awhile to be allowed to realize its true potential. However, from my point of view, if you want to get into the marijuana sector without growing or distributing yourself, Medical Marijuana, Inc. offers you safest, easiest, and most diversified way to do it.
Conclusion
It is easy for authors to write articles about "shady" financial statements or poor management but the fact is Medical Marijuana, Inc. has had drastic earnings growth every quarter and this company is in a sector with restrictions that eventually be lifted. I could put a bunch of charts in this article showing past prices of different stocks in the sector but I am not writing this article for chartists and day traders. I am writing this for true, buy and hold, investors and the preceding reasons are why this is a stock for investors that are willing to ride out the speculative waves that have been synonymous with this sector.
Disclosure: I am long OTCPK:MJNA. I wrote this article myself, and it expresses my own opinions. I am not receiving compensation for it (other than from Seeking Alpha). I have no business relationship with any company whose stock is mentioned in this article.