Discussion Points for Insulet Corp. (NASDAQ:PODD):
Concerns
Revenue - Slowing growth, increasing DSOs, high bad debt allowance
Regulation and Competition - Negative revenue growth impact from lower Medicare reimbursement rates and increased competition
Liquidity - high bad debt, negative operating cash flows
Valuation
Shares in line with peers based on price/sales ratio
Analysis Summary
We are concerned PODD's stock might be overvalued given slowing revenue growth and competitive pressures. Revenue growth has dropped for four consecutive quarters, DSOs have increased two quarters in a row and Medicare payments are falling, indicating potential revenue growth and gross margin pressure. The company has never been profitable, and without a significant increase in sales volume and lower cost per unit, profitability remains elusive.
High allowance for doubtful accounts indicates risk of inflated provisions which may result in lower future provisions and earnings boost.
PODD's high debt and operating cash outflows may affect its ability to grow its business and could result in shareholder dilution as the company relies on stock issuances to fund operations
PODD's shares trade in line with peers on a price-to-sales metric, and its shares are at a 52-week high. Given the revenue issues the company faces, we believe the share price could be pressured going forward.
Revenue - Concerns
Slowing Revenue Growth: We are concerned about PODD's declining revenue growth in light of regulatory and competitive pressures facing the company. Revenue growth of 39% in 2012 was due mainly to the acquisition of Neighborhood Diabetes in 2011, and was significantly lower than the 57% growth in 2011. The Neighborhood Diabetes business has performed below expectations in the latter part of 2012, and recorded just 4% Q4 2012 revenue growth. The CEO expects changes in Medicare to have a significant impact on the Neighborhood Diabetes business. Per the Q4 2012 Earnings Conference Call Transcript:
"On the top line, however, 2013 will be a challenging year for our Neighborhood Diabetes business. In late January, CMS announced results for the second round of competitive bidding for the distribution of certain diabetes products such as blood glucose test strips for Medicare customers. CMS has decreased the overall reimbursement rate for these products by an average of 72%, including a decrease in the reimbursement rate for blood glucose test strips for more than $33 per box of 50 strips to $10.41. The new rate is expected to become effective on July 1.
At this new reimbursement rate, it is likely the Neighborhood Diabetes will see (sic) selling these products to Medicare patients after the effective date. The potential impact of competitive bidding on the business is expected to be $10 million to $15 million in revenue in 2013, with the majority of the impact in the second half of the year."
Increasing DSOs: PODD's DSOs have increased for the last two quarters, indicating potentially weakened sales, extended credit terms, ineffective collections, or fictitious sales.
High bad debt allowance: PODD's bad debt allowance of 18% as of Dec. 31, 2012, appears high, and the company may be inflating its allowance to boost future earnings. If allowance is artificially high, the company can record lower allowances in the future, or reverse the existing allowance. Either way, its expenses would be lower and earnings higher. During the Q4 earnings conference call, the CFO expressed confidence the company would report positive operating earnings in Q4 2013. Lower future allowances could be the difference between a small profit and a loss, and ultimately a higher stock price.
Revenue - Background
PODD projects 2013 revenues of $240 to $255 million, for a growth rate between 14% and 21% over 2012 revenues. Revenues were $211 million for FY 2012, an increase of $59 million, or 39% from FY 2011.
Slowing Revenue Growth: PODD's revenue growth rate declined by about two-thirds each of the last two quarters. Chart 1 shows revenue growth for the past eight quarters.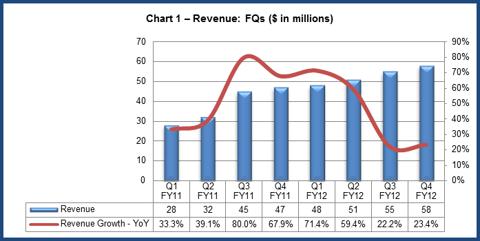 Sources: Prior 10-Qs and 2012 10-K
The high end of PODD's 2013 revenue guidance represents a significant decline from the 2012 growth rate. Management cites loss of reorders from some customers and the negative impact from the Neighborhood diabetes business. The CEO explained during the Q4 2012 Earnings Conference Call:
"Taking into consideration our forecast for increased OmniPod initial shipments, the potential of a loss reorder for some percentage of our customers and the impact to competitive bidding, we are setting our initial revenue guidance at 240 million to 255 million for 2013. We expect that the OmniPod business will continue to grow for the full year at approximately 30% at the midpoint of the range with the top end achievable if growth accelerates to higher levels."
Increasing DSOs: DSOs have trended up for the past two quarters. DSOs for Q4 2012 were 50 days, an increase of 11 days or 28% from Q4 2011. Chart 2 shows average DSOs and trade receivables for the past eight quarters.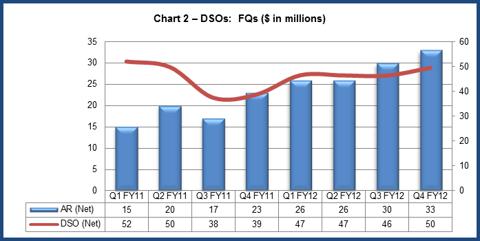 Sources: Prior 10-Qs, 2012 10-K, and Independent Calculations
High Bad Debt Allowance: Bad debt allowance decreased for the past two years, but at 18% of receivables, it is still high enough to warrant questions whether the company is building a "cookie-jar" for allowance, which it can then use to boost future earnings. Bad debt write-offs of $3.8 million and $1.6 million for the last two years were significantly lower than the allowance, reinforcing our concern that the allowance could be too high.
Chart 3 shows bad debt allowance as a percent of receivables for the last three years.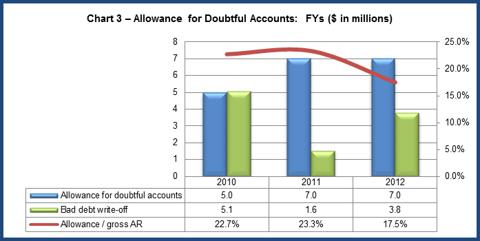 Sources: Prior 10-Qs, 2012 10-K, and Independent Calculations
Regulatory and Competitive Pressures: Medicare changes and competition are major reasons for PODD's lower projected revenue growth for 2013. The 72% reduction in Medicare reimbursement rate for medical equipment is expected to reduce revenues by $10 million to $15 million in 2013. The new payment schedule will be effective on July 1, 2013. PODD management is uncertain whether Neighborhood Diabetes will be contracted by the Centers for Medicare and Medicaid Services (CMS) to supply diabetes products going forward. CMS is expected to announce its contractors in spring 2013.
PODD's insulin management system, its main product, uses continuous subcutaneous insulin infusion ("CSII") therapy, and competes with products that rely on multiple daily injection ("MDI") therapy and conventional therapy. MDI and conventional systems are much cheaper than CSII therapy, and improvements in MDI therapy has made it more effective than in the past. Manufacturers of MDI therapy systems include Sanofi and Novo Nordisk, and manufacturers of conventional systems include Medtronic, Johnson & Johnson and Roche Diagnostics. These are all significantly larger and more deep-pocketed competitors that will aggressively defend their market share.
Liquidity - Concerns
Large Debt, Negative Operating Cash Flows: We are concerned PODD's increasing debt and negative operating cash flows could make it harder for the company to grow its business and may lead to share issuances and dilution of existing shareholders' ownership. Debt has increased significantly over the last few years, even as the company issued stock to raise cash. The funds have been used for acquisitions and for general operations.
Liquidity - Background
Large Debt, Negative Operating Cash Flows: PODD's debt of $118 million at Dec. 31, 2012, is 8% higher than at Dec. 31, 2011, and 71% higher than at Dec. 31, 2010. The debt-to-equity ratio almost tripled over the last three years as the debt ballooned and equity eroded due to accumulated losses. Operating cash flows have been negative for the past several years, and were $40 million in 2012. Cash decreased significantly over the three years. PODD has undergone several secondary share offerings, with the latest being 4.7 million shares in January 2013 for net proceeds of $92.8 million.
Chart 4 shows PODD's liquidity position for the last three years.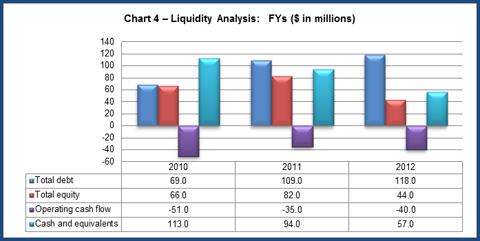 Sources: 2012 10-K
Valuation: PODD shares trade in line with peers on TTM price/sales ratio, and its shares are at a 52-week high. We believe the shares may be overvalued, given the headwinds to continued revenue growth. The short interest is 19%, signaling that some investors are already betting on a fall in the share price. We believe this fall may be imminent.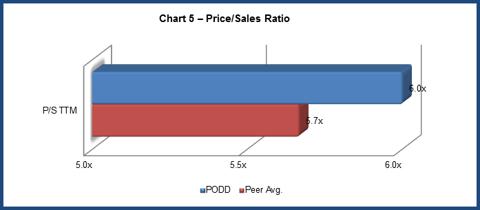 Sources: Stock market data, company filings
Peers used are: DexCom Inc. (NASDAQ:DXCM), Thoratec Corp. (NASDAQ:THOR) and Teleflex Inc. (NYSE:TFX)
Additional Key Information
Industry: Healthcare Equipment
Last Reporting Period: Q4 FY12
FYE: Dec. 31
Auditor: EY
Market Cap (millions):$1,394
P/E (NYSE:TTM): NM
EPS: ($1.08)
TTM Financial Metrics - Dec. 31, 2012 (millions)
Revenue: $211.4
Operating Income: (36)
Net Income: (51.9)
Operating Cash Flows: (29.1)
Total Assets: 198.1
Total Debt: 118.2
Total Equity: 44.2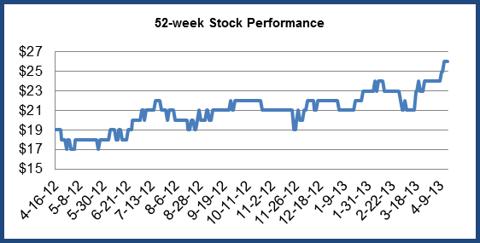 Close: $26.25
52-Week High: $26.87
52-Week Low: $16.85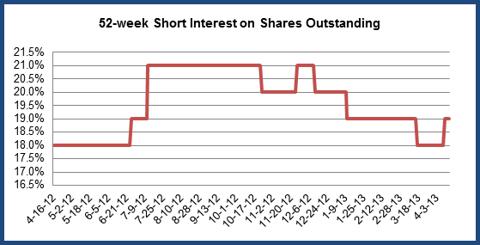 Close: 19%
Disclosure: I have no positions in any stocks mentioned, and no plans to initiate any positions within the next 72 hours. I wrote this article myself, and it expresses my own opinions. I am not receiving compensation for it (other than from Seeking Alpha). I have no business relationship with any company whose stock is mentioned in this article.