Market Recap:
The market rebounded after Monday's losses on the back of better-than-expected data from Housing Starts, Goldman Sachs (NYSE:GS)/Johnson & Johnson (NYSE:JNJ)/Coca-Cola (NYSE:KO) earnings, and Industrial Production. Housing Starts for March came in at an annualized rate that broke over 1M to 1.04M. Expectations were for a reading to come in at 945K. Industrial Production for March came in at 0.4% versus 0.3% expectations. Both data points were definite positives for a market that needed some positives for March. Additionally, CPI came in at -0.2%, meaning consumer prices dropped in March. Continued signs of no inflation are very helpful to Fed policy continuing, so that is a win for the market as well. Earnings season is under way, and we got EPS beats from GS, JNJ, and KO all. GS beat EPS on the back of solid investment revenue, but the company was fairly cautious about moving forward. JNJ had a solid report, beating expectations. The company also noted healthcare utilization was stable, which was a positive. KO shares were up as the company is also planning a restructuring deal for bottlers that will be bullish (will be discussed further below).
The Dow Jones (NYSEARCA:DIA) rose 158 points, while the S&P 500 (NYSEARCA:SPY) rose 23 points.
Stocks To Trade:
Today, we are looking at bullish positions in Coca-Cola and Dollar General (NYSE:DG), and a bearish position in UPS (NYSE:UPS).
Coca-Cola looks very solid after today's earnings. The company beat expectations by a penny at 0.46 vs. 0.45, but what was probably much more exciting was KO noted margins would grow this year and solid results in some key markets. The company saw volume growth of 3% in Coca-Cola Americas, 3% growth in Germany, flat growth in Europe (a win considering the issues there), and 15% growth in Eurasia and Africa. Investors were worrying about bellwether stocks after companies like FedEx (NYSE:FDX) and Caterpillar (NYSE:CAT) had weak reports in March. While the business looks solid, KO has even further upside at this time due to margin expansion and a deal it struck with bottlers that is quite appealing.
Here is how the deal works, from Moody's:
Moody's Investors Service said today that the announcement by the Coca-Cola Company ("Coke") of the intent to explore refranchising of some of its bottling territories to 5 domestic bottlers is a long term positive for Coca-Cola Bottling Co. Consolidated ("CCBCC"), (Baa2, stable). Under the letter of intent, CCBCC would be granted additional distribution rights in parts of Tennessee and Kentucky, which are territories that are contiguous to its current franchise territories. The proposed transaction would be accomplished through a sub bottling arrangement whereby CCBCC would make ongoing payments to Coke for exclusive distribution rights in the territories including the transfer of rights to distribute brands not owned by Coke. Under the arrangement, CCBCC would acquire certain distribution assets and working capital relating to the expanded territory but would not acquire any production assets. The proposed transaction is expected to be finalized by the end of 2013, with closing likely to occur in late 2014.
The move is very positive for Coca-Cola, as enfranchising has been proven to bring about higher margins as the cost of doing business is passed onto the franchisee while the company reaps benefits. While overall revenue may drop slightly, the company's margins will be able to improve through this deal. We see this as a great positive, and it did improve gross margins and operating margins at a better rate than expected. Expanding margins, earnings growth, and volume growth is all what we want to see with KO. We believe it has a lot of potential still this year as Europe continues to bottom its way out, Africa expands, and China's lower and middle classes expand. We like adding KO long with a bull put spread for 40/38 for Jun2013 expiration, offering 11%.
Trade: KO, Long / KO, Jun2013 40/38 Bull Put Spread
Entry: Now / 0.20 (worth 11%)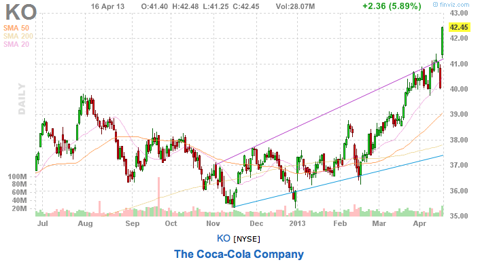 Another stock we like right now is Dollar General. DG looks very solid to us due to its ability to perform well in weak market conditions, a solid recent earnings report, and good value. When looking for stocks that can perform in market weakness, we tend to want to look for low beta names. Stocks with low beta mean that they do no move with the market, generally. Their moves tend to be at a much lower percent of the market's move. DG has a beta of 0.12. With a beta of that level, the company will not be influenced by the market. Additionally, we like to see companies that can maintain consistent earnings in weak market conditions. In 2009, when most companies dropped the ball as unemployment skyrocketed, DG soared. The company saw over 10% growth in revenue. At the same time, DG has made tremendous moves since the recession to remain strong. We recently wrote about the company and reiterated our Buy rating for 2013 here.
In the article, one of the main arguments we make is that DG is making some great moves to appeal as a discount store that can have inelastic demand, while at the same time pursuing new ventures that will improve the business:
The plan is to drive sales growth by increasing shopper frequency and transaction amount. They want to do this by improving merchandise in-stock levels, testing larger store formats (including adding perishable foods), and by offering tobacco products this year. The company also plans on increasing gross profits by expanding private label selection, increasing foreign sourcing, and maximizing transportation and distribution efficiencies. Another item that will improve margins will be new efforts in improving the pricing model for markdowns.
Another reason to really like DG is that it has had a lot of recent strength that we like. The company beat earnings in the latest quarter as margins improved. Sales missed expectations, but we believe the company is well positioned. As it is moving towards expanding private label offerings, the company can increase margins, and we believe that DG has a want to develop into a more discounted version of CVS/Walgreens moving forward. With a future PE at 13 and price/sales at 1.0, the company has great value along with its potential upside. We like the DG May18 47/45 Bull Put Spread for a potential 18% gain.
Trade: DG, May18, 47/45 Bull Put Spread
Buy Point: 0.30
One stock we are not a fan of right now is UPS. We believe the stock could decline into earnings, and worry about the company's upcoming earnings report. The reason we worry is what we saw from FedEx in its latest quarter. FDX reported a miss in earnings while hitting its revenue estimate. The report showed that the multinationals are struggling due to currency issues, weakness in Europe, and customers selecting cheaper, lower margin options for freight. Here is a quote from FDX's president:
The third quarter was very challenging due to continued weakness in international air freight markets, pressure on yields due to industry overcapacity and customers selecting less expensive and slower transit services," said company founder & CEO Fred Smith in the press release. Smith went on to say the company would decrease capacity to Asia and ramp up cost reduction efforts.
Some suppose that the miss was more to do with the fact that there are movements in corporate clients to other offerings... UPS. We are less interested in this theory since revenue was strong, and the company just made less on each order. That type of situation is something that we believe will also affect UPS since the businesses, while different in some ways, are very similar in many ways. Further, we worry about currency problems for companies that do so much business overseas with the strength of the dollar in comparison to the yen and euro. KO did not see as much pain from this issue as we had expected, so we believe the jury is still out on the multinationals. This is not a recommendation to short UPS or even sell shares. Rather, we believe investors should be concerned and potentially position themselves in some type of hedge.
We like selling a bear call spread to take advantage of any potential weakness. The level we like is the 87.50/90 bear call spread for Jul2013, which is offering 17%.
Trade: UPS, Jul2013, 87.50/90 Bear Call Spread
Buy Point: 0.35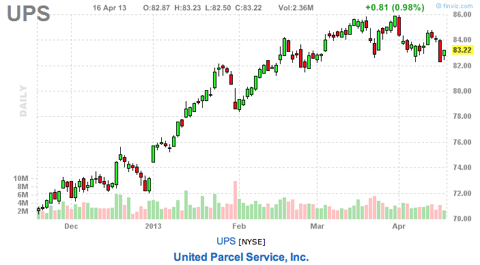 Market Outlook:
The market went way down and bounced back pretty well today. This is a market that has gone so much to the upside that it will need good news to continue. Bad news can bring volatile moments, and it's therefore a tough market to be involved in at this time. For tomorrow, the market will likely be reacting mostly to earnings and the Fed Beige Book. Any interest in the Fed has been GOOD news for the market, yet earnings tomorrow morning from several big names will definitely set the stage. The reports to watch are Abbott Labs (NYSE:ABT), Bank of America (NYSE:BAC), Mattel (NASDAQ:MAT), and PNC (NYSE:PNC). ABT and BAC will really set the stage. Financials seem to be all the same with low revenue growth, but earnings expansion and solid trading results. ABT will be key to see how the company is doing post-split. Look for a potentially calmer day with less news before a jam-packed Thursday.
Charts courtesy of finviz.com
Disclosure: I have no positions in any stocks mentioned, and no plans to initiate any positions within the next 72 hours.
Business relationship disclosure: The Oxen Group is a team of analysts. This article was written by David Ristau, one of our writers. We did not receive compensation for this article (other than from Seeking Alpha), and we have no business relationship with any company whose stock is mentioned in this article.