Low volatility stocks and above average yield stocks have each been outperforming the S&P 500 over the past year. Let's do a filter to see which stocks might make good low volatility/above average yield picks.
Figure 1 is a 1-year chart showing that outperformance.
The S&P 500 (NYSEARCA:SPY) is plotted by percent performance in the upper panel.

The S&P 500 Low Volatility index (NYSEARCA:SPLV) is plotted by percent performance in the middle panel.

The percent performance of the S&P High Yield Dividend Aristocrats index (NYSEARCA:SDY), Dow Jones Select Dividend index (NYSEARCA:DVY) and the FTSE High Dividend Yield index (NYSEARCA:VYM) are plotted in the lower panel.
Figure 1: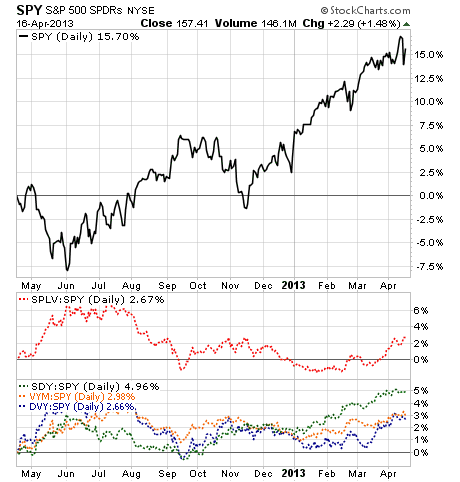 You can see that low volatility has outperformed the S&P 500 by more than 2.5%. Above average dividends have outperformed the S&P 500 in the neighborhood of 2.5% to 5%.
Both styles underperformed slightly when the S&P 500 was rising strongly, but most of the time have been ahead.
It might be reasonable to assume that low volatility and yield would do even better combined. On the assumption that may be true, and knowing that many investors desire both low volatility and above average yield, we did this filter to look for candidates:
1-yr standard deviation below median*
3-yr standard deviation below median
5-yr standard deviation below median
10-yr standard deviation below median
yield above median
5-yr dividend growth rate above median
1-yr growth rate of indicated yield above median
* where "median" refers to all listed stocks
There are 169 companies that pass through this filter.
Another method, of course, would be to look for those stocks held by both a low volatility fund and a dividend focused fund. We will do that in another article, but this method is not limited to the constituents or specific methodology of any particular fund. We made our own methodology here.
The full spreadsheet of the information on the 169 stocks that pass the filter criteria above looks like Figure 2, and is available at this link to those who join our opt-in email list to receive occasional commentaries.
Figure 2:

Of those 169 companies 5 are top ranked when we add the requirement that they be rated for technical condition as Bullish by S&P, and as Bullish or better by Thomson/Reuters StarMine for year ahead total return performance.
Those 5 companies are:
(NYSE:CVX) Chevron
(RUK) Reed Elsevier
(NYSE:GIS) General Mills
(NYSE:RCI) Rogers Communications
(NASDAQ:SAFT) Safety Insurance Group.
We currently own three of those 5 (CVX, GIS, and RCI) and do not prefer to own the other 2.
Do keep in mind that there are surely some clunkers in that list of 169 stocks. You will want to evaluate the stocks beyond just this filter.
Figure 3 shows how the prices of those 5 stocks have performed year-to-date (including the strong down market on April 15) in terms of price.
Figure 3: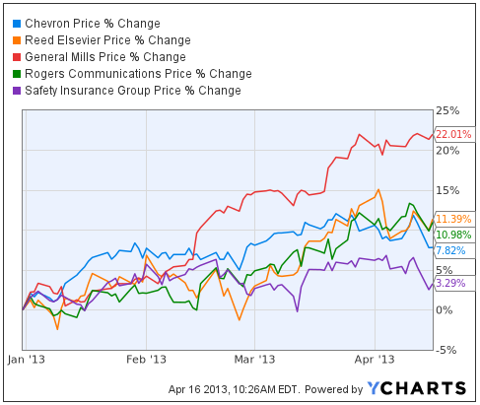 Figure 4 shows the pattern of dividend payments by each company for the past 5 years.
Figure 4: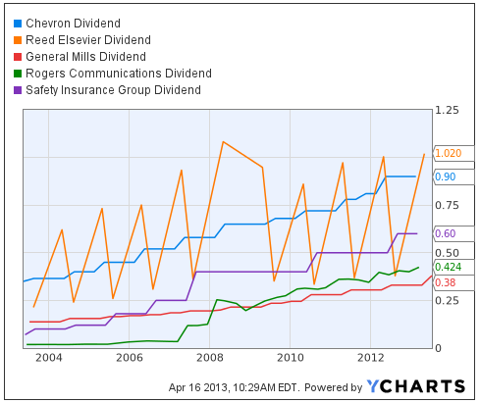 Figure 5,6,7, 8 & 9 below are charts of the price, earning and dividends for the past 5 years for the 5 stocks.
Figures 5-9: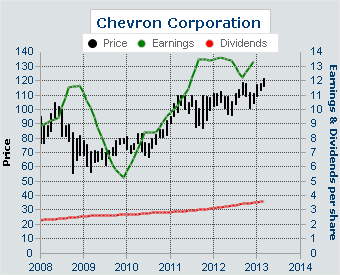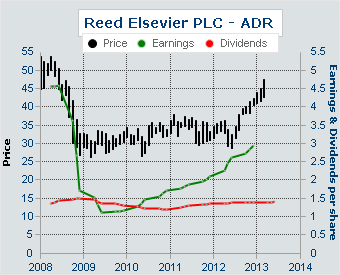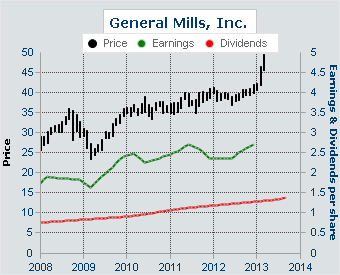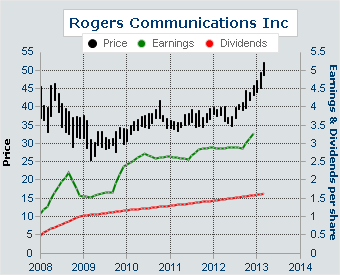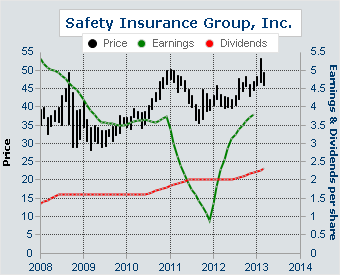 Of course, you could save yourself a lot of effort by simply purchasing a low volatility index and a dividend index. You would incur expenses, but you also get good diversification and periodic reconstitution. However, with individual stocks you may be able to pick a strong set of stocks from within the larger universe the indexes include to achieve higher performance.
Use of individual stocks may result in higher volatility than a more diverse portfolio, and you would be subject to more "issue specific" risk (judgment risk in picking them, or deciding when to buy or sell, and just things that might come up as adverse surprises within the companies).
In the end, the amount of time and effort you wish to spend may be the deciding factor on which way you decide to go.
Disclosure: QVM has positions in CVX, GIS, RCI as of the creation date of this article (April 16, 2013). We certify that except as cited herein, this is our work product. We received no compensation or other inducement from any party to produce this article, but are compensated retroactively by Seeking Alpha based on readership of this specific article.
General Disclaimer: This article provides opinions and information, but does not contain recommendations or personal investment advice to any specific person for any particular purpose. Do your own research or obtain suitable personal advice. You are responsible for your own investment decisions. This article is presented subject to our full disclaimer found on the QVM site available here.