The U.S. core Consumer Price Index (CPI) increased 0.1% month-over-month in March as reported inflation continues to be mild. Housing is one industry that is no longer sticking to the script of no inflation. I last wrote about supply/demand imbalances in late February in "Supply/Demand Imbalances Continue Building In The Housing Market" and provided some data points demonstrating how price/cost pressures could be growing in the housing industry. I also showed how it is typical for the supply of homes to fall precipitously after a recession, likely causing the first sparks of price recovery as reviving demand begins chasing the reduced supply.
The National Association of Home Builders (NAHB) reported its Housing Market Index (HMI) for April, and it provided yet another data point demonstrating that builders are facing supply constraints and increasing costs. From the report:
Facing increasing costs for building materials and rising concerns about the supply of developed lots and labor, builders registered less confidence in the market for newly built, single-family homes in April…

Many builders are expressing frustration over being unable to respond to the rising demand for new homes due to difficulties in obtaining construction credit, overly restrictive mortgage lending rules and construction costs that are increasing at a faster pace than appraised values…

Supply chains for building materials, developed lots and skilled workers will take some time to re-establish themselves following the recession, and in the meantime builders are feeling squeezed by higher costs and limited availability issues…
Homebuilders have noted these pressures in their earnings calls, but have spoken in ways that do not raise alarms. Margin stories came in relatively strong and outlooks seemed promising. Thus, so far, it seems these pressures are manageable. I will continue to keep an eye on margins going forward as this part of the earnings report may reveal the early signs of problems if they arise.
The chart below shows the HMI since 2004. While HMI remains below 50 - in the pessimistic zone - it is greatly improved since the depths of the recession. HMI was in freefall for three years ahead of the financial crisis. On the flip side, HMI has increased sharply since the summer of 2011, providing another early indicator. Now, the index has stalled this year, presumably due to the supply and cost concerns cited in the HMI survey.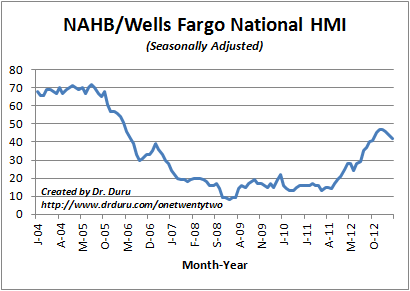 NAHB/Wells Fargo Housing Market Index (HMI) - Jan, 2004 to April, 2013
Source: NAHB/Wells Fargo Housing Market Index (HMI)
Be careful out there!
Disclosure: I have no positions in any stocks mentioned, and no plans to initiate any positions within the next 72 hours. I wrote this article myself, and it expresses my own opinions. I am not receiving compensation for it (other than from Seeking Alpha). I have no business relationship with any company whose stock is mentioned in this article.