After the bell on Tuesday, chip giant Intel (NASDAQ:INTC) reported its fiscal first quarter results. The report overall was very mixed, with a couple of numbers that were truly dreadful. With Intel shares being flat over the past 6 months, this was certainly not the result that bulls were looking for. While the worst fears from Intel were not confirmed, Intel's first quarter results did little to say this company is primed for a turnaround just yet.
First Quarter Overall Results:
For the quarter, Intel reported revenues of $12.58 billion. This number missed analyst expectations for $12.61 billion, and was even further below the $12.7 million midpoint Intel guided to during its fourth quarter report. The revenue number represented a $326 million decline over the prior year period, a decline of 2.53%. Don't forget, analysts had already lowered their forecast going into this report, as they were looking for $12.92 billion when Intel reported Q4. Analysts lowered their expectations by $310 million, and Intel still missed.
On an earnings per share front, Intel came in at $0.40, which missed analyst expectations by a penny. Analysts had been expecting $0.39 going into Q4, but raised their expectations as time went on. This number still represents a huge drop, as Intel reported earnings per share of $0.53 in the year ago period. Intel's earnings per share were boosted by the company's buyback, which lowered the diluted share count (as used for EPS purposes) from 5.192 billion to 5.08 billion. If you really break down the numbers, Intel's buyback improved earnings per share by 87 hundredths of a penny ($0.0087).
Q1 Margin Analysis:
The following table shows Intel's Q1 margins over the past four fiscal first quarters. I will use these numbers to further analyze the quarter.

The first thing you'll notice is that gross margins plunged 787 basis points over the prior year period. While revenues were down 2.53% over last year's period, the cost of those revenues skyrocketed by 18.81%. Gross margin dollars fell by $1.2 billion, a decline of 14.51%. Additionally, the 56.17% gross margin number was well below the 58% that the company guided to. Gross margins were hurt by inventory write-offs and excess capacity charges for older CPUs.
The company did a bit better on the operating side. R&D expenses were up by $126 million, or 5.25%, while marketing, general, and administrative expenses declined by $26 million or 1.32%. Overall, these two expenses totaled $4.474 billion, which came in less than the $4.6 billion Intel guided to. Additionally, amortization expenses came in at $73 million, slightly under the $75 million provided in guidance. Overall, operating expenses rose by slightly more than two percent. Operating income plunged by nearly 33.9%, falling more than $1.29 billion. Operating margins plunged by 950 basis points.
Intel's equity losses accelerated from $19 million to $26 million, while interest and other items swung from a $23 million gain to a $50 million loss. While these numbers aren't tremendously impactful to a company that does nearly $13 billion in quarterly revenues, they certainly impact the bottom line.
Intel also greatly benefited from a lower tax rate. This quarter's tax rate came in at just 16.29%, well below the 28.21% in the prior year period. Had Intel's quarterly tax rate been the same as last year's period, Intel would have lost another 3 cents or so on the bottom line. Overall, net income plunged by 25.3% to $2.045 billion.
What happened to the buyback?
Part of the reason why Intel missed by a penny is due to the company's buyback. While Intel's buyback has significantly reduced the share count over the last few years, Intel did not buy back that much stock this quarter. During the first quarter, Intel spent $533 million to repurchase 25 million shares of stock. However, as you can see from the chart below, this was the lowest amount spent since the company aggressively started buying back stock in 2011.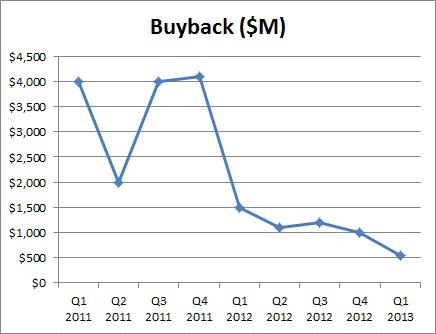 I can see that with net income falling almost $700 million year over year, Intel decided not to spend as much on buybacks. However, since Intel is forecasting a revenue and gross margin rebound later in the year, now would be the perfect time to buy back stock. If you are expecting a stock to rebound, you should be buying back shares when they are cheaper. This further helps earnings per share going forward, as you can reduce the share count quicker.
My key takeaway here is this. If I'm an Intel shareholder, I'm a bit disappointed. This company has been aggressively buying back stock for two years now, and they suddenly decided to cut back those purchases. If Intel has decided to slow down their buybacks, what signal are they sending? If you are looking at a company that isn't really buying back shares, why should you?
Guidance:
When it comes to guidance, Intel's forecast was mixed. The company guided to a revenue midpoint of $12.9 billion for Q2, which was slightly ahead of the $12.87 billion analysts were expecting. However, Intel has struggled to meet both analyst expectations and its own guidance in recent quarters. They guided to 58% gross margins for Q2, which would be decent improvement from Q1's 56.17%, but Intel guided to 58% in Q1 and missed badly. Intel also guided to R&D plus MGA spending of $4.7 billion, which would be a bit above Q1's spend.
For the full year forecast, Intel kept the same guidance for almost all categories. The company still expects revenue growth in the low single digits, and gross margins of 60%. The company also expects to spend $18.9 billion on R&D plus MGA expenses, $300 million in amortization expenses, a tax rate of 27% for the remaining quarters, and $6.8 billion in depreciation. The only difference is that Intel lowered its capital spending forecast by $1 billion to $12 billion for the year.
A couple of key takeaways here. First, Intel was criticized after the Q4 report for what seemed like too much capital spending. Taking down that guidance by $1 billion seems right, given how weak the industry is. My only worry is on gross margins. Intel guided to 58% for Q1 and heavily missed, and Q2 guidance was for just 58% as well. Since they maintained their 60% gross margin guidance for the year, that means they are projecting some serious improvement in the second half of the year. While on CNBC after the bell, CFO Stacy Smith said that they expect margins to improve quite a bit, to "normal levels" during the second half of the year. But given what seems like a weak first half, I wonder if this full year forecast will stay intact going forward. For now, it seems a little optimistic to me. I've called Intel a second half growth story, and for now, it appears that this will be the case.
A balance sheet update:
The table below shows some key balance sheet numbers for Intel. I've compared this quarter against the end of the prior two Q1's, as well as the end of year 2012 numbers. Dollar values in millions.

*Includes cash and cash equivalents, short-term investments, trading assets, marketable equity securities, and other long-term investments.
The changes in the balance sheet were mixed. When looking at the changes since Q4, the company saw no real changes in the cash pile or current ratio. Working capital declined a bit, as the company shifted some short-term assets to long-term, especially in the investment category. Debt declined slightly, as did the debt (liabilities to assets) ratio. Intel's balance sheet is in good shape.
Looking at the changes over the past year, you do see larger scale changes. Intel raised $6 billion during the year, which was expected to be used for buybacks. That didn't quite happen this quarter. Those funds increased the cash pile and working capital, but weakened the debt ratio. I'm not concerned with any of the changes at the moment, unless these numbers dramatically change going forward.
Your leader: Well, who exactly is that?
One item that Intel investors have been looking for is the new CEO announcement. Intel CEO Paul Otellini is leaving next month, and the company still has not named a successor. By now, the company hopefully has its names down to a short list, but time is running out. Intel has had just five CEOs in its 45 year history, and has always hired from within.
The three insiders to focus on this time around, per the article above, are Renee James, head of Intel's software business; Brian Krzanich, chief operating officer and head of worldwide manufacturing; and Stacy Smith, chief financial officer and director of corporate strategy. When the company announced that they would be looking for a new CEO late last year, all three names above received promotions to executive vice president.
My money has always been on CFO Stacy Smith, who is the guy you always see on CNBC. He's a very good guy with the media, and he's a numbers guy. Right now, with Intel's numbers struggling, I think a numbers guy would make sense. Many were hoping that a decision would have been made at either the Q4 or Q1 report. Neither has happened, which may add a little concern to some investors. Intel's time is running short, and the further this drags on, the higher the level of concern will be.
A rising short count:
The number of shares short in Intel has risen over the past year, as you can seen in the chart below. Over the past year, the number of shares short has gone from 89 million to 239 million. While that doesn't seem like much for a company with more than 5 billion shares outstanding, it's a sharp rise in short interest, when looking at the rise in percentage terms.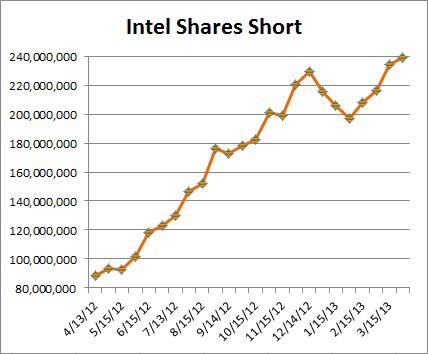 Intel's short interest at the end of March was at its highest point in a year, and I don't think that the Q1 report did much to chase away many of the shorts. We'll get the next round of short interest data in about a week, but that will only show data from a few days before the report. For those wanting to see how short interest was impacted by the earnings report, we'll have to wait a couple of weeks.
Conclusion - use Intel as your dividend leader:
Overall, Intel's report was a bit disappointing to me. The company missed on the revenue line, which wasn't a total shock. Intel has been having revenue troubles for a number of quarters now. The decline in gross margins was a bit worrisome in my opinion, although Intel is expecting a rebound later this year. One thing I really keyed on is that despite the much lower tax rate Intel had, the company still missed on an earnings per share front. Even though the penny miss seems small, Intel has beaten by at least two pennies over the past four quarters, despite all of the revenue troubles. Additionally, the huge reduction in the buyback was very surprising, and the fact that they haven't named a new CEO yet make be concerning to some.
The big question for investors now is what to do with Intel. Well, as you can see from the chart below, the stock has been flat over the past 6 months, and that's after Tuesday's rally. Right now, I think investors should be neutral when it comes to Intel. Currently, the stock is trading for about 11.5 times this year's expected earnings. While that seems like a value compared to the market trading at a valuation in the mid teens, Intel is a bit inflated when looking at other top tier techs. Microsoft (NASDAQ:MSFT) and Apple (NASDAQ:AAPL) trade for less than 9.75 times 2013 calendar year expected earnings, and Cisco Systems (NASDAQ:CSCO) trades for a little under 11, when looking at GAAP earnings.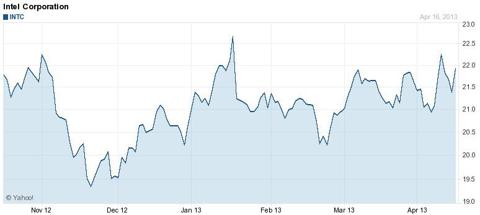 Click to enlarge
(Source: Yahoo! Finance)
While Intel's dividend is a bit higher at this point, the other names are providing a lot more growth currently. Overall, when it comes to Intel, I would encourage investors to use disappointment to their advantage. I wouldn't necessarily be buying Intel on the heels of this report, but would be a bit more interested if the name trades down to where the stock yields 4.25%, which currently would be $21.18.
Of all the big name tech companies, Intel leads in terms of dividend yield, with a 4.10% dividend yield as of Tuesday's close. That dividend was a bit higher when Intel was a few dollars lower, and I've always recommended this name as a good dividend investment. For now, Intel will remain your leader in large cap tech yields, and may still even if Apple significantly raises their dividend. If Intel can put together a good second half of 2013, you might look at some stock appreciation as well, but for now, Intel remains a yield play, not a growth one.
Disclosure: I have no positions in any stocks mentioned, and no plans to initiate any positions within the next 72 hours. I wrote this article myself, and it expresses my own opinions. I am not receiving compensation for it (other than from Seeking Alpha). I have no business relationship with any company whose stock is mentioned in this article.
Additional disclosure: Investors are always reminded that before making any investment, you should do your own proper due diligence on any name directly or indirectly mentioned in this article. Investors should also consider seeking advice from a broker or financial adviser before making any investment decisions. Any material in this article should be considered general information, and not relied on as a formal investment recommendation.