In terms of creating value for its shareholders, Altria (NYSE:MO) has to be near the top of the list. Unlike some of its other domestic tobacco peers, Altria does offer some diversification, due to its large stake in SABMiller and other alcohol related holdings. Altria currently offers a $0.44 per share quarterly dividend. At current prices, Altria yields slightly under 5%.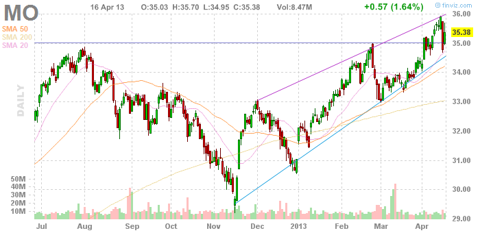 Click to enlarge
With its Marlboro brand of tobacco products, Altria is the leader in the domestic tobacco market. Marlboro's market share sits at a massive 42.6%. For comparison's sake, the next 10 largest brands combined market share is 40.2%. As of 2012, Altria's share of the $13.8B total tobacco profit pool has grown to 52%, up from 44% in 2007.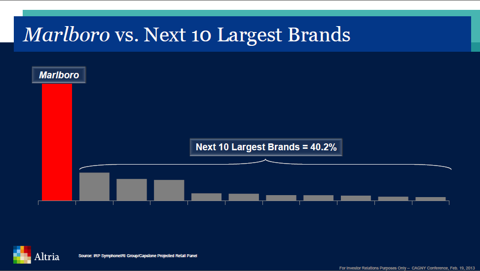 Click to enlarge
From 2008 to 2012, Altria has provided a total return (dividends plus share price appreciation) of over 84%. This crushes the broader S&P 500 index, which has only returned 8.6% in that same time frame. Meanwhile, the narrower S&P Food, Beverage and Tobacco index returned over 54%.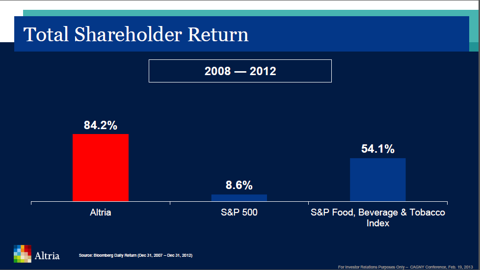 Click to enlarge
How has Altria been able to offer such total returns? The answer is quite simply dividends and share buybacks. From March 2008 to January 2013, Altria has returned $18B to its shareholders via $14.4B in dividends and $3.6B in share repurchases. During 2012, Altria repurchased over $1.1B in shares and increased its dividend 7.3%.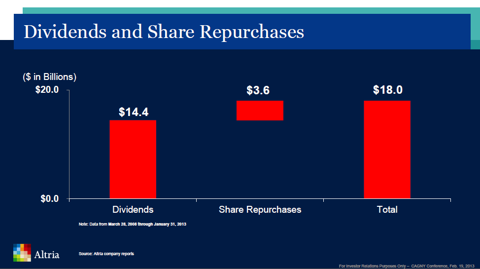 Click to enlarge
Altria's 2013 guidance is for its adjusted EPS to range from $2.35 to $2.41. This leads to an anticipated EPS growth rate of between 6% to 9%. From 2007 to 2012, Altria has been able to grow its EPS at a CAGR of nearly 8%, from $1.51 to $2.21.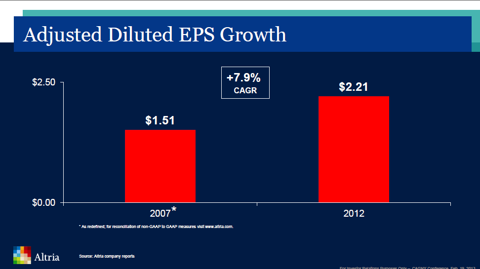 Click to enlarge
Altria's anticipated EPS growth rate is important to determine the level of its next dividend increase. Altria aims to increase its dividend in line with EPS growth. Since its 2008 spin-off of Philip Morris International (NYSE:PM), Altria's dividend increases have averaged a CAGR of 8.7%. Also during this timeframe, Altria has averaged a dividend payout ratio of 80%. Altria has a long history of dividend increases, and has increased its dividend 46 times in the past 44 years.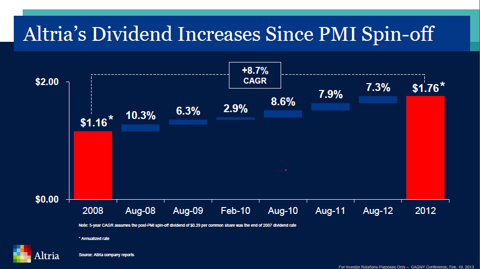 Click to enlarge
Please be aware that while Altria is an 800 lb gorilla in the domestic tobacco market, the total amount of US smokers and tobacco volumes have been steadily declining. Total tobacco volumes have declined at a CAGR -1.5% rate since 2009, while total tobacco consumers has been flat since 2006. In addition, a significant number of adults have switched from cigarettes to smokeless alternatives or use multiple forms of tobacco products. Since 2009, cigarette volumes have declined 3% to 4%, while smokeless products volumes have increased 5% to 6%.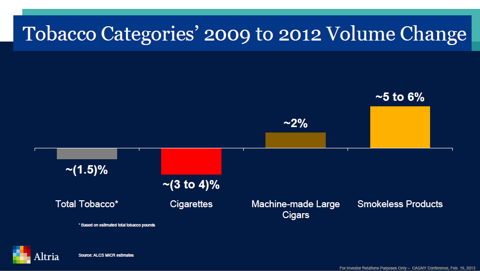 Click to enlarge
Conclusion
Altria typically increases its dividend during Q3. I would suspect that its next dividend increase will be equal to or slightly above its rate of EPS growth. It is odd to see Altria yield less than 5%, as it has typically yielded more towards 5.5% during most periods. At current prices, Altria seems fairly to slightly overvalued. This may be explained as a "flight towards safety", as Altria is seen as a safe haven stock. I would wait for a pullback, such as the one we saw in November 2012, before starting a position in Altria.
Source: Altria Group, Inc. at Consumer Analyst Group of New York Conference
Disclaimer: The opinions in this article are for informational purposes only and should not be construed as a recommendation to buy or sell the stocks mentioned. Please do your own due diligence before making any investment decision.
Disclosure: I am long PM. I wrote this article myself, and it expresses my own opinions. I am not receiving compensation for it (other than from Seeking Alpha). I have no business relationship with any company whose stock is mentioned in this article.