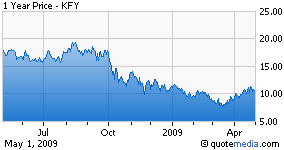 Korn/Ferry International (NYSE:KFY) is a management recruitment firm, focusing on mid and high level positions. The company serves a wide variety of sectors, including industrial (27%), financial services (20%), consumer products and services (17%), technology (16%), and others. Client count exceeds 5,000, and Korn/Ferry handled over 11,000 individual assignments in fiscal 2008, most at the highest executive levels of business. The company also has an impressive international footprint, operating in over 40 countries and generating nearly half of revenues outside of the United States.
The most attractive aspect of a KFY investment is the firm's financial strength. The balance sheet is in great shape, with $220 million in cash and no debt - something not all Magic Formula stocks can boast of. It's a reasonably profitable business as well, with operating margins in "normal" years in the low teens, and free cash flow margins at similar levels. Return on invested capital over the last 5 years is solid at 19%, and using the Magic Formula ROIC calculation yields a figure of 55%. 55% is a solid number, although nothing spectacular.
Korn/Ferry's primary assets are its employees, not its plants or equipment. While employees as a primary asset certainly helps with objective statistical metrics, it can be a hindrance to competitive moat. Recruiters' personal relationships with prospective clients are really the core asset here, and when these employees leave, those assets leave with them. There is no shortage of competition, from large players like fellow MFI stock Heidrick & Struggles (NASDAQ:HSII) and Egon Zehnder, to smaller region or industry-specific players. Still, Korn/Ferry's reputation and large network of prospective hires give it a leg up when competing for clients. These factors allow the company to implement a retained fee contract structure, where KFY is paid regardless of whether it delivers the position or not. For these reasons, it deserves an above average grade for competitive moat.
Growth will be difficult in both the near and longer term. Executive recruitment is a very cyclical business, with the industry posting huge losses in down years such as the current one. Korn/Ferry suffered a 32% revenue drop and posted a $22 million dollar loss last quarter. While restructuring plans have begun, it is quite difficult to offset such large revenue drops - Korn/Ferry will likely remain unprofitable for several more quarters, limiting upside on stock multiples. Longer term, the two roads to growth are international and extending services to middle management. Unfortunately, both are lower margin and higher competition areas where Korn/Ferry's competitive advantages are less formidable. Also, these new areas have to offset a secular decline in the number of high level executive positions in the U.S. The number of those positions has fallen by a full 25% in the last decade. The long-term outlook for revenue growth is tenuous, and for margin growth is actually quite bleak.
Korn/Ferry looks to MagicDiligence to be a relatively weak Magic Formula stock, certainly no Top Buy. In fact, the entire executive recruitment business looks fairly unattractive at this point in time. While there is always the chance that the economy recovers more quickly than expected, there looks to be better choices at this time.
Steve owns no position in any stocks discussed in this article.