In 2007, First Trust launched a suite of nine sector ETFs, all following an AlphaDEX® stock selection methodology.
AlphaDex® Approach: Each of the sectors follows a StrataQuant® sector index employing the AlphaDEX® methodology. This enhanced index developed, maintained and sponsored by the NYSE Euronext, selects stocks from the Russell 1000® Index.
The construction of a StrataQuant® index for each sector consists of ranking the stocks selected on growth factors including three, six and 12-month price appreciation, sales to price and one year sales growth, and, separately, on value factors including book value to price, cash flow to price and return on assets.
Stocks which Russell has classified solely as growth or value, receive their scores using growth or value factors respectively. Stocks between both growth and value receive their best score between the growth and value factors.
The stocks are then ranked by scores with the bottom 25% eliminated and the top 75% selected. The selected stocks are divided into quintiles and stock equally-weighted within each quintile. The index is reconstituted and rebalanced quarterly.
Three Sector Funds with Best Five-Year Results: Of the nine funds launched, three have done exceedingly well over the last five years compared with their sector categories. They all currently have Morningstar four-star ratings. Respectively, two have outperformed the Russell 1000® Consumer Staples Index and S&P 500 Consumer Staples Index; the Russell 1000® Financial Services Index and the S&P 500 Financials Index; while FXH missed by a percentage point its Russell 1000® Health Care Index and the S&P 500 Health Care Index for recent 1-Year returns.
First Trust Consumer Staples AlphaDEX® Fund (NYSEARCA:FXG) YTD: 20.85%, 1-Year: 26.74%, 3-Year: 17.13%, 5-Year: 12.61%
FXG's market-cap universe includes 55.54% mid-caps and 44.48% large caps covering 38 major brand names, many lower-end, that meet consumers' essentials. Brands include Safeway, Kroger, Campbell Soup, H. J. Heinz, Coca-Cola, Pepsi, Colgate-Palmolive. This offering is well positioned for lean times and not-so lean-times. During the first quarter of this year, FXG was one of six ETFs that gained over 20%; beating out SPY's 10.01% return.
First Trust Financials AlphaDEX® Fund (NYSEARCA:FXO) YTD: 16.24%, 1-Year: 22.39%, 3-Year: 11.25%, 5-Year: 7.24%
FXO provides similar positives: 76.12% of its holdings are mid-caps. The AlphaDEX® methodology has stripped out the bottom 25% quintile offering 164 stocks in this value-growth vetted basket with not a single company having more than 1.10% of the total assets. Top holdings include Assurant, Inc, Fidelity National Financial, Leucadia National Corp, Protective Life Corp, and American International Group. This ETF, among these three funds, shows the most geographic diversification (87% US/12% foreign) among its holdings.
First Trust Health Care AlphaDEX® Fund (NYSEARCA:FXH) YTD: 19.19%, 1-Year: 28.12%, 3-Year: 17.77%, 5-Year: 16.55%
Likewise, FXH offers a good slice of 56.20% mid-cap holdings, rounded out with 43.78% in large caps. This attractive growth and value AlphaDEX® health ETF includes 71 stocks with broad coverage of the health spectrum: 40% health care providers, 21% health care equipment, 16% biotechnology, 11% pharmaceuticals, and 11% life sciences. Its biotechnology and pharmaceutical holdings include notable picks such as Gilead Sciences, Celgene Corporation, BioMarin Pharmaceutical, Amgen, Biogen, Mylan, and Onyx. No single company within this ETF equals more than 4.53% of holdings.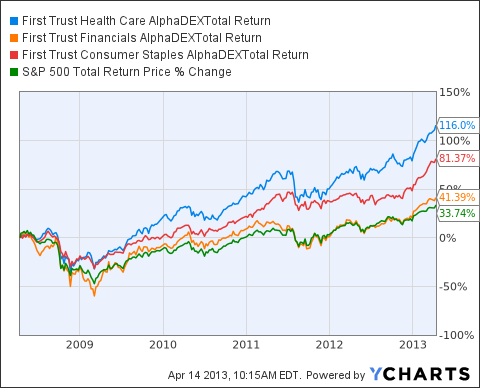 FXH Total Return Price data by YCharts
Conclusions:
The AlphaDEX® approach has worked well for these three sector ETFs over an extended period, suggesting continued attractive returns for these funds and the methodology employed.
The enhanced AlphaDEX® methodology hits a "sweet spot" between passive and actively-managed approaches. It offers more than a traditionally passive index and fewer of the dangers that may beset actively-managed ETFs.
These sector funds focus on mid-cap holdings and thus offer more growth potential.
The expense ratio of 0.70% for each of these funds is higher than many of their peers.
Two of these three funds cover domestic stocks only, with FXO branching out with 12% foreign stocks. While the domestic companies within these ETFs are in most instances global players, lack of foreign company holdings may minimally impact returns at some point in the future.
Disclosure: I am long FXH. I wrote this article myself, and it expresses my own opinions. I am not receiving compensation for it (other than from Seeking Alpha). I have no business relationship with any company whose stock is mentioned in this article.