VIX - Market Sentiment:
Tuesday saw S&P futures rebounding after the sharp selloff from Monday. As more information continues to roll in regarding the Boston Marathon bombing investors looked to get a solid footing. Monday's sonar (here) was highlighting the largest selloff in metals futures of gold and silver on record. Gold ETF (NYSEARCA:GLD) and Silver ETF (NYSEARCA:SLV) moved slightly higher Tuesday but was nowhere near the bounce some traders were expecting. Tuesday again saw poor core CPI numbers and building permits of with the only news beating Tuesday was housing starts coming in at 1.04M versus and expected .93M Wednesday does not have many economic releases but Thursday has both Unemployment claims and Philly Fed numbers which are sure to move the markets.
Volatility tracked lower as the market rebounded from Monday's selloff. Specifically front month futures were sold hard in Tuesday's trading session crushing those investors who are long volatility ETF's across the board. Volatility ETF (NYSEARCA:VXX) and 2x ETF (NYSEARCA:UVXY) unlike Monday saw across the board declines as futures dropped like a stone. VXX specifically saw large put inflows again return as the earnings season kicks off and it again is apparently cool to be short volatility. More than 3.5M of net put inflows came rolling into the VXX Tuesday specifically large front month put buyers. Monday I mentioned the call volume possibly moving up call open interest. Sure enough calls were bough Monday and open interest increased from 912K to 961K. VXX options again were heavily traded Tuesday were almost 1.7x average daily volume with puts outnumbering calls 1.8 to 1.
Statistics and Screenshot Provided By LiveVol
VIX futures are listed below.
Monday
· April VIX futures 16.70
· May VIX futures 16.65
· June VIX Futures 16.85
Tuesday:
· April VIX futures 13.95
· May VIX futures 14.75
· June VIX Futures 15.67
Options Paper:
Sprint Nextel (NYSE:S) is a name, which is no stranger to the sonar report. Tuesday saw on almost 7x average daily volume call buyers again stepped in looking for even more of a move to the upside. Specifically a upside longer term call options were bought looking for even more upside in this name which as ripped to the upside this year. Large block sellers of puts were active combined with large buyers of S calls showing bulls are back and bucking for even more gains. Tuesday the net premium for the puts was sold 1.1M versus calls net purchased to the tune of 588K. Options continue to show bullish inflows but this name is just not on my radar as the majority of the move I have missed but for those who followed the option activity I reported earlier you should be more than happy with you S long. Calls outnumbered puts 1.6 to 1 with bullish calls looking out to August and January 2014. Earnings are released on April 24th before market open and this name is sure to move.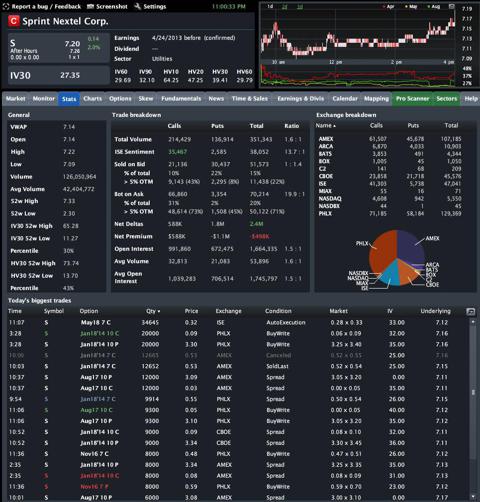 Statistics and Screenshot Provided By LiveVol
Delphi Automotive (NYSE:DLPH) ripped higher by the end of the day Tuesday as heavy options activity again came into this name. As a comparison this name typically only trades less than 2K option contracts a day but Tuesday saw more than 30K traded almost all in one strike. The May 40 strike calls traded more than 30K contracts and after the trade went off at 1:11 the stock began to rip higher to close on the highs of the day. Current open interest sits above 30K in this strike so we will need to check open interest Wednesday to confirm if this was an opening or closing transaction. Options activity was more than 15x average daily volume with calls outnumbering puts 1,367 to 1 on the trading day.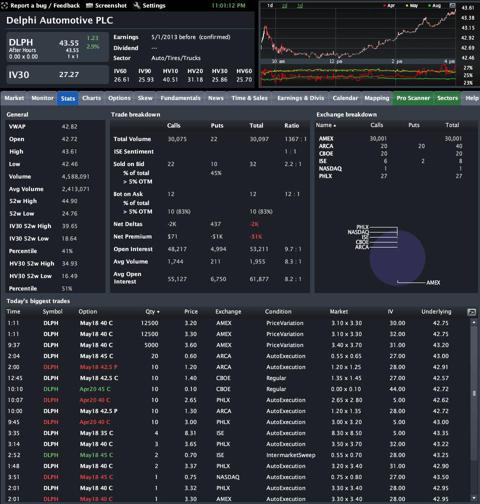 Statistics and Screenshot Provided By LiveVol
Popular ETFs and equity names with bullish / bearish paper:
Bullish Option Flows - ISE and % OTM calls bought on offer
Leap Wireless (LEAP) 80% - 2.2K OTM calls bought
Market Vector Russia ETF (NYSEARCA:RSX) 75% - 5.8K OTM calls bought
WisdomTree India Earnings (NYSEARCA:EPI) 50% - Call rolls totaling 5.1K
Bearish Option Flows - ISE and % OTM puts bought on offer
Clearwire (CLWR) 98% - 3K OTM puts bought
Smithfield (NYSE:SFD) 94% - 3.4K OTM puts bought
Trinity Industries (NYSE:TRN) 89% - 2.3K OTM puts bought
As always happy trading and stay hedged.
Remember equity insurance always looks expensive until you need it!
Disclosure: I am long AGNC, BA, BAX, CBB, CIM, CONE, DNDN, DRYS, HEK, IOC, LNG, NQ, TLM, and I am short ASH, BBBY, EA, HPQ, LULU, SPY
Trades Tuesday: Day trades not positions held overnight
Portfolio Exposure:
Long: 21.1%
Short: 14.8%
Cash: 64.1%
Disclaimer: The opinions in this document are for informational and educational purposes only and should not be construed as a recommendation to buy or sell the stocks mentioned or to solicit transactions or clients. Past performance of the companies discussed may not continue and the companies may not achieve the earnings growth as predicted. The information in this document is believed to be accurate, but under no circumstances should a person act upon the information contained within. I do not recommend that anyone act upon any investment information without first consulting an investment professional as to the suitability of such investments for his or her specific situation.
Disclosure: I have no positions in any stocks mentioned, and no plans to initiate any positions within the next 72 hours. I wrote this article myself, and it expresses my own opinions. I am not receiving compensation for it (other than from Seeking Alpha). I have no business relationship with any company whose stock is mentioned in this article.