The gold-silver ratio is sitting at 60 (end of day on Monday). Will it head higher or has it peaked? I remember during the 2008-2009 financial crisis the ratio was at an even higher level (peaking at over 85). Looking at the chart during this period, there are several observations that can be made that may give a clue to where the gold-silver ratio is headed.
The ratio stayed above 60 for about two years from August 2008 to September 2010. If history repeats itself, this suggests that gold will outperform silver for several more weeks or months or years.
A rising gold-silver ratio is usually accompanied by falling gold and silver prices. The ratio peaked in October 2008. That is also the same month when gold and silver bottomed. Gold bottomed near $700 and silver bottomed below $9.
A persistently high ratio does not mean that gold and silver can't rally. After the blowoff bottom in October 2008, gold and silver trended higher. Silver went from about $9 to $30 by the end of 2010. During that same period gold rallied to go above $1400.
The ratio can rise dramatically in a short period of time. See August-October 2008. So far in 2013 we have not seen a dramatic rise yet. Is it about to come? We'll see.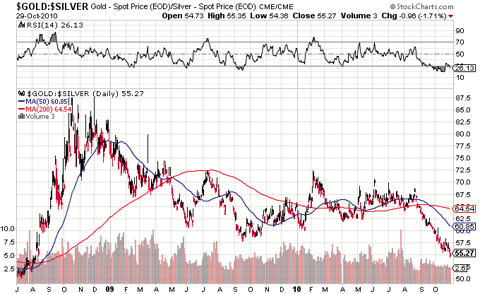 Click to enlarge
Based on what happened in 2008-2010, it looks like the gold-silver ratio is headed higher and gold and silver will continue to struggle. This is not a prediction. As an investor in iShares Silver (NYSEARCA:SLV), Sprott Silver (NYSEARCA:PSLV), and Central GoldTrust (NYSEMKT:GTU), I hope the opposite is true.
Disclosure: I am long SLV, PSLV, GTU. I wrote this article myself, and it expresses my own opinions. I am not receiving compensation for it (other than from Seeking Alpha). I have no business relationship with any company whose stock is mentioned in this article.