The outlook for long-term Treasury bonds is strengthening in the second quarter of 2013 following a massive sell-off of the securities in the past quarter. Long-term T-bonds have traditionally been seen as a safe haven for investors' money; but in the early part of the year, investor inflows started shifting to higher-risk asset classes such as US equities, in the hope of earning higher yields. The shift was sustained by improving international economic standings, which helped build confidence in these riskier investments.
However, with the release of bad economic news such as the March US jobs report, which showed that only 88,000 new jobs were created, as well as weakening economic prospects in the Eurozone, investors are once again turning to the bond market. This trend has been further strengthened by the Bank of Japan's announcement that it would finally enact drastic monetary easing measures after fifteen years of deflation.
The markets have responded to these developments by pushing bond prices higher while Treasury yields are declining. In fact, the first week of April saw Treasuries record their biggest weekly rally in ten months, with thirty-year yields falling to less than 3% for the first time since the start of the year while ten-year Treasuries saw yields fall to 1.764, their lowest level since the end of December 2012.
While it is possible that yields might increase if the economic news improves in the coming weeks, recent economic developments showing that growth in the US and Chinese economies is slowing has spurred renewed investor interest in US government debt due to their perceived safety.
Against this backdrop, investors may want to consider parking their money in long-term Treasury ETFs. Here are three of the most popular ETFs in this asset category that may be good choices. All three of these funds have a Zacks rating of 3, which means that they have the potential to provide an excellent upside.
iShares Barclays 20+ Year Treasury Bond ETF (NYSEARCA: TLT)
One of the most popular - and the biggest ETFs in this category, TLT tracks the performance of the Barclay's Capital 20+ Year Treasury Bond Index, with its holdings having a weighted average maturity of 27.69 years. However, investors should be aware that TLT bears a sizeable interest rate risk based on the Fund's operative duration of 17.25 years. Interest rate risk refers to the risk that the value of an investment will change because the absolute level of interest rates will also change.
TLT presently has twenty-two securities in its portfolio, with the fund's top 10 holdings accounting for some 73% of total assets. Since it was launched in July 2002, the fund's current asset base has reached $3.7 billion and currently has a distribution yield of 2.54 percent. The distribution yield refers to the amount of cash flow paid out by an income-paying instrument, expressed as a percentage of its net asset value or cost. TLT has returned 1.35% so far this year and has added 4.3% in the first week of April alone.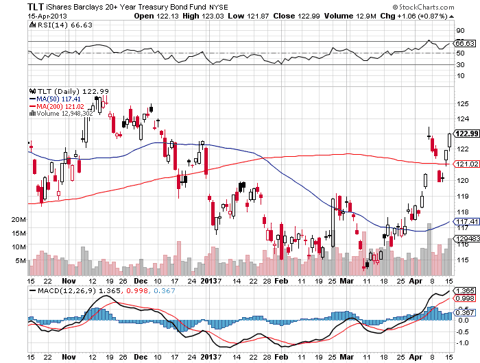 Click to enlarge
Vanguard Long-Term Government Bond ETF (NASDAQ: VGLT)
VGLT follows the Barclays Capital US Long Government Float Adjusted Bond Index, which measures the performance of US government securities that have a residual maturity of over ten years. Launched in November 2009 the fund has 64 securities portfolio bearing an asset base of $259.3 million and has a yield-to-maturity of 2.9 percent. VGLT's average duration of holdings and weighted average maturity is 16.4 years and 24 years respectively. The fund charges investors some 12 basis points in expenses annually.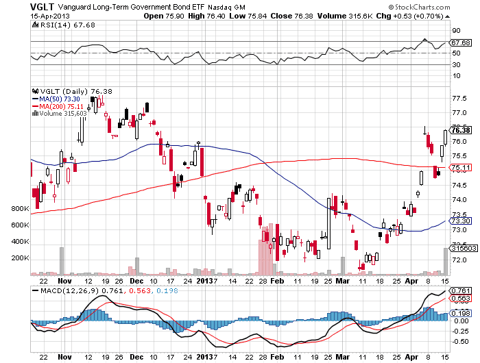 Click to enlarge
Vanguard Extended Duration Treasury ETF (NYSEARCA: EDV)
This fund tracks the performance of the Barclays Capital US Treasury STRIPS 20-30 Year Equal Par Bond Index and measures the returns of US Treasury securities that bear a 20 to 30-year residual maturities ranges. Since the fund is a STRIPS play, the principal and interest repayments are independent of each other and are treated as separate elements. Investors wanting to place their money into this fund should be aware, however, that the interest rate risk is pretty high as the average duration of the holdings is twenty-six years. Those willing to take the risk will find, however, that the distribution yield is high at 6.74 percent. Investors are charged 12 basis points annually.
EDV has 54 securities in its holdings and has amassed some $182.5 million in assets under management since it was launched in December 2007. The fund has added 1.87% so far this year, with the first week of April alone yielding a 7.12% gain.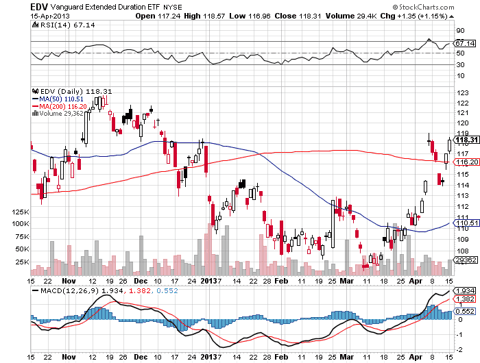 Click to enlarge
Disclosure: I have no positions in any stocks mentioned, and no plans to initiate any positions within the next 72 hours. I wrote this article myself, and it expresses my own opinions. I am not receiving compensation for it (other than from Seeking Alpha). I have no business relationship with any company whose stock is mentioned in this article.