Apple (NASDAQ:AAPL) seems to be moving closer to making iRadio a reality. Last week, I reported that there were rumors about deals with two music labels involving Apple. Since then, more sources have confirmed these rumors, and no one has openly disputed them. According to The Verge, the deals are imminent:
Apple is expected to sign its first internet radio licensing agreement with a major record label perhaps as soon as next week, multiple sources with knowledge of the talks have told The Verge. Universal Music Group, the largest of the major record companies, has reached the final stages of the negotiations and Warner Music is close behind, the sources said.
This would be a game changer for Apple, and very harmful to Pandora (NYSE:P) which has had a lot of trouble offsetting the costs of paying the music labels with diminishing advertising revenue. The ads keep the service free to its listeners. Apple's iRadio will reportedly also offer a free personalized "Pandora-like" radio service that could be exclusive to iDevices. This would help Apple sell more of its own mobile devices if the streaming service was exclusive to Apple. The worst case scenario for Pandora would be the removal of its app from those iDevices.
Shares of P dipped on Friday with reports that Twitter will offer a music app. Until the dust settles, it is unclear what the effect would be. However some analysts think the Twitter app would be more artist related, which would not compete with the other streaming services.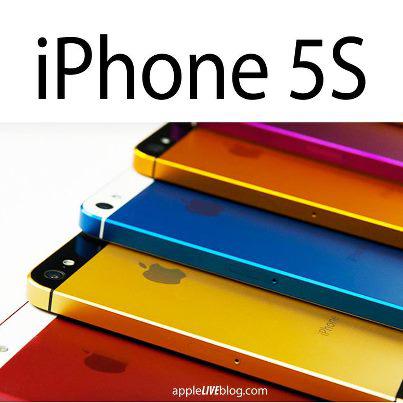 One report suggests that the new iPhone 5S reportedly coming out this summer will provide wireless audio played through a car's speakers. The technology exists right now, however it is not wireless. The author believes this will "kill satellite radio;" specifically Sirius XM Satellite Radio (NASDAQ:SIRI). But Sirius has a distinct advantage over all of the internet radio services. At this time, satellite offers much more coverage than mobile data. The chart below shows all of the areas (in white) that do not have AT&T (NYSE:T) data coverage: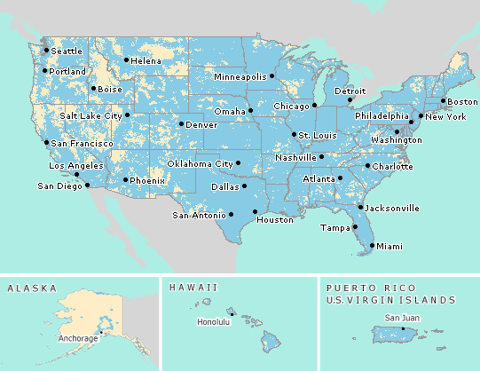 Click to enlarge
For listeners that travel, and/or live outside of the blue areas on the map, mobile streaming radio is not an option. Sirius satellite service on the other hand, offers "seamless commercial free" coverage coast to coast in the continental United States. And according to its website, that coverage extends 200 miles beyond the US boarders.
The other problem mobile streaming radio faces is the consumer's data cost for continuous streaming. The AT&T model below shows that an average user of 3GB (per month) could only listen to one hour of internet radio a day on their smartphone. Obviously some will listen to more or less music combined with more or less of the other types of data used. Not only will many users go over their data limits for the month, but this should also be of major concern to companies that advertise on streaming services like Pandora. How many ads can you hear in just one hour a day?
| You Can Do All of This With Your Data | 3GB | 5GB |
| --- | --- | --- |
| Emails sent/received | 5000 | 7000 |
| Emails with attachments | 1600 | 2200 |
| Hours of streaming music | 35 | 75 |
| Webpages viewed | 4000 | 5600 |
| Apps/games/songs downloaded | 50 | 70 |
| Social media posts with photos uploaded | 700 | 1400 |
| Minutes of streaming video | 140 | 160 |
One hour of data consumption:
| | |
| --- | --- |
| Streaming HD Movies | 306MB |
| Standard Video Clips | 120MB |
| Streaming Audio | 30MB |
| Email | 5MB |
| Social Media | 5MB |
In a move to solidify its presence in the streaming radio business, Sirius has come out with its much anticipated personalized internet radio service "My SXM." This new feature is an attempt to offer its listeners a service that will compete with Pandora and iRadio:
On SiriusXM channels with the MySXM feature, listeners can easily adjust each channel's unique controls for a more custom fit listening experience, including the ability to hear thousands of songs performed exclusively for SiriusXM. Channel-specific sliders allow users to create over 100 variations of each of more than 50 SiriusXM channels by adjusting characteristics like library depth, familiarity, music style, tempo, region, and multiple other channel-specific attributes. SiriusXM will add more channels to its MySXM channel line-up over time.
There has been some speculation in the past that Apple should buy either Sirius or Pandora. But it may have much bigger plans. Some are speculating that it will build its own Satellite service and "take over the world of music":
Sirius XM Radio proved that some consumers are willing to pay for radio, especially if it involves exclusive programming and is built into brand-new cars. If Apple takes this route and builds a satellite radio service, it might be able to get away with charging a fee.
Apple certainly has the cash to fund such an enormous feat. However, it is not an easy route to shoot satellites into space. There is a lot of government red tape involved with the FCC, which almost bankrupted Sirius during its merger with XM in 2009. And Liberty Media (NASDAQ:LMCA) faced similar problems when it bought the majority ownership in Sirius last year. Apple would face an uphill fight from Sirius and its investors during an FCC approval period. Pandora investors might also complain in an open public forum. In my opinion, the stock is too fragile to take such a big gamble right now. First things first: Get iRadio off the ground. Then we might see iSatellite Radio sometime down the road.
When you look at the chart (above) showing the share price over the last five years, it almost looks like the period from January 2012 to January 2013 was an anomaly. Maybe the share price is where it should be, given its history. So is this a good time to buy Apple? That really is a million dollar question. The investors that get it right will rake in piles of cash, just like the Apple Bulls that piled into the stock in 2009. But most analysts are getting very bearish on what used to be the darling of Wall Street. The iPhone5 had some production issues which may carry over into the production of the new iPhone 5S according to a new report on Tuesday. What the exact issues are remains unknown. Many brokers have been forced to cut their targets based on expectations that next week's earnings report will be lower than last year. According to a MarketWatch article released Tuesday:
Sentiment has been growing more negative on Apple for the past few months, though more than three-quarters of covering brokers still rate the stock as a buy. But at least nine have cut their price targets on the shares over the past month. The median Street target is now at $590 - nearly 40% above the stock's current value.
On the flip side, Apple may be planning some type of return on capital to investors such as a dividend or large share buyback. Warren Buffett has urged CEO Tim Cook to beef them up. Here is an excerpt from one of my recent articles:
Warren Buffett suggested that Cook should run the company well, and significantly increase the Apple share buybacks. As he famously told Steve Jobs, when Apple shares were considered "cheap": "If you could buy dollar bills for 80 cents, it's a very good thing to do." So now Cook is "seriously" considering returning cash to shareholders. But he also needs to get the iRadio project off the ground. Combined with a restructured buyback plan, Apple might just get its shine back.
Another factor that most investors and analysts overlook is Apple's relationship with China. International production is always risky. But the North Korean situation could escalate enough to slow down production in China. This would affect the iProducts. It also could cause the price to drop which might offer a buying opportunity, depending on the situation.
Because if there is a significant share buyback combined with a successful iRadio, the median price target of $590 is a real probability. And the subsequent payout of 40% would make it a very attractive gamble.
Disclosure: I am long SIRI. I wrote this article myself, and it expresses my own opinions. I am not receiving compensation for it (other than from Seeking Alpha). I have no business relationship with any company whose stock is mentioned in this article.
Additional disclosure: I may buy any of the stocks mentioned in the next 72 hours.