Rite Aid Corporation (NYSE:RAD) has been one of the top performing stocks of 2013. For a company that is rocked by declining sales and negative earnings, the rally seems contradictory. However, the market has a positive outlook for the company. Since the start of this year, shares of Rite Aid gained an outstanding 65%.
The rally gained momentum when the company reported its quarterly earnings statement in April. The company reported an earnings surprise which exceeded market expectations. The report was welcome by the market and the stock jumped by 18.43% in a single day from $1.79 to $2.12.
On the following day, the share prices made another leap by 8.9% to $2.31 per share. Within two days after the release of its latest quarterly earnings, Rite Aid jumped by 29.05%. Year-to-date growth of Rite Aid's share prices now stands at a whopping 65%. Can Rite Aid sustain its momentum? Or will it return back to where it started the year?
Financial Figures
2013 was a turning point for Rite Aid Corporation. The company finally made a turnaround from negative earnings to positive earnings. On the contrary, sales were not quite impressive. The earnings report showed a decrease in total revenues compared to the prior year.
One should take note that the financial year of Rite Aid is relatively different from the rest. The company's fiscal year ends in the month of March. The latest quarter result released by the company was on April 11. It may seem like the first quarter of the fiscal year 2013, but it was the last quarter of fiscal 2013 for Rite Aid.
The full year total revenues weakened from $26.121 billion in 2012 to $25.392 billion in fiscal 2013. But the management's decision to reduce the cost of sales and the selling general and administrative expenses paid off. Rite Aid ended the fiscal 2013 with adjusted earnings before income tax, depreciation, and amortization (EBITDA) of $1.128 billion. This is much better than the adjusted 2012 EBITDA of $942.902 million. It's EBITDA improved by 19.74%.
Reduction of debt exposure was another highlight of the report. The total debt net of invested cash reduced from $6.017 billion compared to the prior year value of $6.269 billion.
But what really caused the spike of rising share prices was the shift from net losses to earnings. The 52-week fiscal year ended with net income of $118.105 million. This is a pretty much impressive performance coming from a net loss in the previous year amounting to $368.571 million. Consequently, the basic diluted income per share has also dramatically changed from -$0.43 to $0.12 income per share.
The main catalysts of financial growth were brought about by the company's different programs. Among them are the customer loyalty program, and the wellness remodel program. There are other company initiatives that fueled the growth of sales, as well.
2014 Outlook
Despite the good full year and fourth quarter performance, Rite Aid's forecasts for 2014 remain conservative. While Rite Aid reported revenues at $25.392 billion, it projected to end the year 2014 within $24.9 billion to $25.3 billion. So basically the company sees either no growth or declining revenues for this year.
The same is true with net income. The firm managed to recover from net losses to a net income of $118.1 million. However, its 2014 net income projection starts from negative $45 million to $200 million.
The projected EBITDA was pegged at $1.075 billion to $1.175 billion, which is near its 2013 value of $1.128 billion. The outlook for diluted income per share is not aggressive, as well. The low guidance range starts at $0.04 while the highest projected income per share is $0.20.
In spite of the disappointing 2014 outlook, investors remain optimistic. Many seem to be hopeful that the company will continue to report positive financial results. While inside the firm, the management sees a somewhat stagnant or insignificant growth ahead.
What probably caused the festive atmosphere for Rite Aid on the trading floors were the Q4 and full year performances that beat consensus estimates. In fact, Rite Aid's stock already achieved the one year target estimates.
Ratings and Recommendations
Nasdaq's one-year median target estimate for Rite Aid is pegged at $1.8, while CNN Money has a target of $1.75. On the other hand, Yahoo Finance has a mean target of $2.05.
As of April 16, Rite Aid closed at $2.24 per share. If the stock can keep its momentum, it can soon reach Deutsche Bank's target of $2.5, which was issued a few years ago.
The moving average convergence-divergence [MACD] of Rite Aid has changed from bearish to bullish. The 12-day exponential moving average [EMA] is 1.92 versus the 26-day EMA at 1.85 with MACD of 0.07. The MACD signal started to turn green since April 12, signaling a bearish trend. However, with an RSI of 70.1, the stock is in overbought territory.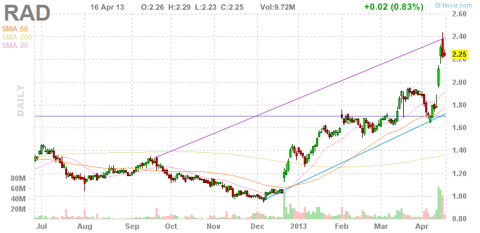 Final Notes
A majority of investment firms recommend holding the stock. Before the company announced its earnings, some analysts on Yahoo Finance voted for buy, while a few analysts in Nasdaq advised to sell. While Rite Aid continues to enjoy an upbeat trend, there are pressing concerns over looming correction. The probability is high considering that the forecasts are not quite impressive.
However, going beyond $2.50 is also possible. The company aims for cost reduction in selling and administrative expenses, while it seeks to remain profitable. This is further reinforced by the growing popularity of the wellness format and improved customer services. It is projected that sales will also increase leading to more quarterly earnings. In essence, share prices of Rite Aid are highly dictated by its sales figures. So earnings announcements are events to watch for when trading with Rite Aid.
Disclosure: I have no positions in any stocks mentioned, and no plans to initiate any positions within the next 72 hours.
Business relationship disclosure: Efsinvestment is a team of analysts. This article was written by one of our equity analysts. We did not receive compensation for this article (other than from Seeking Alpha), and we have no business relationship with any company whose stock is mentioned in this article.