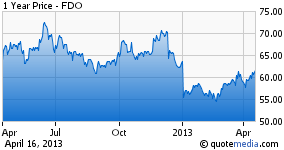 The discount store Family Dollar Stores, Inc. (FDO) thrived during the recession as cash-strapped consumers were drawn to its low prices. But the company has underperformed Wal-Mart Stores, Inc. (WMT) and Dollar General Corp. (DG) by about 20 percentage points since the start of the year, around the time Family Dollar reported disappointing earnings.
Over the last few years, Dollar Stores have surprised retail giants with its simple but strategy of low operation costs, a targeted customer base, convenient locations and small-box format stores that provide an easier, less stressing shopping experience. While this business has not yet reached its ceiling, growth prospects make it an interesting choice for investors. As a result of this advantage, Dollar Stores have offered a comparable store sales growth, approximately 5% on average since 2010 to date, which was considerably higher than its industry average of just under 3%, for the same period. Recent catalysts for Family Dollar make it an attractive buy, and will drive the stock price higher in the near future.
Recent Positive Catalysts
Disclosure: I have no positions in any stocks mentioned, and no plans to initiate any positions within the next 72 hours. I wrote this article myself, and it expresses my own opinions. I am not receiving compensation for it (other than from Seeking Alpha). I have no business relationship with any company whose stock is mentioned in this article.