Concerning the mini-crash in gold, as I wrote on February 21st, there are several reasons why gold will no longer attract many investors. Inflation stays under control, Europe managed to avoid another hiccup in its debt crisis and the Armageddon scenario for the world economy seems no longer valid.
Gold has had substantial difficulties moving higher the past few weeks. Normally, when a country like Japan announces it will double its money printing scheme, gold prices would rally for at least a few days. The soap-opera around Cyprus also did not move Gold prices much higher. Until last week, it seemed Gold bugs were tired, exhausted and no longer able to extract the 12-year bull-run.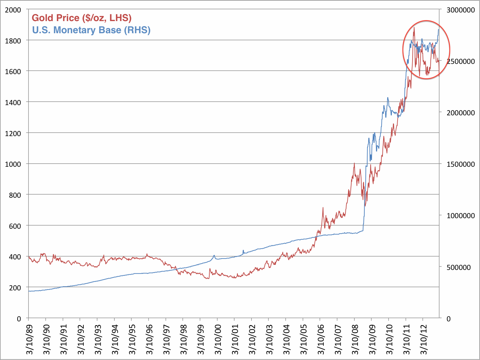 Click to enlarge
From 2000 until now, Gold has been moving higher with a very sharp move up in the last 5 years. From April 2001 on, the Gold price has more than quintupled in value against the US dollar, hitting a new all-time high of $1,913.50 on August 23, 2011. From that period on, the Gold price has steadily been weakening.
What was the trigger for the sudden sell-off?
All the reasons mentioned above kept gold captured in the range around 1600-1700. However, last week a number of news events triggered a mass selloff. The most important one is probably still unknown, for it seems logical that a big gold investor has (willingly or unwillingly) been forced to liquidate his position. Then there was Cyprus again. Euro zone Chairman Jeroen Dijsselbloem advised Cyprus to sell its gold stock. Now Cyprus is not the biggest Gold owner in Europe, but the simple thought that selling gold came to mind as a 'solution' to the European debt crisis had its effect.
Just a few days later, the analysts of Goldman Sachs, formerly known as Masters of the Universe, came with a Sell recommendation for gold. A couple of other banks came to the same conclusion.
Now this was all manageable for the gold bugs, but the hammer came with the disappointing GDP figures from China. It actually changed the perspective on inflation and finally triggered the huge selloff we've been experiencing lately. The fear of deflation rather than inflation sent Gold prices down as much as 17% in 5 days with a low of $1322. It also took a hit on prices of TIPS, inflation linked treasury bonds.
What's next?
For the near future, investors will be scared off by the sudden crash in gold. The perception of gold as a safe haven has taken a severe hit. Furthermore, the fundamental reasons to buy gold are slowly but surely vanishing. Gold will always attract a certain kind of investors, but my opinion is that the serious long-term wealth investors will shift their attention towards stocks. Dividend stocks have already been bought up the last year, and with the world economy bottoming out other stocks (US banks!) will become more attractive too.
Disclosure: I have no positions in any stocks mentioned, and no plans to initiate any positions within the next 72 hours. I wrote this article myself, and it expresses my own opinions. I am not receiving compensation for it (other than from Seeking Alpha). I have no business relationship with any company whose stock is mentioned in this article.