If you are looking for a safe haven in economic times that look continually more troubled, you should consider a top performing company in an industry that is being directly supported by the Fed. The phrase, "Don't fight the Fed," should resonate with many; and history has proven that there is good reason for this. When you can get a 15.6% dividend payout at the same time, you really have to be interested.
American Capital Agency Corp. (NASDAQ:AGNC) is a mortgage REIT that invests in Agency securities (RMBS). Its goal is to preserve net asset value, while generating attractive risk-adjusted returns for distribution to its stockholders via regular quarterly dividends. It does this through a combination of net interest income and net realized gains and losses on its investments and hedging activities. It funds itself primarily through repurchase agreements (with a base of capital from shareholders). AGNC is externally managed and advised by American Capital AGNC Management LLC, which is a wholly owned subsidiary of American Capital Ltd or American Capital (NASDAQ:ACAS) -- a publicly traded private equity firm and global asset manager.
Often the primary determinant of a mortgage REITs profitability is the net interest spread. As mortgage interest rates have fallen this has generally narrowed. However, AGNC has managed to keep this spread much higher than many of its competitors. Plus fixed rate mortgage rates have risen slightly from their lows of the fall of 2012. The chart below shows that AGNC's net interest spread ticked up in Q4 2012 as that of many of its competitors continued downward.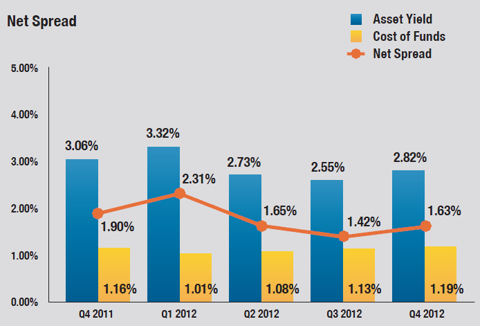 Click to enlarge
This is a tribute to AGNC's good management. It is also partially a result of the company's management being able to move quickly to take advantage of the profitability of the newly expanded Dollar Roll market. All of the Fed's new MBS buying (and re-investment of principal payments in MBS) has led to a much higher demand for Agency RMBS. Consequently the premiums for those are higher, which is a precarious situation for AGNC and other Agency mREITs. However, stepped up Fed MBS buying has also meant that many more people want to "borrow" Agency RMBS for a month (or sometimes more). This is allowing AGNC to effectively lend out (much like a repo is an effective loan) newly purchased (or really any) Agency RMBS's for a near term profit. This effectively provides AGNC with extra cash for the month (or more) that these securities are lent out. In other words, AGNC can get free funding in this way. AGNC expects the Fed's current level of MBS buying to remain in effect throughout 2013. This means it should be able to continue to profit from the Dollar Roll market throughout 2013.
For Q4 2012 AGNC effectively raised its leverage to 8.2x at Q4 end (7.0x without the TBAs) due to its approximately $13B in forward TBAs. By doing this it was able to capture an estimated incremental $0.29 per share. The company added that to its net interest spread income of $0.89 per share to get $1.18 per share (or $1.07 excluding a $0.11 in catch-up component). Effectively it also increased the value of its investment portfolio to $98B including TBA mortgage positions (as of December 31, 2013) versus $85B without the TBA mortgage positions. As of April 16, 2013 the figure is $117B AUM on the AGNC web site. As of December 31, 2012, AGNC had a net interest rate spread of 1.61% including TBA mortgage positions or 1.39% excluding TBA mortgage positions. Overall this seems an improvement over the average net interest rate spread of 1.42% for Q3 2012. However, the TBA mortgage moves have also brought a bit more risk with them.
How does this compare to other mostly Agency mortgage REITs? Primarily Agency RMBS REIT Annaly Capital Management (NYSE:NLY) had a net interest spread of 0.95% for Q4 2012. Primarily Agency RMBS REIT Anworth Mortgage Asset Corp. (NYSE:ANH) had a net interest spread of 0.94% for Q4 2012. These data points show how well AGNC did in Q4 versus its competitors. Further AGNC finished Q4 2012 with a CPR of 11. By comparison ANH's Q4 2012 average CPR was 26; and NLY's Q4 2012 CPR was 19. The chart below shows AGNC's outperformance relative to the Fannie Mae fixed rate MBS universe.

Click to enlarge
AGNC has certainly outperformed in both net interest spread and average CPR. Still it is important that it be stable and reliable. The chart below of AGNC's dividend versus its taxable income history shows clearly that AGNC has consistently produced great returns. AGNC has done nothing to make investors think that this situation is about to change dramatically. The worst that can likely happen is that the dividend will decrease a little bit. I am not saying this is going to happen. I am just trying to quantify the risk for investors.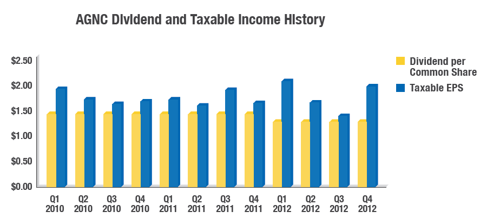 Click to enlarge
It is also important to investors to get a good return on their money. The chart below shows AGNC's total economic returns for the last four years.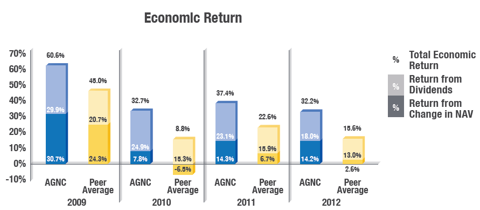 Click to enlarge
The chart compares AGNC's total return results to the average of some of its peers: Anworth Mortgage Asset Corp. , Capstead mortgage Corp. (NYSE:CMO), CYS Investments (NYSE:CYS), Hatteras Financial Corp. (NYSE:HTS), and Annaly Capital Management . AGNC has clearly outperformed its peers. This is what you want in a stock at any time. When you are really worried about the future economic environment, it is even more important to pick an industry leader. AGNC has provided a minimum of a 30% total return each year for the last four years. In fact its worst performance was a total return of 32.2%. Its best performance during the last four years was nearly double that at 60.6%. With the Fed backing the housing industry strongly, it will be hard to beat AGNC's out performance in almost any other stock, especially if you want safety. AGNC fulfills investors requirements well. It is a long term buy.
The five year chart of AGNC provides some technical direction for this trade.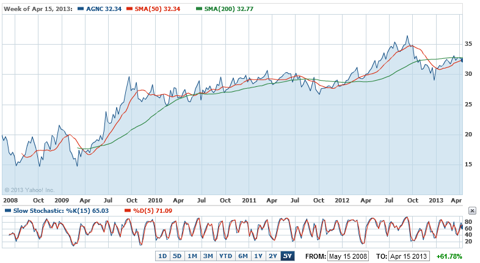 Click to enlarge
The slow stochastic sub chart shows that AGNC is near overbought levels. The main chart shows that AGNC appears to be trying to establish a slightly higher consolidation range. Also notable in the above chart is that AGNC did not take a huge nosedive as the Great Recession hit, even though it was a new IPO (May 2008). This was incredible strong performance; and it gives investors confidence that AGNC should be able to weather a possible new recession well.
AGNC had a book value at the end of Q4 2012 of $31.64. The stock price as of the close on April 16, 2013 was $32.34. This is close enough to the book value for AGNC to still be a good buy. Still the overall market is overbought. World economic news has been weak lately. For instance, the Chinese GDP growth for Q1 2013 came in at 7.7% versus an expected 8.0%; and the US Nonfarm Payrolls number for March 2013 was a big miss at 88,000 versus and expectation of 210,000. Further the Household Survey showed that 496,000 people left the workforce in March 2013. This completely belies the lowering of the unemployment number to 7.6%. The overall market seems likely to pullback in the near term. A cautious investor will probably want to wait for this. That investor can then insure that he/she will get a great deal on a great stock. Alternatively averaging in is a reasonable strategy.
NOTE: Some of the above data is from Yahoo Finance.
Good Luck Trading.
Disclosure: I have no positions in any stocks mentioned, but may initiate a long position in AGNC over the next 72 hours. I wrote this article myself, and it expresses my own opinions. I am not receiving compensation for it (other than from Seeking Alpha). I have no business relationship with any company whose stock is mentioned in this article.