SeaWorld Entertainment Inc. (NYSE:SEAS) is scheduled for an initial public offering on Friday, April 19, 2013. SEAS operates 11 amusement parks across the United States under brand names including SeaWorld, Busch Gardens, Aquatica, Discovery Cove, and Sesame Place. SEAS amusement parks showcase a collection of over 60,000 marine and terrestrial animals, and feature a diverse array of rides, shows, and other attractions. Through an IPO priced between $24 and $27 per share, SEAS and its current private equity ownership group are looking to raise up to $540 million, valuing the company at approximately $2.4 billion.
Despite the hype and first-day spike in price that generally accompany an IPO, here are 3 major issues to consider before buying in to the company:
Excessive Exposure to Macroeconomic Risk
It doesn't take a rocket scientist to figure out that the most important metric driving an amusement park's financial performance is attendance. The importance of attendance is two-fold: admission costs provide the bulk of a park's revenue, while in-park purchases of food, beverage, and merchandise also account for a meaningful portion of sales.
Because of this, it's logical to begin any analysis of an amusement park operator by looking at what drives attendance. Although high-quality rides and attractions paired with marketing efforts can certainly affect attendance, the main driver is typically the health of the overall economy and the consumer spending that accompanies it. To get an idea of how the industry is tied to the overall U.S. economy, let's look at two other publicly-traded amusement park operators: Cedar Fair (NYSE:FUN) and Six Flags (NYSE:SIX).
(Disney is obviously a major player in the industry, however they are not included in this analysis for two reasons: First, their company as a whole generates significant revenue from media operations and product sales, and thus does not provide as much direct insight into the amusement park industry; second, Disney operates numerous amusement parks in international markets, whereas SEAS, FUN, and SIX have essentially U.S.-only exposure.)
So, how did FUN and SIX fare during the recent economic downturn?
click to enlarge images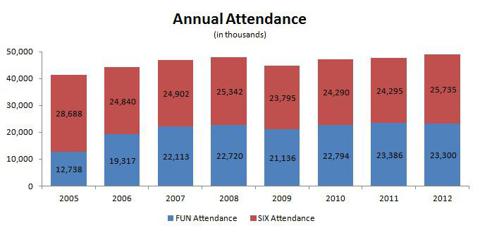 (Source: Company Filings; Note that FUN's spike in attendance from 2005-2006 was largely due to the acquisition of Paramount Parks, which added 5 new locations to their portfolio)
At first glance, the drop in attendance doesn't seem to be that significant. However, amusement parks by their nature have high fixed costs and are generally highly-levered. With that in mind, let's take a closer look at how the slight pullback in top-line attendance affected FUN's bottom-line profitability: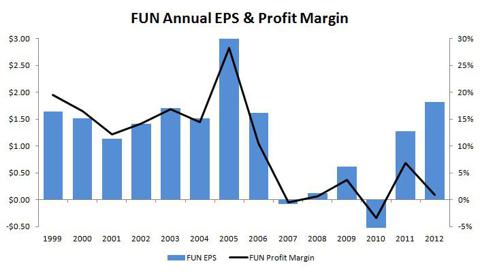 (Source: Company Filings)
Investors certainly felt the pain from this nose-dive: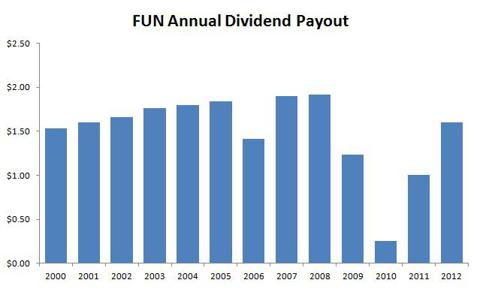 (Source: Google Finance)
Despite a modest attendance drop-off in 2008-2010, FUN saw their profit margins and EPS plummet into negative territory. They were forced to slash their dividend payouts in 2009, and suspended dividend payouts altogether for the first three quarters of 2010. As a result, FUN's stock price plunged from nearly $30 in 2006 to a low of $6 in 2009.
SIX didn't fare any better during these years. In fact, they filed for bankruptcy.
Many may consider the recent economic meltdown and ensuing recession as a one-time "black swan" event that is unlikely to repeat. While forecasting the health of the economy is far beyond the scope of this analysis, let's look back and see how aggregate recreational consumer spending in the US has trended since the mid-1990s: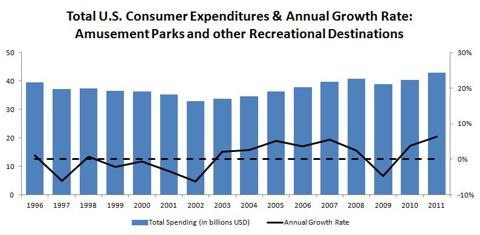 (Source: U.S. Bureau of Economic Analysis)
Despite two separate "boom-and-bust" cycles in the U.S. economy over the past 15 years, spending on amusement parks and related categories has seen stagnant growth, achieving only single-digit gains in strong years, with flat-at-best growth during downturns. For an industry whose lifeline is consumer discretionary spending, this is bad news regardless of your current outlook on the U.S. economy.
Questionable Key Ratios
In looking at the financials of SeaWorld, it becomes easy to understand why even a modest decline in revenue would have such serious consequences. Let's examine a couple of key ratios for SEAS, calculated from data found in their amended S-1 filed April 11, 2013 (values in thousands, except ratios):

With significantly more current liabilities than current assets, even a minor 'speed bump' in terms of attendance or revenue growth could raise significant problems with the company's ability to pay their bills on time.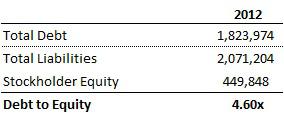 SEAS is highly levered, relying heavily on debt as their main source of funding. In addition to high interest payments (further examined below), the terms of this debt bind SEAS to numerous restrictions, including limits on further fundraising, expansion, and dividend payouts.

While SEAS generates enough operating income to cover the required interest payments on their outstanding debt, there is not a lot of cushion. Any unexpected decrease in revenue or increase in costs could put the company in danger of triggering a default, as SIX did in 2009.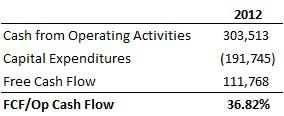 Amusement parks have a capex-intensive business model, with nearly two-thirds of their operating cash flow having to be spent on required maintenance and upgrades.
Questionable Valuation Relative to Industry
While the above two points should make SEAS a non-starter for many investors, it's still worth taking at least a brief glance at its valuation compared to competitors.

(Source: SIX & FUN data taken from Google Finance for trailing twelve months; SEAS data from S-1 for FY2012 based on a share price at the midpoint of the given $24-27 IPO range)
According to its prospectus, SEAS expects to pay an annual dividend of $0.80 per share. Given the mid-point of its IPO share price range, this equates to a 3.14% annual dividend yield, significantly less than its two main competitors. In order to bring its dividend yield in-line with its peers, SEAS' stock price would have to drop by approximately 40%, suggesting it is substantially overvalued at its current offering price.
For 2012, SEAS reported earnings per share of $0.94. Given the mid-point of its IPO share price range, this puts the company's P/E ratio at 27.13, significantly higher than its two main competitors. In order to bring its P/E ratio in line with its peers, SEAS' stock price would have to drop by anywhere from 20% to 60%, again suggesting it is substantially overvalued at its current offering price.
Although this is a very quick, high-level overview of SEAS' valuation, it suggests that there is not nearly enough potential upside to justify the risks of investment.
Conclusion
While SeaWorld has strong name recognition and makes for a great family outing, there are numerous reasons to steer clear of it from an investment perspective. Even for those who are comfortable taking on the risks of a capital-intensive, highly-levered company with massive macroeconomic exposure, the company still appears to be substantially overvalued relative to the rest of its industry. Many investors will likely find far more value in purchasing an annual pass to SeaWorld rather than investing in their common stock.
Disclosure: I have no positions in any stocks mentioned, and no plans to initiate any positions within the next 72 hours. I wrote this article myself, and it expresses my own opinions. I am not receiving compensation for it (other than from Seeking Alpha). I have no business relationship with any company whose stock is mentioned in this article.