Many remember a favorite childhood game used to pass the time in waiting rooms, car rides, and other places that never provided much immediate sensory stimulation for a child or teen.
I was discussing this with a colleague awhile back and thought it would be a great forum on which to deliver a stock that I'd "marry" (go long), "date" (go semi-long), and kill (go short) in a particular sector.
In an effort to provide the public with some ideas for restaurant investing and trading, here's what I came up with. This is my restaurant investing version of "Date, Marry, Kill."
Date - Cosi (COSI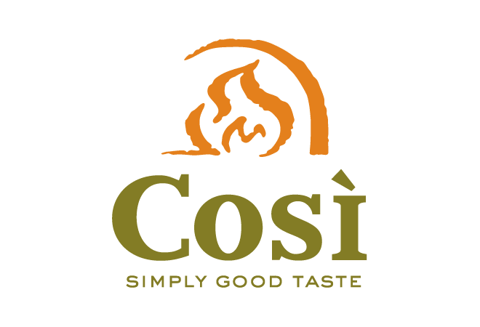 Cosi is a tough nut to crack. I want to love them; their food is great, the stock is cheap, and I'm a loyal customer. However, the long-term is off the table here. I'm choosing to "date" Cosi.
Cosi just reported a $2 million net loss for their fourth quarter of 2012, and the stock has been underperforming significantly. Here are COSI's vitals:
| | |
| --- | --- |
| 52 week | 0.52 - 1.03 |
| Open | - |
| Vol / Avg. | 0.00/239,031.00 |
| Mkt cap | 48.40M |
| P/E | - |
| | |
| --- | --- |
| Div/yield | - |
| EPS | -0.08 |
| Shares | 73.11M |
| Beta | 1.89 |
| Inst. own | 21% |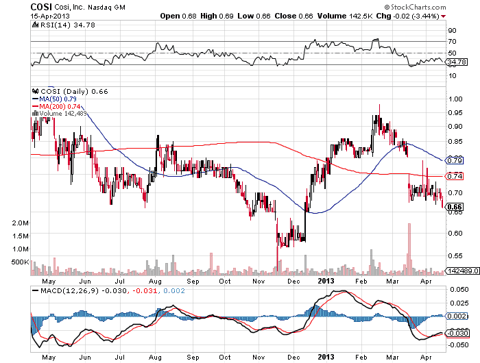 Cosi was an up and comer "casual" restaurant, along the likes of Panera (NASDAQ:PNRA) and Chipolte (NYSE:CMG), but with one difference. It continues to not be profitable.
Here are a couple reasons to look for Cosi as a turnaround for a quick 20%-25% from its current price of $0.66, near its 52 week low.
1) Five Execs and Directors Just Purchased Through a Rights Offering
As an investor, you have to love when insiders show confidence in their company. As reported here, from Reuters:
Also, five of executive officers and outside directors have agreed to purchase, at the same subscription price offered to shareholders, shares that would otherwise be available for purchase by them pursuant to the exercise of their over-subscription privileges. The total amount of commitments by the directors and executive officers is $1,647,310.
2) Cosi Continues To Expand in Major Cities, Where It is Finding Success
The first I heard of Cosi was in the Midwest city I lived in. I would stop in often on days off for delicious flatbread sandwiches and flavored lemonades. It was always a warm atmosphere where I felt like I could bump into other people from the city and say hello. The Cosi that I used to frequent was almost always busy.
Cosi echoed these sentiments on their Q4 2012 conference call, as the CEO spoke about expanding more into city-areas, where it has found success. The conference call stated:
And we want to demonstrate that we can do this well in suburban markets as we believe that most of our future franchising opportunities will be located there. Our first day due will be unveiled in Columbus, Ohio. We will be relocating an existing restaurant to newly created family area in The Easton Town Center Mall, we're targeting a late May, early June, 2013 opening, and we are targeting our development costs to be less than $700,000.

We have a letter of intent on two additional properties, one is in New York City and the other one in Chicago, which we will also incorporate our new design later this year. We're projecting two additional franchise restaurants as well. We watch the financial results closely as well as get a good read on the design elements that make a difference to the consumers, as we determine what the plans and timing will be for retrofitting existing restaurants.
There are no shortage of people out there who will make the argument that Cosi is spinning its wheels against Panera and not picking up any advantage; and long term, this may hold true. But, I'd "date" Cosi and ride their next small win as a company up to near the $0.90 mark before pulling back and taking profits.
Marry - Kona Grill (KONA)
You may not have ever heard of Kona Grill if you're not from the Midwest like I am. From their website,
Kona Grill offers guests freshly prepared food, personalized service, and a warm contemporary ambiance that creates an exceptional, yet affordable dining experience. The menu features a diverse selection of appetizers, salads, sandwiches, chicken, seafood, steaks, pasta, and pizzas that incorporate over 40 signature sauces and dressings that are made from scratch using high-quality, fresh ingredients. Kona Grill also offers guests a wide selection of award-winning sushi, including sashimi, traditional favorites, and several proprietary dishes created by our talented sushi chefs. Our restaurants feature a contemporary design with dramatic interiors which contribute to a superior value for moderate prices. Kona Grill restaurants offer guests distinct dining areas, including a main dining room, full service bar, patio and sushi bar. Our restaurants seat approximately 275 guests and are open daily for lunch and dinner.
I've been bullish on Kona Grill for a while now. The last time I pointed them out was in my article, "A 2013 Diversified Bullish Portfolio in 10 Positions". I was laughed at and harangued for my choosing a restaurant stock, which many people, for some odd reason, think is incapable of growth and making money. Not exactly what comes to my mind when I think of stocks like Chipotle, but to each his own.
Kona has just come off of a great 2012: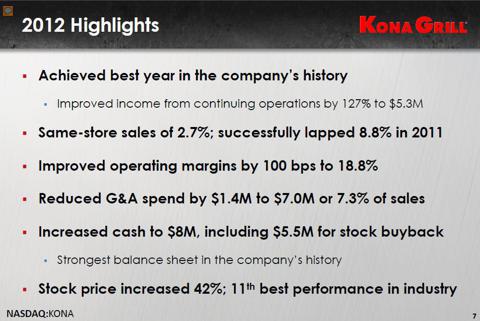 In my article, I stated:
What I like about Kona is that all of its locations are making money hand over fist and it has barely any debt. Kona has margins around 18% and everywhere they seem to open a new location they are finding success. The reason behind this is believed to be how slow they are rolling out nationwide. As noted in their investor presentation they have :

23 restaurants across 16 states
Average unit volume: $4.2 million
Nationwide opportunity of 100+ locations

This is a company that is not offering franchise opportunities because they want to grow slowly and organically, focusing on their service and what makes them unique. They're not rushing -- and this is going to yield them consistent results. Kona is the most promising restaurant stock for growth I've seen in years.
KONA has the potential to be a great long term play because it has plenty of room to grow and is growing the right way. When I wrote that article, KONA was trading at $8.50. Last week, it had just eclipsed the $9.00 mark, and has plenty of room to keep trading higher.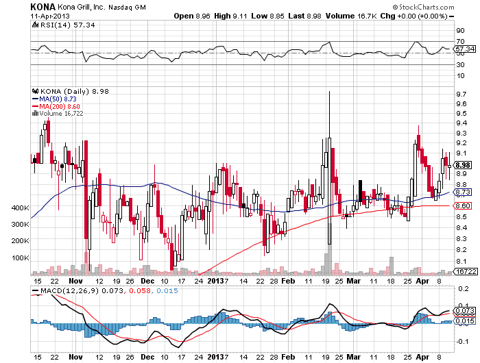 KONA has the market it needs for growth. As you can see from its recent investor presentation, there are potentially tens of thousands of untapped markets in cities and suburbs just here in the U.S. There is plenty of room to continue building, growing and executing: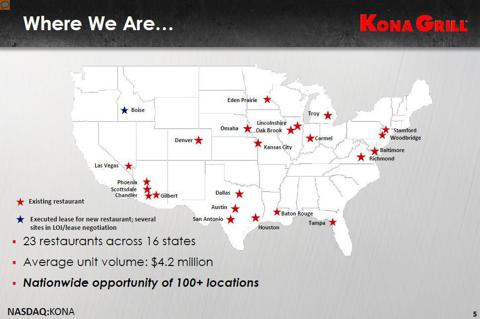 Another strength for KONA is the way its executive team is positioned for success. Its President and CEO is its largest shareholder, with 10+ years of investment management experience. Kona's CFO and VP round out a team of extremely experienced individuals, all with substantial time already dedicated to the brand and its success.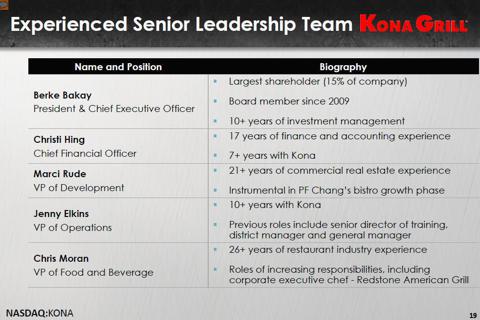 Opportunity for growth and strong leadership make KONA an easy stock to "marry".
Kill - DineEquity (DIN)
There is really nothing to like about DineEquity for me. I don't like their brands, I don't like how they handled a couple of their recent PR disasters, and I don't particularly like their 3 year chart.
From DineEquity's website:
In the past, the world knew us as IHOP, an American icon to our guests and a franchising company that was focused on providing strategic leadership and vision for our franchisees and on enhancing value for our shareholders. With this dedicated focus, we cultivated a core expertise in brand revitalization and franchising know-how which became the basis for the winning formula that has defined the financial success of our business in recent years. With the addition of Applebee's to the IHOP family of restaurants in November 2007, we made a bold new commitment to our brand revitalization abilities and to the power of franchising.

DineEquity promises to make our two businesses more powerful and more successful than either brand could have been apart. In October of 2012, DineEquity successfully completed the transition of Applebee's to a 99% franchised restaurant system. Our goal remains to provide delicious, innovative dishes and exceptional guest experiences each and every time a guest walks through either brand's doors. With more than 3,500 restaurants combined in 18 countries, over 400 franchisees and approximately 200,000 team members (including franchisees and company-operated restaurant employees), DineEquity is one of the largest full-service restaurant companies in the world.
There are two main factors that drive my bearishness on DIN, and find it a suitable candidate to "kill" or go short on.
1) The Brands Are Past Their Time
IHOP and Applebee's brands, in my opinion, simply do not have staying power.
In regards to Applebee's, whom I'm most critical of, the tricks used by these corporate restaurants in terms of portion sizes and drinks getting smaller are eventually going to lead to a major problem. I ordered a Margarita at Chili's the other day and it was served up in what appeared to be a 5oz glass. Applebee's pulls the same shoddy tricks.
Case in point, when you sat down at the bar, you used to be able to get a beer in two different sizes : 16oz and 22oz. In order to maintain their prices, Applebee's has significantly reduced the amount they are giving you with each beer. The sizes last time I was there were 12 oz and 18 oz, for the same price. These same "cut the corner" tactics are used for the food dishes, too. Where someone would once get a 6oz side of rice, they're now getting a 4 oz size.
These tricks, while keeping profits up, are eventually going to wear thin and Applebee's is going to find itself in a position where it's going to have to recalibrate a lot of prices on its menu accordingly.
Applebee's and IHOP, as brands, are also just getting old and crusty. Like my issue with J.C. Penney and RadioShack, the more dust that collects on the logo and brand, the more it's not going to be appealing to younger generations. With gastropubs popping up in cities, you can count major cities out for places like Applebee's and T.G.I.Friday's.
Furthermore, it is worth noting that the food is absolutely horrendous for you. Granted, nobody goes to Applebee's for a healthy meal, but look at some of these selected nutrition facts. Boneless wings with over 4,000mg of sodium? Shrimp fajitas with over 6,000mg of sodium? Riblets with over 80 grams of fat? Five sandwiches with over 1,000 calories? Like I said in my last article about Panera, there's a dirty little secret here when you investigate the nutrition facts at these types of places.
2) PR Disasters of Late
As I stated in my last article about DineEquity, they have had two major PR blunders that have cost them some customers. These examples are from my last article.
The Chelsea Welch Disaster
If you're not familiar with the Chelsea Welch and Alois Bell story that has had Applebee's in the headlines for the better part of 2013, let me give you the abridged version.
In early 2013, news started making its way around the world that Applebee's had fired a waitress by the name of Chelsea Welch. The incident surrounding the firing has been the catalyst for a massive anti-Applebee's movement in the coming months.
Chelsea Welch's friend was waiting on Alois Bell and her party of six or more and, per company policy, her friend applied an 18% gratuity to their check (which was a paltry thirty-something dollars -- very small for a party of six). The policy of automatically adding a tip onto checks for large parties is to protect the waitstaff from getting undertipped from a group that's going to substantially occupy their time. The thinking is that if you're going to occupy significant real estate for a long amount of time, they shouldn't have to risk not being compensated for it. As I've found out from reading, waiters and waitresses in the US are commonly making below minimum wage for their hourly rate. Providing they are offering good service, this is a pretty standard practice, even in a lot of chain restaurants nowadays.
Customer Alois Bell opted out of the 18% gratuity, hand writing on her check "I give God 10%, Why do you get 18?", and failed to leave her waitress any tip at all.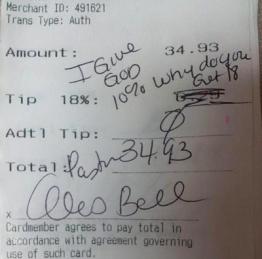 Chelsea, annoyed with such blatant stupidity on the part of the customer, took the above picture of the receipt and posted it to Reddit. Long story short, Applebee's personnel found out, and subsequently fired Chelsea Welch.
Since then, there has been an outcry from the general public (many of whom have worked in restaurants at some point in their lives) to re-hire Chelsea Welch. The outcry was followed by what blogger R.L. Stollar called an "Overnight Applebee's Social Media Meltdown". R.L. does a superb job of photo journaling the account and the subsequent attempted damage control from Applebee's
The Breast Feeding Disaster
This incident follows on the heels of an incident where an Applebee's manager called the police on a woman who was breastfeeding her child. The story was picked up by major newsmedia and was quickly ran nationwide. The Huffington Post reported on the story:
A new mother in Georgia has been shamed for breastfeeding in public, WXIA-TV reports. Dawn Holland says the manager at Applebee's called the police after she refused to nurse her 20-month-old son Connor in the bathroom.

According to WXIA-TV, Holland was breastfeeding in a booth when the manager approached and suggested she finish feeding her baby in the restroom or leave. She told the news station that she tried explaining her right to breastfeed in public -- Georgia is one of 45 states that have laws which allow mothers to nurse anywhere. And, the officer who responded to the call didn't even file an incident report.
This incident sparked outrage from mothers, including a planned nurse-in event from angry mothers. The smoke was just starting to clear from this bad press when the Chelsea Welch story hit the wires.
Due to what will be revenue lost from the PR disasters (watch the next filing) and two dying brands in IHOP and Applebee's, DineEquity is a dinosaur that is waiting for its final push over the cliff. The only play here is short.
As always, best of luck to all investors.
Previous Date, Marry, Kill : Retail
Next Date, Marry, Kill : ETFs
Disclosure: I have no positions in any stocks mentioned, and no plans to initiate any positions within the next 72 hours. I wrote this article myself, and it expresses my own opinions. I am not receiving compensation for it (other than from Seeking Alpha). I have no business relationship with any company whose stock is mentioned in this article.