Which asset class is currently the most undervalued? Many commentators use valuation tools like p/e 10 or yield to assess the value of the stock and bond markets, and according to these measures both asset classes are somewhat expensive right now. While paying attention to such absolute valuation metrics is critical to investment success, so are relative valuation metrics. After all, as investors, we confront a world of finite asset classes and investment opportunities. Often we must choose the least-worst option from a set of unappealing alternatives and hope for the best. In this article, I argue that although stocks are not particularly attractive right now, they are a heck of a lot better than bonds or commodities.
The Bond Bubble
With interest rates at super-low levels, bond prices are near all-time highs. This is especially clear when comparing the price of the S&P 500 (NYSEARCA:SPY) relative to corporate bonds (NYSEARCA:LQD):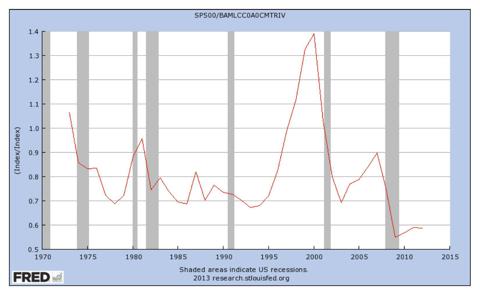 (Note: the corporate bond index is the BofA Merrill Lynch US Corp Master Total Return Index Value)
Although the price of bonds relative to equities is off the charts, the most recent times when the relative price approached such levels was in 1994 and 2003. Good times to exchange your bond holdings for equities.
The Commodities Bubble
Commodities have been an even better investment in the last decade than bonds. Because "commodities" is such a diverse asset class, I'll compare stocks with two commodities, oil (NYSEARCA:OIL) and gold (NYSEARCA:GLD). While both oil and gold represent hedges against inflation and certain types political risk, oil is also a bet on world economic recovery while gold is a favorite for those fearing currency crises or economic collapse. Here's the S&P 500 relative to Oil: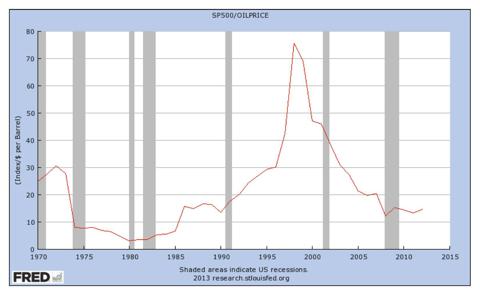 The equities to oil price ratio isn't quite back down to where it was in the early 1980s, but it's pretty close. Once again, stocks look pretty cheap. Here's the S&P 500 relative to gold: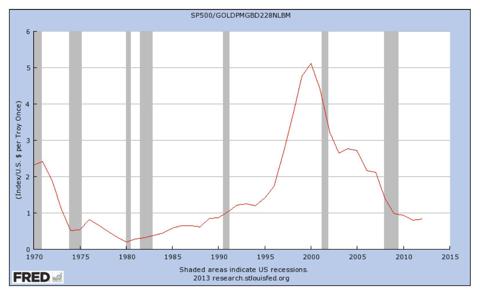 Even with the recent meltdown in precious metals, a little bit of gold will buy you a large equity position right now.
In conclusion, I believe that stocks are the least-worst asset class for investors right now. Compared with bonds, oil and gold, stocks are at historically cheap levels. Given current valuations in the stock market, its is quite possible that returns going forward will be lower than the historical average. But in relative terms, stocks are a bargain and will probably outperform bonds and commodities in the coming years. Beggars can't be choosers.
Disclosure: I am long VTI. I wrote this article myself, and it expresses my own opinions. I am not receiving compensation for it (other than from Seeking Alpha). I have no business relationship with any company whose stock is mentioned in this article.