We have added to our portfolio and used up some of our firepower but cannot complain with the gains we have experienced. It may require a sell in the near-term to book some profits, however these moves should not be misconstrued as us turning bearish but rather trying to preserve capital and attempt to manage risk in a responsible manner. We try to keep everyone updated on these moves via twitter (you can follow us via @theinvestar) to get all the updates on trades - we try to post as much as possible here, but sometimes make trades on the move outside the office as it is required and that is the best and easiest way to post moves via a mobile device we have found.
Commodity prices this morning are as follows:
Gold: $1383.00/ounce, down by $4.40/ounce
Silver: $23.355/ounce, down by $0.273/ounce
Oil: $88.10/barrel, down by $0.62/barrel
RBOB Gas: $2.778/gallon, down by $0.0038/gallon
Natural Gas: $4.212/MMbtu, up by $0.052/MMbtu
Chart of the Day:
The utilities continue to hit new highs, be they electric utilities or water utilities. We still believe that the low yields on these names, obviously due to new money coming in from the sidelines seeking yield and 'safe' investments, is bullish. It is simply new capital allowing older capital to seek out new investments, which drives up the prices on down the food chain. Bullish, bullish and more bullish.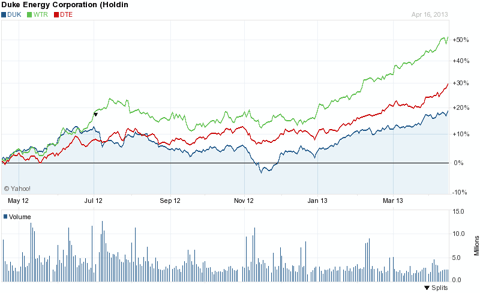 Click to enlarge
Chart courtesy of Yahoo Finance.
Oil & Natural Gas
Yesterday we made the moves we said we would in one of our retirement accounts. Unfortunately we had a talking head on TV begin to talk up Halcon Resources (NYSE:HK) just as we were entering that trade into the computer. At first it walked the trade up $0.10, so we went in and adjusted, then again as we entered that revised trade and it popped another $0.10 so we were left out and then he really started saying some nice things and the thing broke above $7/share so we had to leave the last trade entered and walked away for a few hours hoping that the order would be filled. It was, but we ended up paying more than we wanted and saw much of our anticipated short-term gains lost in a matter of a few seconds, quite literally. We are happy to own the shares, and happy to have made money yesterday because we are always reminded that up is up and down is down and one should never complain about making money. Share finished the day at $7.02/share after rising $0.60 (9.35%) yesterday, so we hope that readers were able to get into the shares before we were and were able to enjoy the pop from the talking heads.
As you can see, the stock was involved in some serious swings in the early morning trading yesterday...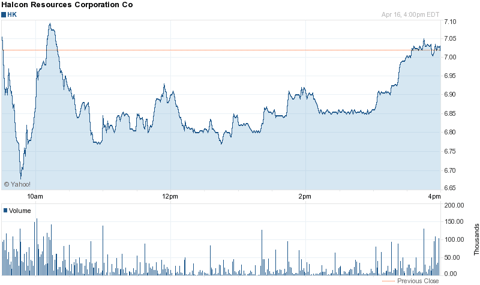 Click to enlarge
Chart courtesy of Yahoo Finance.
For those of you who follow us on Twitter you undoubtedly saw our two sells yesterday. We stated then that we would provide clarification and an update on them in today's article, and we wanted to follow through with that promise here. The two sells pertained to Gulfport Energy (NASDAQ:GPOR) and Diamondback Energy (NASDAQ:FANG) which are two holdings we have in our regular accounts (taxable). We are still bullish both stories but we saw yesterday as an opportunity to take some profits and lower our risk profile as we do have a bit of margin debt and wanted to get some firepower back in case of another pullback as we saw yesterday. We booked an approximate 10% profit on Diamondback in a short period of time so we felt that we could lock that in and maybe find another trading opportunity in the coming weeks/months. Regarding Gulfport, and we want to be very clear on this, we sold a trading position in the $45 calls which expire this month. It was a position we set up at the lows of the day on Friday and saw an opportunity to book the tiniest of profits yesterday so we did. The sale of Gulfport securities did not include the initial share position we bought nor our options contracts which we exercised a few months back. That core position remains intact. We left money on the table yesterday on both trades, but we are perfectly content with that because we have taken a fair amount of risk off of the table as well and positioned ourselves to take advantage of the next pullback just as we did with the latest pullback (we had around 10% in cash to deploy yesterday).
The Indicator
Why do we remain bullish? Simply because the market is telling us to and our indicator remains in an uptrend. Cheniere Energy (NYSEMKT:LNG) has been one of our key indicators to the upside for the better part of a year, showing us how investors are adjusting to the market and shedding light on the risk-on/risk-off trade. The shares finished higher by $0.88 (3.47%) yesterday to close at $26.21/share and although posted a bad chart on Monday held in quite well relative to peers. Momentum is here and when looking at some other gauges of the risk-on/risk-off trade we see further reasons to be bullish. For anyone looking at the natural gas market, any clue as to where it has been moving over the past few weeks? Higher, yes. It has even moved higher in the face or lower markets, so someone is bullish here and bullish in a big way. Play the names in the space and not the commodity however as buying an ETF or ETN is a fool's game.
The uptrend is intact, bulls are moving into the natural gas arena and the chart is still bullish in our opinion. Looks like we are headed higher still.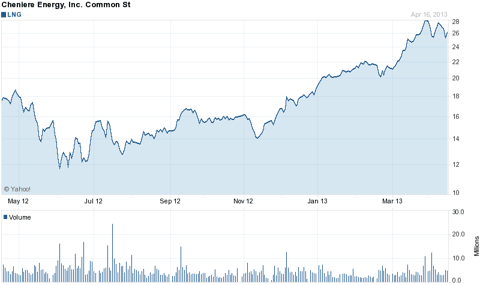 Click to enlarge
Chart courtesy of Yahoo Finance.
Precious Metals
One has to feel for the precious metals players which have posted but a few up days recently while being bludgeoned on the others. Barrick Gold (NYSE:ABX) continued its losing ways, ending the session lower by $0.92 (4.65%) to close at $18.86/share...or in other words, a new 52-week low. However, that was par for the course in the precious metals field yesterday with many of the miners hitting lows on the heels of the dramatic fall in gold and silver prices over the past few sessions and the pitiful bounce yesterday. There are those discussing how these names will not make money at these prices, and that is true for some of the names in the sector...and those names will most certainly be forced to close down should long-term pricing reflect the current short-term move. The marginal names are the ones which provide the big returns during a bull market as they quickly bring shuttered mines back online, however they are the first and worst hit when it comes to the end of a run and the bears take over and that appears to be what is happening now. We still hold a small amount of physical gold and decent amount of physical silver as long-term investments, both of which we are very much in the black on - even after this dramatic pullback.
Disclosure: I am long GPOR, HK. I wrote this article myself, and it expresses my own opinions. I am not receiving compensation for it (other than from Seeking Alpha). I have no business relationship with any company whose stock is mentioned in this article.