By Cagdas Ozcan
The story of Ford (NYSE:F) in the last couple of years is as impressive as Ford's history. Ford is the second largest U.S.-based automaker, second only to General Motors (NYSE:GM). It is also fifth largest in the world. Over the last decade, it has brought itself back from the brink of bankruptcy to winning back consumers and investors.
The U.S. auto industry took a heavy beating in the years leading up to the financial crisis of 2008 and 2009. Ford stood out from its two main rivals, GM and Chrysler, by not taking government bailout money to sustain its operations. This was a bold move given the fact that company losses were at a record high $14.6 billion in 2008. In 2009, however, just one year after GM and Chrysler started receiving bailouts; Ford posted its first profits in four years.
Transitioning Through the Crisis With a New CEO
Under the leadership of current CEO Alan Mulally, the company has turned around its fate towards growth now and further into the future. Despite being viewed as an outsider from Boeing (NYSE:BA), Mulally played an instrumental role in transforming Ford into a significantly better company.
He led the company through some very tough decisions. The previous culture took more pride in its luxury European brands that were not making any money. It was clear to him that it was time to focus on Ford's own brand. High-end marks like Aston Martin and Mercury were the first to go. Jaguar and Land Rover were sold off to Tata Motors. Volvo was purchased by Chinese carmaker Geely for $1.5 billion. Ford's major ownership stake of Mazda was also pared down to a mere 3% by 2010.
Building Better Cars
Another major change in the company's operations is the revamp of products and continued focus on innovation. While the company trimmed down its bloat it accelerated new model developments for its core brand even further than before. The goal was to lift sales by delivering products that competed with the best in its class. The Ford Taurus was reintroduced which was part of the process of revitalizing the company's hallmark brands. New models would be class leading, smaller and more fuel efficient with better quality. Most recently, Ford's new Fusion model was named Car of the Year by AOL Autos in 2013.
Aside from good sales numbers, Ford's move to fewer global car platforms will help its long-term sustainability. By 2016, 80% of its worldwide production will be based on only 5 global platforms. This will provide great cost savings as well as speed up manufacturing rates. In comparison, GM plans to pare down its platforms down to 14 by 2018. These numbers indicate that Ford is really serious about making sure it stays ahead of the curve.
It currently has four vehicle segments that represent 38% of the company's growth. These include the Fiesta, Focus, Fusion and Escape. The company sees even further growth in the near future for these so-called critical super segments.
New hybrid and electric cars are also being targeted for new growth opportunities. The recent introduction of C-Max and Fusion hybrids and plug-in hybrids are clear steps toward this direction. Electric car sales are expected to double in 2013 to roughly 100,000. This category is currently being led by GM's Chevrolet Volt.
Challenges Ahead
These outstanding performance indicators and continuously improving balance sheet do not automatically translate into sky-high share prices. While Ford has successfully revitalized its main U.S. market, the global economic landscape still has several spots of uncertainty. A large part of Ford's problems are in Europe where it saw a loss of $1.7 billion in 2012. Losses are even expected to reach $2 billion in 2013. Plans are already underway to further cut production and jobs overseas to address the issue. It expects to at least break even in Europe in a couple of years. This is however; Ford's second most important market and future declines may still prove to be very costly for the company.
Other markets like China are good to Ford. Sales in the region have increased 14.6% from 2011 to 2012. Meanwhile, it only expects to break even in South America in 2013.
New fiscal policies enabled in Japan in 2013 will make for a much weaker yen. Automobiles from Japanese competitors will most likely become less expensive on a global scale. This may have a significant effect on future sales worldwide, as well as in the U.S.
Ford's U.S. auto sales are only beginning to approach pre-crisis levels of 17 million units. 2012 auto sales reached 14.8 million beating its guidance of 13.5 to 14.5 million units. Margin expansion is also seen to be approaching a capped level. The company continues to amortize its pension obligations and spend for development.
Its financing segment still has complicated issues. Due to its financing arm, debt issue is still a highly significant one even though Ford improved its liquidity by $2 billion in 2012. Long-term debt has been also been greatly decreased from $115 billion in 2009 to $72 billion in 2012.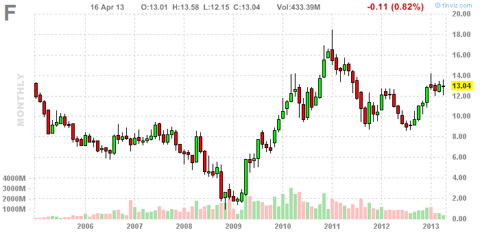 Finding Value in The Stock
Ford undoubtedly shines in the face of adversity as it has done since beginning its transition into what it is now. It has strong leadership who are very good at innovating and delivering ahead of expectations.
Near-term economic headwinds occurring globally are currently seen as significant concerns by many. It has been enough create pullbacks in Ford's price. Many are still weary what the situation in Europe could mean to the company's prospects. However, it has survived an even more tumultuous U.S. financial crisis, while suffering great losses from its largest market. It is important to note that current economic realities similarly affect all major auto industry players, including GM and Toyota.
Many research agencies rate Ford a buy at the moment, giving more confidence about its true value. It has also doubled its dividend payments from $0.05 to $0.10 making it a decent long-term investment. While significant jumps in stock price are not expected, the sluggish price movement maybe beneficial for value investors. I expect Ford to break $20 within this year or next. It is also trading at 20% discount compared to analysts' target estimates. So, it offers a good value to play the recovery in automobile industry.
Disclosure: I have no positions in any stocks mentioned, and no plans to initiate any positions within the next 72 hours.
Business relationship disclosure: Efsinvestment is a team of analysts. This article was written by Cagdas Ozcan, one of our equity analysts. We did not receive compensation for this article (other than from Seeking Alpha), and we have no business relationship with any company whose stock is mentioned in this article.