SodaStream International (NASDAQ:SODA) made its way to the European kitchens, and is on its way to expand in the U.S. and Asia. The company managed to grow earnings and revenue substantially. Revenue grew from $151 million in 2009 to $436 million in 2012, while EPS rose from $0.77 to $2.09 in the same period. The company is expanding internationally, and estimates that 6 million households are using its system in 45 countries.
Last year was exceptional for SodaStream in many ways. The company delivered earnings and sales growth above 50%. Sales of soda makers reached one million units in the fourth quarter, the highest in the company's history. SodaStream is pushing aggressively to expand in the United States. Revenue growth was highest in the Americas, and saw a 96% year-over-year rise in the fourth quarter. Western Europe and Asia both increased 31%. Consumables were also strong in the fourth quarter, with sales up 54%, driven by syrup unit growth of 60% and a 26% increase in gas refills. In the U.S. soda makers were up 86%, gas refills 89% and syrups rose 131%.
The company is continuing to expand brand offerings, and has brands such as Country Time, Crystal Light and Kool-Aid. The latest deal was with Ocean Spray Cranberries, which gives SodaStream the right to license juice blend products for its home beverage system.
Management estimated that the company reached 1% household penetration rate in the U.S. They have the largest penetration rate in Sweden - 25%, and also have a solid penetration level in Finland, where it is approaching 15%, and 10% in Czech Republic. In the latest interview with Reuters, CEO Daniel Birnbaum said the company is aiming 25% penetration rate in Italy, and that it is expanding its product mix in the country. He also said that the 2013 estimates are conservative, and that it is better to under-promise and over-deliver.
SodaStream has less than 1% share of the global carbonated beverage market, a space dominated by The Coca Cola Company (NYSE:KO) and PepsiCo Inc. (NYSE:PEP). That gives the company tremendous growth potential, especially if you look at some of the household penetration rates in Europe, such as 25% in Sweden and 15% in Finland. The management hopes to see some material sales in markets like Brazil, Russia and Chile. The company entered the Brazil market a year ago, and 6 months ago in Chile. They replaced the distributor in Russia who was not performing to the company's standards, and there might be some upside there.
The problems come from the manufacturing side. The company has been forced to outsource production because of increased demand. They broke ground on the new manufacturing facility and expect it to be fully operational in the second half of 2014, ending the supply strain and that will improve the gross margin. Gross margin was negatively affected with the mentioned supply chain issues, forcing the company to outsource production, and with the focus on increased penetration with a push to sell soda makers, which have lower margins. In the long term, the company hopes for revenue from consumables to be greater than sales of soda makers, thus increasing the gross margin and overall profitability. The current revenue mix is around 50%-50%.
Peer valuation
SodaStream ranks best among its peers in the chosen categories in the table below. Pepsi has the lowest trailing PE and price to sales ratio, Monster Beverage (NASDAQ:MNST) has the highest expected earnings growth rate for 2013, and SodaStream is best when you look at the forward PE, expected revenue growth for 2013, and the reported earnings and revenue numbers for 2012. Pepsi and Coca-Cola cannot compete on the growth levels, as they are large well-established companies, and Monster Beverage has higher trailing and forward earnings multiples.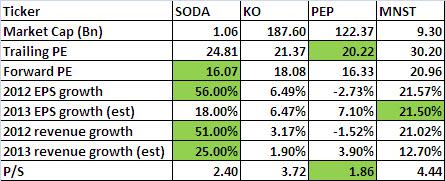 Source for data: Yahoo Finance, Zacks
Short interest
SodaStream has a very high short interest. The short interest is showing a gradual decrease since June 2012. The total amount of shares short in the latest reporting period is 7.37 million, representing 41.75% of free float. There is potential for a short squeeze in those high numbers. A contraction in average volume has brought the days to cover ratio to a one year high.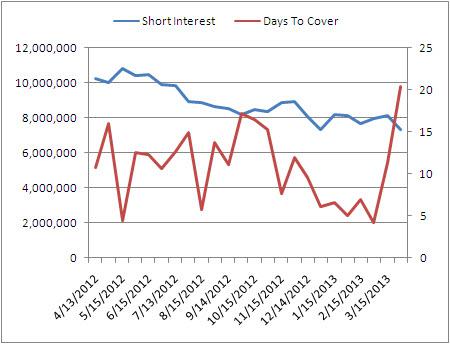 Source for data: Nasdaq.com
Price action
SodaStream broke out of a long term consolidation lasting 16 months in late December. The stock traded in a $46-$54 trading range since mid-January and broke out to new 52 week highs on April 11th, but quickly came back below the breakout point. If it can penetrate the $55 level on strong volume, it has a chance to bring new gains for its shareholders.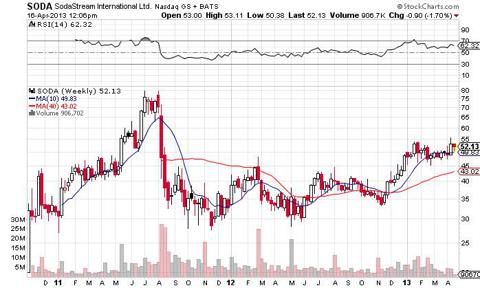 Source: Stockcharts
Conclusion
SodaStream presents a compelling growth opportunity. With less than 1% share of global carbonated beverage market, it has a large market to penetrate. It is in the early stages of expansion globally, and is pushing aggressively in the United States, where it estimates to have reached a 1% household penetration level. It certainly has a long way to go in the U.S. as in the other markets, such as South America, Asia and further penetration in the European markets. The growth levels and the current valuation are better, compared to its peers.
Disclosure: I have no positions in any stocks mentioned, and no plans to initiate any positions within the next 72 hours. I wrote this article myself, and it expresses my own opinions. I am not receiving compensation for it (other than from Seeking Alpha). I have no business relationship with any company whose stock is mentioned in this article.