"When things go wrong, so wrong with you, it hurts me too"
-It Hurts Me Too, Tampa Red, 1940
The decline in gold was incredible over the last few days. Over the course of a handful of trading hours on Friday and Monday, gold (NYSEARCA:GLD) lost -15% of its value. And the carnage was not limited to gold alone, as the entire commodities complex was taken out to the woodshed. Silver (NYSEARCA:SLV) plunged by -17%, platinum (NYSEARCA:PPLT) lost -9%, palladium (NYSEARCA:PALL) dropped -11%, copper (NYSEARCA:JJC) declined by -7% and oil (NYSEARCA:USO) fell by -7%. So while it is tempting to try and construct a fundamental narrative surrounding the decline in gold, the reality is that it is far more likely the sharp drop on Friday and Monday was a result of forced mass liquidations by major financial institutions that stretched across the commodities complex. Such liquidations almost always occur when something has become disconnected within the global financial system. And the fact that we have not seen liquidations of this nature since 2008 is worrisome not only for commodities but also global financial markets in general. This is particularly true for stocks. Not only are they typically next in line for liquidation after commodities, but any resulting downdraft for stocks has the potential to be far more swift and severe given their currently elevated state.
Stocks and gold have both been direct beneficiaries of the flood of liquidity that has been injected into the financial system by global central banks since the beginning of the financial crisis. Starting with the addition of daily U.S. Treasury purchases to the U.S. Federal Reserve's QE1 program in mid March 2009 through today, both stocks and gold have been on a similar path. And while the extended period of consolidation by gold since its September 2011 peaks seemed more than reasonable in the context of stock performance, the massive plunge in gold over the last two days has resulted in a massive disconnect now with stocks decidedly in the lead.
Now it is reasonable to suggest that the disconnect between stocks and gold is a signal that all is now well with the world and that expectations for sustained growth and price stability have finally returned nearly six years following the outbreak of the financial crisis. Perhaps, but if this was the case we would also likely be witnessing a sustained rise in the overall commodities complex. And the sell off in gold and commodities over the last few days would have likely been accompanied by an associated rally in stocks. But this has not been the case at all. In fact, the relationship between stocks and commodities was also once very strong before disconnecting in late 2011. Not coincidentally, this also just so happened to be the point when the pace of global economic growth started to break down with many parts of the world decelerating if not falling back into recession.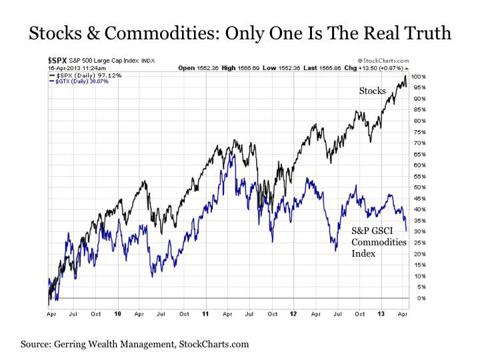 So if gold is suddenly immune to the benefit of aggressive monetary stimulus and is now correcting to align itself with the global realities about economic growth and the threat of deflation over inflation, stocks are more than certainly subject to the same downside risks. And if the decline in the gold market was indeed the result of forced mass liquidations, we should not be complacent to think that the same fate could just as easily befall stocks in the days, weeks and months ahead.
A few additional factors provide support not only to this liquidation risk for stocks but also to the fact that any decline in stocks could be far more traumatic than the recent plunge in commodities and gold.
First, much has been made about how the unwinding of leverage contributed to the pace of the downside move in gold, so it is worth noting that stocks are also currently performing under the influence of considerable leverage. For example, margin debt on stocks is now at its third highest level ever and the highest level since July 2007, which of course was the precise month when the financial crisis that fully exploded in 2008 first began to unravel. Thus, if stocks were to enter into a sustained down move due to forced liquidations by major financial institutions, it also faces the potential of a painful deleveraging process, as this margin debt is unwound.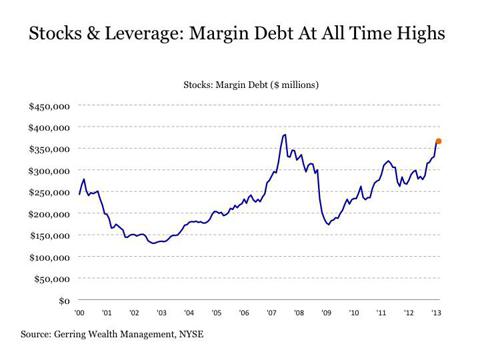 Also, stocks have yet to fully experience the valuation wash out that one would expect during a prolonged secular bear market. Of course, this is not the first time that we have experienced a secular bear market, the latest of which began in 2000 with the bursting of the technology bubble. During the previous three secular bear market phases from 1901 to 1920, 1929 to 1949 and 1968 to 1982, stocks had peak valuations based on the trailing 12-month price-to-earnings ratio between 17 and 25 entering into the secular bear market. By the end of each of these past three secular bear markets, the P/E ratio on stocks had bottomed in the 5 to 8 range. Today, stocks reached a peak P/E well above past highs heading into the current secular bear market. And while they have come down along the way, current stock valuations at nearly 18 times earnings still reside at the very high end of past secular bear market cycles and still well above past lows. What helps explains the dramatic difference in P/Es this time around? The answer is the still extremely high levels of leverage that exist within the financial system behind the stock market. And just as we witnessed with gold on Friday and Monday, there is virtually no way out the moment the air starts to come out of the leverage balloon.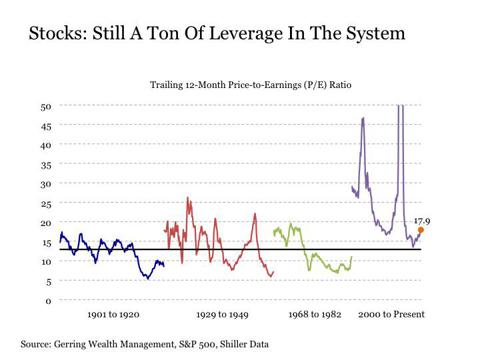 So suppose we saw a forced mass liquidation in the stock market. Exactly how would that look and feel. We have to look no further than the depths of the financial crisis in late 2008 and early 2009 to find out.
Although stocks had traded lower from the Lehman collapse on September 12, 2008 through the end of the month, stocks did not begin to fully liquidate until the beginning of October. And over the course of six short and grueling trading days, the stock market shed over -21% of its value. Similar liquidations occurred in November 2008 (much like recently in gold, down over -12% in just two trading days) and February/March 2009 (down over -12% in nine trading days).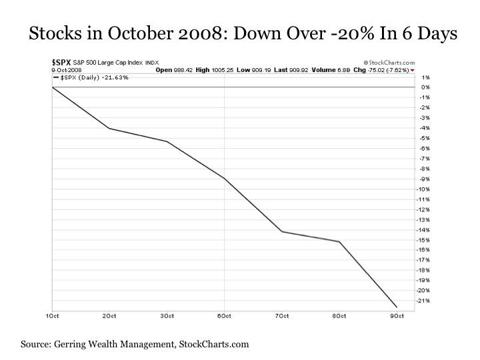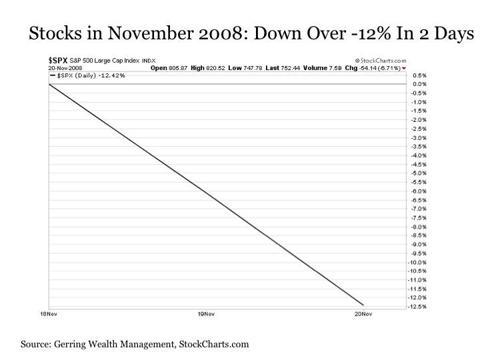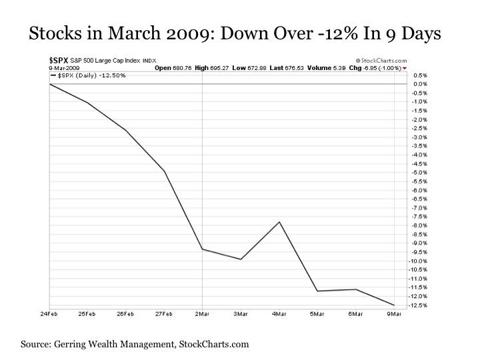 Such liquidations have even been known to occur in the years since central banks including the Fed have flooded the global financial system with liquidity and rushed to the rescue the moment stocks show even the slightest sign of any weakness. For example, stocks dropped by over -16% in just 9 trading days in July/August 2011.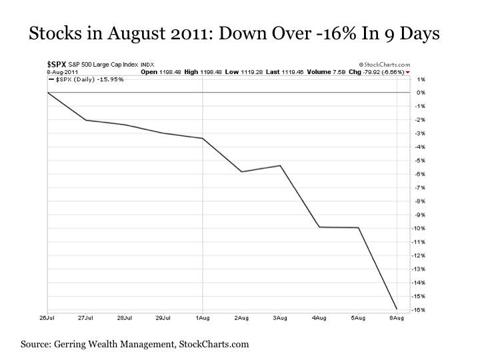 Bringing these past events back to today, if we were to experience a comparable stock liquidation in the current market, it would imply a drop in stocks ranging anywhere between 200 to 350 points on the S&P 500 in a matter of a week or less. One could only imagine how quickly the Fed would be falling all over themselves to calm the market if we saw a drop like this in stocks. Of course, when it comes to gold and other commodities, it is a very different story in terms of policy maker reaction, but the associated risks are still very notable.
So while the recent liquidation in gold may ultimately prove to be an isolated event, stock investors should take caution. In our globally interconnected financial system, extreme volatility in one area of the market like Japanese bonds can quickly result in profound damage in an entirely different area of the market like gold. These changes are at times sudden. Other times they can take days or weeks to rise to the surface. But once these disconnects begin to occur and their forces start to spread, the subsequent damage can be swift and severe. And the fact that such episodes are presenting themselves at a time when the Fed and other global central banks are already running at full throttle with monetary stimulus is notable, for it suggest that we may finally be arriving at a point where the magnitude of global imbalances are starting to overwhelm the capacity of central bankers. Perhaps not, but it is a risk that is worth monitoring if nothing else.
In response to the potential risks signaled by the mass liquidation in gold and other commodities since Friday, I have taken the opportunity to lock in recently strong gains in positions like the S&P 500 Low Volatility ETF (NYSEARCA:SPLV) that had risen +17% year-to-date and Verizon (NYSE:VZ) that had jumped by +20% over since late January. I also used the opportunity to close out selected stock positions in names like Apple (NASDAQ:AAPL), which is threatening a technical breakdown at $420, and Occidental Petroleum (NYSE:OXY), which is struggling to hold support at its 200-day moving average. I continue to maintain positions in high quality names offering attractive valuations and high current income including Exxon Mobil (NYSE:XOM) and McDonald's (NYSE:MCD). And while I did reallocate some of the sale proceeds into Long-Term U.S. Treasuries (NYSEARCA:TLT) that have a strong negative correlation to the stock market (NYSEARCA:SPY), I also will be looking to strategically redeploy this cash into selected high quality U.S. stock positions as opportunities present themselves, particularly as selected names are taken under as we move through first quarter earnings season. Beyond stocks, I continue to hold positions in the Central Gold Trust (NYSEMKT:GTU), the Central Fund of Canada (NYSEMKT:CEF), the Sprott Physical Silver Trust (NYSEARCA:PSLV), the Sprott Physical Platinum & Palladium Trust (NYSEARCA:SPPP) and Silver Wheaton (NYSE:SLW), as many of these represent positions that have been in place for much of the last decade and continue to provide important portfolio diversification despite the recent volatility in the asset class.
This post is for information purposes only. There are risks involved with investing including loss of principal. Gerring Wealth Management (GWM) makes no explicit or implicit guarantee with respect to performance or the outcome of any investment or projections made by GWM. There is no guarantee that the goals of the strategies discussed by GWM will be met.
Disclosure: I am long MCD, XOM, TLT, SLW, GTU, CEF, PSLV, SPPP. I wrote this article myself, and it expresses my own opinions. I am not receiving compensation for it (other than from Seeking Alpha). I have no business relationship with any company whose stock is mentioned in this article.