It will come as no surprise to many that the French economy is struggling, with 2012 fourth-quarter GDP growth at -0.3%, the country has a lot to do to shift this downward trend. Over the past few years the country has struggled with the recession, however since the current president, François Hollande, took charge it has taken a turn for the worse as he ostracized foreign and domestic businesses through tax hikes.
Whilst the economy is having a torrid time, the main equity market listed in France is an attractive long-term investment for any investor. A common misconception is that the residing equity markets represent the economy, whilst this may be the case for some developed nations and more specifically emerging markets, it is not the case for CAC 40.
The index has a broad sector spread as shown below, although I will not go through all 40 companies listed I have picked out a select few, which will provide you with an idea of the type of companies you will have exposure to.
| | |
| --- | --- |
| Name | % |
| CONSUMER PRODUCTS | 24.20 |
| BASIC MATERIALS | 20.40 |
| FINANCIALS | 15.20 |
| INDUSTRIALS | 15.20 |
| HEALTH CARE | 14.40 |
| TELECOM, MEDIA & TECHNOLOGY | 6.80 |
| UTILITIES | 3.80 |
One company with a worldwide reach is Michelin (OTCPK:MGDDF), which manufactures and distributes tires for a broad range of vehicles. It has distribution divisions in Europe and the United States. The company has broadened its product line to include travel assistance services such as maps and guides in addition to lifestyle products from bike accessories to sports gear.
Michelin has increased pre-tax profits by 400% since 2008 and it is attractively priced with a P/E of 7 and a yield of 3.5%.

Source: Google Finance
Total (NYSE:TOT), a big oil producer, is another that makes this index so attractive, with a nice yield of 6.4% and still relatively cheap at 6.7 P/E, its international earnings from over 130 countries make it a sturdy company to sit alongside the world's biggest of Exon, BP and Shell. Total is engaged with all aspects of the petroleum industry from production to refining; it also has business segments in petrochemicals, fertilizers, coal mining and power generation sectors.

Source: Google Finance
Total is extremely attractively valued and has maintained steady profit margins and revenue growth over the past four years.
Finally, another big player making up the largest weighting in the index is Sanofi (NYSE:SNY) at €109b (U.S. $143b) market cap. Formally Sanofi-Aventis the company is a global healthcare company generating most of its profits outside of France. It has six platforms for growth: Diabetes Solutions, Human Vaccines, Innovative drugs, Consumer Healthcare, Emerging Markets and Animal Health. Sanofi has seen consistent earnings growth over the past five years and as such is in high demand with a higher P/E ratio of 19, however this should not discourage you; earnings growth has shown the company is operating well within itself and is not below fair value as pre-tax profits increased €4,974m in 2008 to circa €9,327 in 2012 (estimated).

Source: Google Finance
Over the past five years this stock would have returned you a healthy 71% in capital appreciation and not forgetting yield, with a current dividend of 3.36% it is an attractive buy.
According to JP Morgan, around two-thirds of revenues from companies listed in the CAC40 are derived from markets outside of France and it is evident just looking at a few names above, these multinational corporations will be relatively unscathed by economic pressures in France.
The performance of the CAC 40 compared with the S&P 500 has been somewhat subdued, however it offers a great buying opportunity factoring in price to earnings, current cash flow levels and price-to-book values against historic averages. (see below)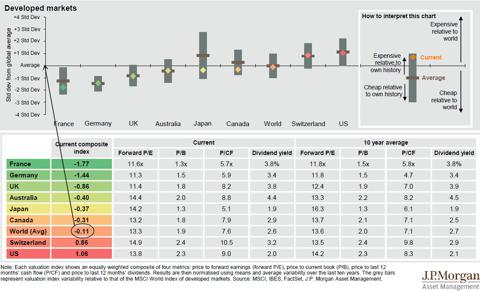 Source: JPM Asset Management
The following graph shows the market performance for the CAC 40, FTSE 100 and S&P500 over the past five years, and as you can see the French market has significantly underperformed.

Source: Yahoo Finance
Europe has been and continues to be out of favor, however as companies maintain healthy returns within France's major index, relative value will return more in line with the other indexes as confidence returns.
For the value investors, the CAC 40 is attractive, and with one of the highest yields amongst the developed markets at 3.8% it would be a great addition to any portfolio.
Disclosure: I have no positions in any stocks mentioned, and no plans to initiate any positions within the next 72 hours. I wrote this article myself, and it expresses my own opinions. I am not receiving compensation for it (other than from Seeking Alpha). I have no business relationship with any company whose stock is mentioned in this article.