By Rick Higgins
We begin a series of stock ideas that we call "Investments You Don't Have to Look at Every Day." By this, we refer to stocks that will deliver decent returns over long periods of time, so investors don't have to buy and sell at exactly the right timing, nor worry about occasional dips in stock prices. We believe this is what many non-professional investors want, because they don't have time or want to look at financial news on a daily basis. We believe this is a significant departure from mainstream investing thinking, which often care more about capturing temporal mispricings in the market, rather than picking investments that actually create shareholder value. Yes, money can be made by being cleverer or faster than the market, but there is a also way for those who want to just buy and hold.
We invite our readers to critique our analysis, and better yet, help us in finding investments you feel belong to this definition. Let's find Investments you don't have to look at every day together!
Our first pick, not necessarily our best, is Danaher (NYSE:DHR).
Over the past 9-10 years, DHR has consistently delivered consistent total shareholder returns of close to 20% annualized, compared to about 4% for the overall market. This is driven by a consistent earnings growth of roughly the same amount, other than the softness in 2009-2010.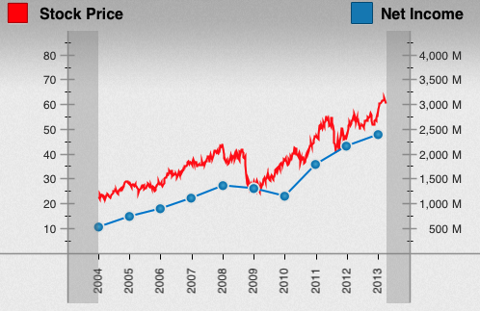 A decomposition of total shareholder returns shows DHR delivered these returns largely through earnings growth and to a small degree an improvement in P/E. Trailing P/E ratio on Jan. 02, 2004 was 13x whereas it was 17.4x in Apr 05, 2013. A very low P/E of 13x (or equivalently a high earnings yield) not only provided a good baseline for shareholder returns, but reduced the risk of a negative impact on returns due to a decline in P/E ratios.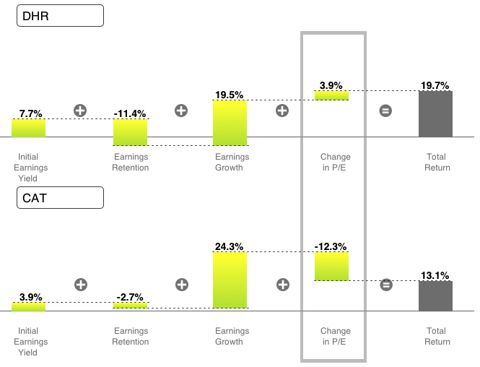 By comparison, Caterpillar (NYSE:CAT), a different type of equipment manufacturer achieved a 13.1% in annualized shareholder return during the same period, despite achieving a higher 24.3% annualized earnings growth during the same period. This is largely due to a big decline in trailing P/E for CAT.

In retrospect, investors had much higher growth expectations for CAT than they did for DHR, which resulted in a very high P/E ratio for CAT initially. As growth expectations for CAT declined, P/E ratios declined and impacted returns for CAT in a negative way.
Today, at 17.8x trailing P/E, we believe DHR is fairly valued, and its consistent ROE performance and growth trajectories mean that the stock will enjoy consistent gains from dividends and capital gains. As a diversified conglomerate in many key growth sectors including environment, dental, life sciences/diagnostics and industrial, we expect these business to continue growing robustly while maintaining a very healthy ROE.
The following model illustrates why we believe DHR is a stock worthy of investing not only because of its current valuation but the returns over an extended period going forward.
My earnings model assume a 9% annualized earnings growth rate going forward for a 5 year period. This is in contrast to revenue growth rates of 13 to 20% in the past 10 years with the exception of the 2009 to 2010 dip. I assume that ROEs will maintain stable at 15%, which seems reasonable from the performance in the past three years. Prior to the decline in 2009, DHR enjoyed ROEs in the 20% range. Finally, I assume a trailing P/E of 15.5x in 2017, compared to its 17.8x currently.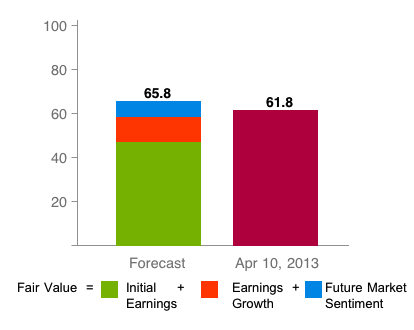 With these assumptions, the fair value of DHR is estimated to be $66, above its current trading value. The value of current earnings and earnings growth in the next 5 years account for 95% of the current trading value, which means DHR is not sensitive to even larger declines in P/E ratios. On the fair value is even higher should DHR maintain a higher P/E ratio.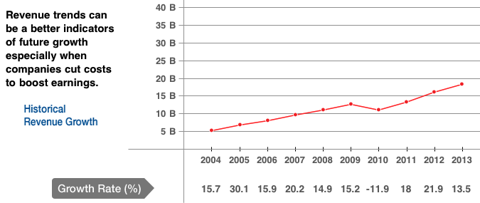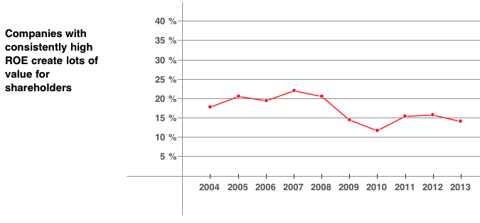 I also estimate that that the annualized returns for buying and holding this stock should exceed 8%. A fair P/E ratio of 17x implies an earnings yield of 5.6% which sets as a baseline for total returns. Because DHR enjoys healthy ROE, to drive a 9% growth in earnings, only a portion of earnings yield need to be retained. The impact of future P/E on returns is also expected to be small, given the reasonable P/E ratio currently.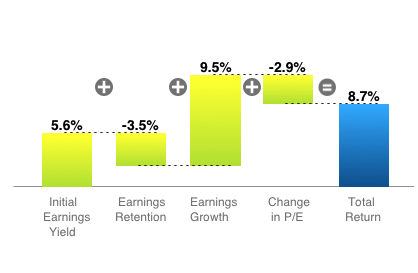 If DHR exceeds these conservative estimates and deliver 15% annualized earnings growth over 5 years, I expect DHR stock to return in excess of 12% annually, which is very decent for investors looking to buy and hold. On the other hand, the downside is limited too. If DHR delivers only 4% annualized earnings growth, the stock will return 5.6% annualized returns, which is still better than investing in treasuries.
Our simple model is based on an improvement over what's called the Abnormal Earnings Growth (AEG) model. Mathematically equivalent to conventional discounted cash flow, it allows us to clearly see how value and returns are being created, and what are the key assumptions that drive them. By segregating value according to current, near-term and longer-term performance, it allows a user to understand the risks, which a DCF value, no matter how cleverly calculated through detailed modeling of multiple product lines cannot. Though it is a very simple model that does not attempt to perform a year-by-year forecast, it focuses the discussion on the pertinent issues, i.e. whether we expect DHR to grow 4%, 9% or 15% type growth rates over a 5 year period.
As of today, 19 analysts rate DHR a buy, 5 rate a hold and none rate a sell. We think its a buy, not because it is under-valued, but it is a stock that can't go too wrong. Unless something catastrophic happens, this is a stock that will continue to perform, given the strength of the business and the sectors its in. In short, DHR is an investment you don't have to look at every day.
We don't see the stock market as a zero sum game. Stocks deliver returns over time because they take investor money, invest in building businesses and deliver good return on capital.
We care less about relative pricing of stocks, because what we are interested in are stocks that will continue to deliver returns over extended periods of time, beyond the time frame that undervalued stocks become fairly valued. Hence we do not do any ratios like P/E or EBITDA, to argue why a stock is undervalued compared to another or to its sector.
Finance professors argue there's no way to beat the market and stock markets are fairly priced almost all the time. We argue there's a difference between price and value. All stocks can have the right price at any point in time, but some may not have any value to an investor who wants to hold stocks over an extended period, achieve decent returns without having to worry about it. All fresh produce have a valid price in the market, but if we want a certain type of fruit, we should go buy the ones we want.
As our first entry to picking investments you don't have to look at every day, we have kept it short to illustrate our philosophy. We welcome critique, but more importantly followers who want to join us in expanding this way of thinking.
Disclosure: I have no positions in any stocks mentioned, and no plans to initiate any positions within the next 72 hours. I wrote this article myself, and it expresses my own opinions. I am not receiving compensation for it (other than from Seeking Alpha). I have no business relationship with any company whose stock is mentioned in this article.
Additional disclosure: This article was written by Rick Higgins, one of our contributors. Neither Candid Markets nor Rick Higgins received compensation for this article (other than from Seeking Alpha), and we have no business relationship with any company whose stock is mentioned in this article.