Though Nvidia (NASDAQ:NVDA) is primarily known for designing and developing graphics processing units (GPUs), it has considerably expanded its presence in the mobile computing domain with the rising popularity of its Tegra processors. Despite the slowdown in the PC market, the company posted record revenue and margins in fiscal 2013 due to its increasing exposure to the non-PC market. Confident of its cash generating ability from new markets, including Tegra and cloud-based graphics products for gaming, workstations and data centers, Nvidia plans to return $1 billion to its shareholders this fiscal in the form of stock buybacks and dividend payments.
In its annual investor day conference this month, Nvidia announced that its mobile processing business will remain flat in 2013 after growing at a CAGR of approximately 97% in the last two years. While we agree that the news is disappointing, especially in light of the 14% decline in Q1 2013 global PC shipments, we continue to believe that Tegra will remain an important revenue driver for Nvidia in the long run.
The reason for the flat mobile outlook this year is that Nvidia has decided to delay the launch of its Tegra 4 processor by one quarter in order to pull up the production of its Tegra 4i chips by two quarters. Introduced at the 2013 Consumer Electronic Show in January, Tegra 4 is the world's first quad-core processor based on Cortex A15, ARM's most advanced CPU core and consume 45% less power than the Tegra 3 processor. A month later, the company introduced Tegra 4i, its first fully integrated 4G LTE mobile processor to expand its presence in the smartphone market.
Considering that Nvidia has a negligible presence in the smartphone market, we think that speeding up the launch of its LTE compatible chips is a good move. 4G/LTE is the future of wireless connectivity for mobile devices, especially smartphones and the LTE integrated chipset will better equip Nvidia to challenge Qualcomm's (NASDAQ:QCOM) growing dominance in smartphones.
Growing Demand For Smartphone and Tablets
Despite macro headwinds, the mobile device market continues to grow at a rapid pace and is the fastest growing segment in the computer industry. We believe that increasing demand from emerging markets and a number of upcoming product launches from key manufacturers will further steer mobile shipments in the future.
Some data supporting our views are:
-- Smartphone shipments increased by 43% in 2012 ($675 million), accounting for 39% of the mobile phone market. Gartner forecasts mobile phone shipments to climb to 2.2 billion units by 2016 and we estimate smartphones to account for 60% of the shipments.
-- IDC estimates the global tablet shipments to have reached 117 million units in 2012, a 65% increase from 2011, and forecast the market to rise to over 260 million units by 2016.
Nvidia earned $765 million from Tegra sales in 2012, a near 30% increase compared to 2011. Nvidia-powered tablets were up by almost 100% and remain the most important driver for its progress in the mobile computing space. However, the company's progress in smartphones remains more or less stable with only a few design wins to its credit.
LTE Capability To Increase Nvidia's Competitiveness In The Smartphone Market
4G/LTE is the future of wireless connectivity for mobile devices, especially smartphones, and a dominance in the production of LTE chips has enabled Qualcomm to lead the smartphone market so far. Of the various technologies that are driving the market currently, LTE is seeing the strongest growth as carriers around the world increasingly shift to the new standard for wireless communication. Nvidia estimates the LTE market to more than double by 2016.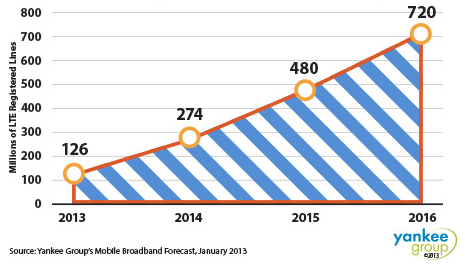 While increasing competition in the space from Qualcomm, Intel (NASDAQ:INTC), and Broadcom (BRCM) remains a big threat, we believe that by making its portfolio more competitive, the LTE integrated chipset will help Nvidia make a deeper foray in the smartphone market.
Our price estimate of $17.46 is at a considerable premium to the current market price.
Disclosure: No positions.