MetroPCS (PCS) received an enhanced offer in the proposed merger with T-mobile, a subsidiary of Deutsche Telekom AG (OTCQX:DTEGY). The main highlight of the amended proposal is the interest rate reduction on the new firm's debt to Deutsche Telecom. Debt of the combined company will be reduced by $3 billion. The lock up period for DTEGY-owned stock will also be extended.
If approved, MetroPCS shareholders will receive $4.06 per share, plus 26 percent of the new company. The previous proposal was met with strong opposition from major stockholders due to unfavorable terms. Deutsche Telecom put some spices on its proposal to make it look good, and the new one seems better. On April 15, the board of PCS unanimously approved the amended terms.
The proposed merger of PCS with T-mobile is definitely not a result of weakening financials. It is, in fact, a strategic move to strengthen the position of both companies in the relatively competitive wireless market.
PCS and T-mobile Merger Creates a Stronger Company
The merger of PCS and T-mobile will create a company that is much stronger and tougher for competitors to beat. Their combined strength will make the new company a leading value carrier in the wireless market of the U.S. In its presentation to the investors, PCS expected a 7% to 10% growth in EBITDA CAGR. It further projected that the cost synergies from enhanced scale and scope will be around $6 billion to $7 billion.
With regards to market share, the new company will obviously have an improved rank. In Q2 of 2012, PCS was ranked No. 3 in the branded no-contract subscribers market where Tracfone dominates. Tracfone has about 21.3 million subscribers. In the second spot was Sprint Nextel Corporation (NYSE:S) with approximately 15.4 million subscribers.
PCS was third with 9.3 million subscribers. Behind PCS were AT&T (NYSE:T), Leap Wireless International (LEAP), and Verizon Communications (NYSE:VZ). T-mobile ranked number 7 with about 5.3 million subscribers. With the merger, the new company will still be ranked the same with PCS at the 3rd spot. However, it will move closer to Sprint in the second spot with 14.6 million combined numbers of subscribers.
But in terms of total revenues, the new company will have a commanding lead in the branded no-contract market. In the second quarter of 2012, MetroPCS and Sprint are tied at the No. 1 spot. Both companies have revenue amounting to $1.2 billion. Tracfone was only second with $1 billion in revenue, while LEAP and T-mobile have $0.8 billion and $0.4 billion, respectively.
Based on the 2nd-quarter performance, the new company will dominate with combined revenue amounting to $1.6 billion. While the present scenario is different, the situation will be somewhat the same with respect to revenue and subscriber ranking. Therefore, the merger proves to be for the advantage of both companies.
PCS Financials and Subscriber Performance
PCS has a pretty impressive income statement and balance sheets, but its cash flow is disappointing. Total revenue in the past two years has increased from $4.847 billion in 2011 to $5.101 billion in 2012.
Consequently, net income also improved. 2011 performance showed earnings at $301.31 million, up by a staggering 55.78% from $193.41 million in 2010. The fiscal year 2012 also saw an increase in net income at $394.17 million but with a modest growth of 30.81%. The company recorded the highest adjusted EBITDA of all time at $1.5 billion with 14% growth versus the prior year. Consequently, the diluted earnings per share also increased from $0.82 to $1.07 in 2011 and 2012, respectively.
While PCS earnings performances were good, it has failed to achieve an impressive performance in debt management. Total liabilities were slightly up from $6.555 billion in 2011 to $6.830 billion in 2012; an increase by 4.19%. The company ended the year 2012 with cash and cash equivalents of $2.368 billion. However, under the recently amended agreement, the combined company will have a lowered debt exposure. Debt will be reduced by $3.8 billion, thereby giving the combined company better financial flexibility.
In terms of subscriber reach in the 4G LTE market, 2012 was a turning point for PCS. The number of 4G LTE subscribers dramatically jumped from only 310,000 in 2011 to 2.2 million. This is a whopping 609% increase.
Other significant highlights in 2012 include the launch of commercially available Voice Over LTE service, which was the first worldwide. PCS also launched other 4G LTE smartphones like Samsung Galaxy SIII, ZTE Avid, LG Motion, Huawei Activa and more.
PCS today has a market capitalization of $4.07 billion. This is way below the market capitalization of industry giants. AT&T has a market cap of $208.35 billion; Verizon comes next with $144.23 billion, followed by Vodafone with $143.85 billion. DETGY, on the other hand, has a market capitalization of $49.93 billion.
PCS currently supports a P/E ratio of 10.33, slightly lower than the industry P/E ratio of 14.27 and well below the S&P 500 P/E ratio of 17.7. The majority of the analyst firms assessed PCS as hold, while a few voted for buy.
Stock Performance
For the fiscal year 2013, PCS has an upbeat performance. The share prices have gained 20.6% in the past three months and 13.2% year to date. The closing price on April 16, was $11.05 per share. This slightly exceeds the median target price of $11, according Yahoo Finance. However, the high target set at $18 seems possible, considering that this level was attained two years ago.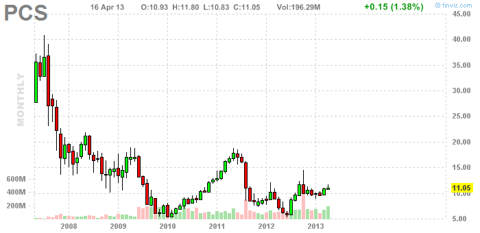 Final Notes
Back in 2011, AT&T attempted to acquire T-Mobile for a deal worth $39 billion. While, the deal was not completed, it gives us an estimate of T-Mobile's current valuation. Assuming that T-Mobile is still worth what AT&T has offered for it, the deal looks like a very sweet one for PCS shareholders.
With the PCS approval on the proposed merger, I expect the prices to keep rising in the future. The strengthened financial position of the combined company can lead PCS shareholders to higher happiness levels. Company performance is also strong in earnings and revenue growth. Consequently, the recent recommendations are shifting from hold to buy. Hudson Square recently upgraded PCS to buy with a target of $14. Based on a modest 10% growth, my FED+ valuation also suggests a minimum target of $13. Thus, the stock has at least 20% upside potential even if the merger does not get approved.
Disclosure: I have no positions in any stocks mentioned, but may initiate a long position in PCS over the next 72 hours.
Business relationship disclosure: Efsinvestment is a team of analysts. This article was written by one of our equity analysts. We did not receive compensation for this article (other than from Seeking Alpha), and we have no business relationship with any company whose stock is mentioned in this article.