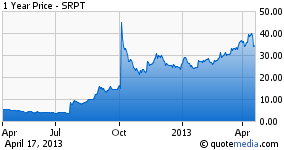 Sarepta Therapeutics (SRPT) was down 13.4% yesterday, no big deal. Analyst downgrades today, also no big deal. Sarepta has been an extremely volatile equity for the past several months and several fake tweets have swayed the stock 5% up or down during this time. Even with today's drop, Sarepta is still up 5% during the past month and 37% during the past 3 months. Analyst ratings are also quite useless in gauging the future of a company as most analysts pump stocks while they're hot and sell in the mean time. To truly assess the future of Sarepta, you need to look at their financials, the future of eteplirsen, and their pipeline. While accelerated approval (AA) would lead to immediate double to triple digit percentage gains for Sarepta shareholders, I am still long even if Sarepta is unable to gain AA from the FDA.
In 2012, Sarepta's operating loss was $29.7 million, which was compared to an operating loss of $35.9 million for 2011. 2013 losses are expected to be $85-115 million, depending on whether eteplirsen is granted accelerated approval or not. As of December 31, 2012, Sarepta had $187.7 million in cash or cash equivalents, meaning that without dilution or partnership, Sarepta should be able to operate into mid to late 2014. Without commercial manufacturing, the loss guidance would be at most $85 million, which would allow Sarepta to continue business activities for greater than 2 years at a consistent burn rate.
Duchenne Muscular Dystrophy
Duchenne Muscular Dystrophy (DMD) is a debilitating disease that often leaves patients wheelchair-bound and leads to early death. DMD makes up about 50% of all muscular dystrophies and is similar but more severe than that of Becker Muscular Dystrophy. The disease is an X-linked condition which is caused by a mutation on the dystrophin, thus affecting the structure of the protein. This condition affects about 85 in every 1 million patients in the U.S./U.K. and sadly often leads to death in the affected children by their mid to late teens.
Eteplirsen
What makes Sarepta's eteplirsen an excellent orphan candidate is not just the fact that it has slowed down the progression of DMD patients slightly, but that it has in fact helped several patients become more mobile than they were at the beginning of use. One positive of such a small trial is clarity and the ability to see patients as they progress through the trial. One such patient, Max has shown a magnificent response to eteplirsen at 74 weeks and would appear to be much more mobile than at the start of the study. Accelerated approval is also much more important to the DMD community than it is to U.S. stockholders. This product can change the quality of life of DMD patients and would make a world of difference to thousands of children including Max's brother, Austin, who is currently non-ambulatory (Please read more on DMD here).
After 74 weeks of eteplirsen use, patients in the 30 mg/kg and 50 mg/kg dose cohorts who were able to perform the 6MWT (n=6) showed a statistically significant treatment benefit of 65.2 meters (p ≤ 0.004). The study also met its surrogate endpoint of increased dystrophin produced at week 48. It should also be noted that both arms of the study showed an increase in 6mwt by 74 weeks, and just as important was the lack of SAEs in these patients during the 74 weeks of use. Also many patients in Sarepta's trial had DMD that was further advanced than the patients in the GlaxoSmithKline/Prosensa (GSK) drisapersen trials. Only one eteplirsen patient had a transient elevation of urine protein on a laboratory urine dipstick test, but this was resolved with no symptoms and eteplirsen use continued. Several events were seen in the drispersen patients, including thrombocytopenia (a decrease in the number of platelets or small cells that help blood to clot) and proteinuria (excessive protein in the urine). Thislead to hospitalizations, thus leading U.S. to believe that eteplirsen is better tolerated and long term use of drisapersen may lead to AEs/SAEs. Furthermore, as the chemical structures are slightly different for both potential therapies, Sarepta's future in this space bodes much better than that of Prosensa. The proof of concept has been seen in both drisapersen and eteplirsen as long term tests have shown increases in dystrophin produced and through the 6mwt.Without accelerated approval, I forecast that Sarepta would still be able to take 60% of the exon 53 market as clinical safety will be important to parents who have children with DMD.
FDA Meetings
Sarepta's CEO Chris Garabedian even explained at the company's March earnings call that, "The FDA meeting will allow U.S. to determine if accelerated approval filing is feasible". With Chris still bullish on filing for this approval, I would imagine that the meeting between Sarepta and the FDA was productive and very positive. FDA 21 CFR 314 Part H Sec 510 also states, "FDA may grant marketing approval for a new drug product on the basis of adequate and well-controlled clinical trials establishing that the drug product has an effect on a surrogate endpoint that is reasonably likely, based on epidemiologic, therapeutic, pathophysiologic, or other evidence, to predict clinical benefit or on the basis of an effect on a clinical endpoint other than survival or irreversible morbidity." The FDA has requested more information regarding the produced dystophin, which will allow them to determine if this leads to a better clinical outcome. The FDA also did not review 74 week data in the briefing document provided by Sarepta, which was reviewed during the March meetings. This additional information will provide some light on long term efficacy and safety in these patients even though biopsies were not taken at this time. The follow up meetings between Sarepta and the FDA should occur during the past several months and the CMC meeting still should occur in Q3 2013.
It is also normal practice for the FDA to request more information be sent with such small studies using surrogate endpoints, and it should be seen as bullish that the FDA did not request a Phase III trial be conducted immediately after the March meetings. While the FDA has experts in every field, not many physicians are experts on rare diseases such as DMD and I believe the time between the March meeting and Sarepta's next. Furthermore, with Sarepta continuing its normal manufacturing activities of eteplirsen, it can be assumed that the chances of accelerated approval are still very possible. The biggest case for the bears is that the FDA will not approve a drug based on a surrogate endpoint with such few patients. These bears do not take into account that the FDA is more proactive than it used to be and is ever changing to work more closely with small biotechs to approve orphan products.
Market Share
Sales for eteplirsen would depend on the timing of approval and it is possible that Sarepta could potentially take up to 90% of sales with accelerated approval. Without accelerated approval, I would estimate that Sarepta still would be able to take 60% of the market as efficacy and thus far thus far have been shown to be better than GlaxoSmithKline/Prosensa's drisapersen. A total of about 15,000 patients are diagnosed annually in the U.S. with DMD, and about 83% can be treated with these exon skipping treatments. Exon 53 skipping patients make up about 7.7% of all DMD patients, and with an annual treatment cost of about $400,000 per year, Sarepta could bring in $415 million annually in the U.S. alone with accelerated approval (Assuming 90% market capture). This does not take into account the other 2000 or so other boys with exon 53 DMD. Without accelerated approval, I believe revenues would be about $276 million annually in the U.S. (60% market share), not taking into account the initial the patients who are not newly diagnosed. Currently, the only options for DMD patients are glucocorticoids and calcium antagonists (both off label use). Both are much cheaper than the use of DMD targeting drugs (under $1000 annually), but neither directly treats DMD and the safety profile is not desirable. This means that the market is still wide open for exon targeting products in the 85% of patients who can be targeted. Sarepta also has 3 other Exon Skipping DMD products in early trials, along with worldwide exclusive rights to the UWA's exon-skipping platform. The exon 53 targeting drug was collaboration with a UCL professor and is will allow IND enabling activities. Both exons 45 and 50 should be presented to the FDA for an IND before the end of 2013. While this does not make them short term candidates, IND approval, which should be granted, will make Sarepta an attractive long term candidate for any pharma suitors.
I believe that Sarepta is strongly position to succeed even without Accelerated Approval for eteplirsen from the FDA. While the stock will drop if AA is not granted by the FDA in several months, I believe the long term outlook for Sarepta remains bullish as Eteplirsen will be granted approval by 2016. While I don't always agree with another popular analyst, I am just as bullish on the outlook of Sarepta and their chances of accelerated approval. Sarepta's agreement with the University of Western Australia regarding the exclusive licensing of their proprietary phosphorodiamidate morpholino oligomer (PMO) technology will allow Sarepta rights to $5 billion worth of potential intellectual property in the U.S. alone(83% of U.S. patients). Lastly, Sarepta's RNA technology has potential in Marburg and Ebola diseases, which has lead to continued funding by the government for R&D. If you have a long outlook and can hold Sarepta for more than one year, I believe Sarepta is an ideal biotech investment.
Disclosure: I am long SRPT. I wrote this article myself, and it expresses my own opinions. I am not receiving compensation for it (other than from Seeking Alpha). I have no business relationship with any company whose stock is mentioned in this article.