There is nowhere for online gaming to go but up, believe that. However many million "gamers" have their headsets on and joysticks firing right now pales in comparison to how many will in 2 years, or 5. What percentage of Africans have regular computer access? How many will in 3 years? Same for the rest of the less developed world. Chinese online-gaming stocks look to be in great shape, the safest probably being market-share-grabbing search engine Netease (NASDAQ:NTES), who gained domestic sales and distribution rights to World of Warcraft, the world's most popular online game.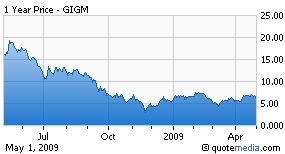 The best value in this industry, a value that got about 10% better Friday morning, is Gigamedia (NASDAQ:GIGM). They own and market several games, some of which are soon to be released in China. The company is based in Singapore and has recorded huge profit margins on increasing revenue, with $190M in sales for FY2008 and $44M in net income.
Friday morning GIGM announced that its chairman and director resigned for family reasons. To grow a company as efficient as Gigamedia he must have been a brilliant and motivated man, and I genuinely wish him the best as I do all mankind. But with a P/E around 8, GIGM has re-entered "filthy cheap" territory. With shares already trading 80% below last years highs, the resignation knocked them down from $6.5 to very near $6. Several hedge funds are huge holders of this company, which is not far up from 52-week lows.
Ultimately I believe this company would be worth atleast twice as much were it based in China. Given that I already own a few chunks of Chinese companies, being based in growing Singapore is a bonus to me. Q1 FY2009 will be very telling, but all I can see is upside from current valuation.
Disclosure: Long GIGM.