A while back on Seeking Alpha I promised readers the "low down" on fertilizer stocks (and some fertilizer MLPs too). Sorry for the delay but I have been warning about too much enthusiasm in this sector for some time now.
Let's review major public US Nitrogen product producers.
Fertilizer stock traders and investors have probably been wondering why the nitrogen fertilizer stocks have been weak this year, in spite of a record number of corn acres being planted in the US.
CF Industries (NYSE:CF), the largest US producer of nitrogen products, is a good example of the poor stock performance YTD.
It's down 26% since hitting a high of $233.43 on January 30.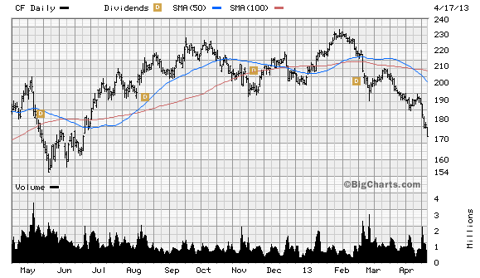 The fertilizer MLP's have fared even worse.
Rentech Nitrogen (NYSE:RNF) is down 36% since hitting $49.18 on February 1.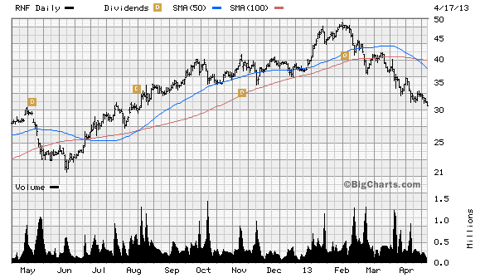 Some have probably attributed the weakness to the rising price of natural gas, a key cost for nitrogen derivative producers.
Well, a $1/mmBTU rise in natural gas prices is worth about $33-35/ton of margin on ammonia production. Not great, but gross margins have been more than 10 times that for Midwest ammonia.
Others have looked at falling "new crop" corn prices indicative of a bumper crop this year, which would mean lower revenues for corn farmers and lower purchases of nitrogen fertilizers in 2014.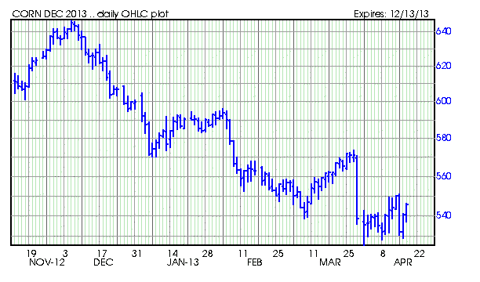 Sure, corn prices are going to affect farmer revenues, although it's hard to know how many already hedged out their corn at higher prices. Most CEOs in the fertilizer space say anything above $5/bushel corn is supportive of strong fertilizer demand.
So in my view, these are not the main reasons for the falloff in nitrogen stock prices.
This is the main reason:
Planned Midwest nitrogen production expansions total over 6.4 million tons of added annual capacity by 2017.
Company Annual Capacity ((NYSE:MT)) Completion Likelihood
CF Industries 1.3 million 2016 Very likely
Port Neal, IA
Yara Canada 1.3 million 2H 2016 Very likely
Belle Plaine, Sask.
Iowa Fertilizers 1.5-2.0 million 2016 Possible
Wever, IA
Agrium Inc. 2.0 million 2017 Possible
Midwest
Koch Nitrogen 250-350,000 (?) Unknown Probable
Fort Dodge, IA
Rentech Nitrogen 65,000 End 2013 Very Likely
East Dubuque, IL
Total planned N capacity additions: 6.4-7.0 million metric tons/annum
A couple of notes on the table. Iowa Fertilizers, owned by Orascom, is benefiting from a $1.2 billion disaster relief state bond financing that actually was a result of the Midwest floods a couple of years ago. Koch Nitrogen is a private LLC and therefore we can't know for sure when and to what degree they are expanding the Fort Dodge facility.
These planned N capacity additions do not include PotashCorp's (NYSE:POT) Geismar, LA restart (477,000) and Mosaic Company's (NYSE:MOS) planned Faustina ammonia plant, which both will replace primarily Trinidadian imports, or CF's major (2.4 million total product) expansions at Donaldsonville, LA, or Agrium's (NYSE:AGU) debottlenecking at their Borger, TX ammonia facility.
Stanley Druckenmiller, the famous hedge fund manager, said the time to sell chemical stocks was when they started announcing expansions.
This time has been no different. Nitrogen fertilizer margins were at record highs last year, and they have attracted a plethora of plant expansions and even new plants. And the stocks have been declining in price.
Another negative has been imports. Dry Urea, the largest seaborne nitrogen import, has come into the US in the second half of 2012, from places such as Oman, Kuwait, Qatar and Russia, cutting off any chance of a big price spike as we saw last Spring. Dealers were smarter this time, and stocked up in advance, so urea prices have remained subdued. Urea at the Gulf dropped to $380/ton, a far cry from $715 last year this time. Midwest urea prices are higher of course, and corn belt ammonia gets a premium due to difficulty in shipping it from the Gulf.
Country
2009
2010
2011
2012
Percent Change
2011 - 2012
In 1,000 Dollars
Canada
543,697
565,443
720,723
767,921
6.5%
Oman
17,460
154,075
149,613
465,331
211.0%
Egypt
48,412
174,802
232,970
230,139
-1.2%
Russia
0
20,101
16,710
222,640
1,232.4%
Kuwait
53,730
144,852
164,708
209,774
27.4%
Qatar
126,451
134,963
160,994
205,309
27.5%
Saudi Arabia
143,794
168,883
260,477
193,728
-25.6%
Trinidad & Tobago
109,815
149,205
154,839
165,773
7.1%
Bahrain
72,645
83,279
151,635
164,373
8.4%
China
64,918
240,583
178,622
151,587
-15.1%
Indonesia
0
11,779
28,026
133,490
376.3%
Venezuela
94,660
82,643
152,178
104,035
-31.6%
Croatia
0
5,039
41,500
46,645
12.4%
Romania
10,329
38,680
66,781
36,435
-45.4%
United Arab Em
0
25,983
0
33,938
N/A
Subtotal :
1,285,910
2,000,307
2,479,774
3,131,117
26.3%
All Other:
49,546
58,538
74,750
60,243
-19.4%
Total
1,335,456
2,058,845
2,554,524
3,191,361
24.9%
The final negative for the sector has been dropping fuel and energy prices, in particular, gasoline.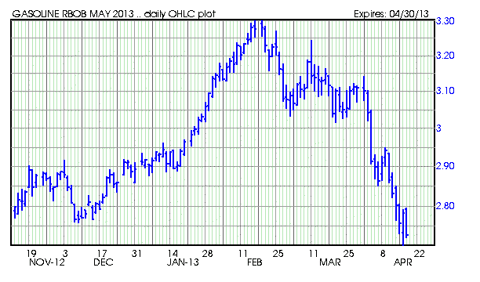 The good news is that ethanol, made primarily from corn, has hung in there, due to the government mandated Renewable Fuel Standard.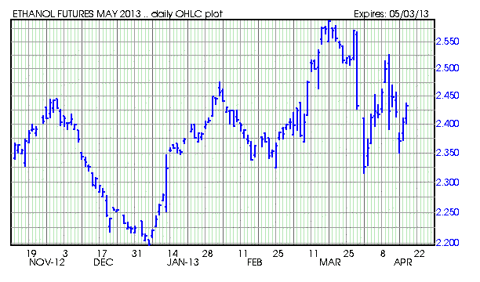 Even though gasoline demand currently doesn't warrant it, the government mandates that 13.8 billion gallons of ethanol or equivalent be used this year. That equates to about 4.9 billion bushels of corn, and corn needs nitrogen fertilizer. If they don't mess with the RFS, then that corn demand stays intact. Imported ethanol cannot escape the need for the blender being provided with a renewable identification number (RIN), so imports can't necessarily undercut domestic production of fuel ethanol.
Now that I have you sufficiently disheartened, and you are ready to sell your nitrogen fertilizer stocks, I want you to stop. There is good news.
Firstly, the nitrogen stocks have probably discounted most of this miserable scenario already. And not all those new nitrogen plants will be built, because they would kill the price of ammonia and urea in the Midwest. The first movers with the lowest costs will capture the market and scare off the new entrants.
Second, one company, Agrium, allows you to buy a much more stable and growing play on not only the big US corn, wheat and soybean crops expected this year, but also global crop growth, and in ensuing years too.
Since I expected JANA Partners, the hedge fund vying to supplant five of Agrium's board members, to lose, I did not aggressively buy the stock during the downturn. Once JANA lost their move to get on the Board at the AGM last Tuesday, I figured there would be some follow-on selling.
Now, why should you buy Agrium here, given all that I have said (trading at $91.44 USD on Wednesday mid-day)?
Here is my "private equity" valuation of Agrium.
Agrium Private Equity Valuation
USD Millions
Current EBITDA
Target EBITDA
Multiple
Value
Global Retail
$952
$1,300**
9.5
$12,350
Cdn Nitrogen
$850
$950
6.0
$5,700
Potash
$350
$500
8.0
$4,000
US Nitrogen
$280
$300
8.0
$2,400
Phosphate
$200
$200
5.0
$1,000
Advanced Tech
$43
$100
10.0
$1,000
Other Wholesale
$100
$125
5.0
$625
Profertil 50% JV(Argentina)
$100
$100
5.0
$500
MOPCO
$0
$50
5.0
$250
Resale Business
$40
$40
2.5
$100
Total EBITDA*
$2,915
Total
$27,925
Less LTD
($2,115)
*before some corporate and stock based compensation expense items
Equity
$25,810
** assumes AGU
Fully diluted shares
151.1
achieves their stated retail EBITDA target
Per share value
$170.81
by 2015
Current Market Price
$91.44
Premium over MP
86.8%
Yes, that is right. 87% more than the current stock price.
Some analysts reduced their price target after the JANA fiasco, figuring the latter will sell their 11 million plus shares. CIBC reduced AGU to $122 from $130, RBC reduced AGU to $110 from $120. (All USD).
I don't think so.
I figure JANA will shop their block around, and maybe encourage some private equity firms to take a stab at the whole thing.
The retail division of Agrium is a gem. And it is growing. It is increasingly global (Australia, Brazil, Europe). And margins are steady.
The retail people are the ones that talk to the farmers, test their soil, apply their ammonia, sell them the right seed, offer them herbicides and fungicides, get them set up for harvest. The retail business (Crop Production Services) cannot be replicated easily.
The current valuation of Agrium is 149 million shares x $91.44 = $13.62 billion plus the debt of $2.1 billion, or $15.7 billion.
Essentially, you are getting all the wholesale (Canadian and US nitrogen, 3 million tons of potash capacity with the Vanscoy expansion, and the 1 million ton phosphate business), the European distribution business, the advanced technologies business which has just doubled in capacity, and the international nitrogen assets, for $3.35 billion, at current prices. That is a really cheap deal.
Comparatively, CF Industries closed yesterday at $176.99 and was valued at $11.2 billion. CF has double the domestic nitrogen production Agrium has, after converting to metric tons and backing out the minority interests. The does not include their 2 million ton phosphate business or their JV investments in Trinidad and the UK. The nitrogen production business is what is being heavily discounted in my view.
I am not recommending CF as an acquisition candidate because AGU`s pursuit of CF in 2009 showed that management has no interest in being taken over and will use Delaware law to thwart any attempt.
My theory is simple. Whoever buys out Agrium will cancel their planned nitrogen plant in the Midwest, and sell off the wholesale divisions.
At current prices, a 45% premium bid for Agrium is only $132.50 per share, leaving almost $40 per share in value for an enterprising private equity fund to play with, selling off assets to the most likely highest value players.
Canceling the proposed Agrium Midwest greenfield plant will take some of the pressure off all the nitrogen stocks, and all boats should rise.
What is left is a growing and unique global play on rising food demand, with the biggest crop input business in the US and potentially in Canada. I say potentially, because I think Agrium's purchase of Viterra retail stores in Western Canada is being held up due to competition concerns. So you might get some bad news on that sometime soon, but it won`t be a deal breaker. Probably Agrium will have to sell some stores to a competitor.
No matter, with Agrium, you get a 2.2% yield while you wait for a likely buyout of the company.
Even Agrium knows they are vulnerable. While they have been high fiving it over their victory over JANA at the AGM, they have been hoping Canadian regulators expedite changes in the rules which would strengthen poison pill takeover protections, sorely weak in Canada right now.
This is not a fly by night opportunity. You can wait and accumulate Agrium. The quarter might be weaker than expected due to lack of pricing on nitrogen compared to last year. The snow cover delayed ammonia application in Canada last year, indicating the Q2 numbers will be stronger.
That's my call for the day. Buy Agrium.
Post Script: The API oil inventories released this morning were supportive of crude oil (down 6.66 million barrels for the week ending April 12) and yesterday's vicious commodity sell-off had somewhat of a rebound today. Crude is up a little in aftermarket but supply can only increase in North America. You should reduce your oil weighting. Too many pros are living in the past, recommending high cost oil stocks.
I must admit, I blew it on the refinery stocks as I held on too long and got whacked by the RIN issue and the Tier 3 gasoline standards for reduced sulfur. They probably are getting interesting here but I am still feeling singed. I'd like to see the earnings from Valero (NYSE:VLO) and Marathon Petroleum (NYSE:MPC) on April 30. Analyst estimates haven't really come down. The API refined product builds weren't that supportive +1.26 million distillates and +253,000 gasoline. Maybe the refineries are going to rally here but I am "wait and see." PetroBakken (PBKEF.PK) announced decent guidance but the stock went down anyways. Energy stocks are really feeling the pinch and I don't expect that to change soon. Agriculture has better fundamentals.
Disclosure: I am long AGU. I wrote this article myself, and it expresses my own opinions. I am not receiving compensation for it (other than from Seeking Alpha). I have no business relationship with any company whose stock is mentioned in this article.