One of the biggest challenges facing independent oil and gas producers has been offsetting weak natural gas prices with oil production.
Few have done the job as nicely as Carrizo (NASDAQ:CRZO), which saw its oil production grow 256% to 7,820 barrels of oil per day in 2012.
The strength came thanks to Carrizo's ramp up in activity in the Eagle Ford Shale, where it controls 53,000 net acres and drilled 59 of its 120 gross wells last year.
The new wells helped Eagle Ford production climb to 9000 barrels of oil per day by year end. In 2012, Eagle Ford helped Carrizo's total production increase 26% to 25,781 barrels of oil equivalent per day in 2012.
Carrizo's Eagle Ford production strength should continue given the company's plans to drill another 41 net wells in 2013.
The focus on oil has paid off for shareholders as quarterly oil sales have grown to $81.2 million in Q4 from just 11.8 million in the first quarter of 2011. In '13, Carrizo is planning for 28% oil production growth -- 85% hedged at $89/bbl or higher.
But, it's not just Eagle Ford providing opportunity for Carrizo.
In addition to Eagle Ford, Carrizo has 80,000 acres in the Marcellus Shale, 35,000 acres in the Niobrara Shale and 14,000 acres in the emerging Utica Shale, where it has the potential for 117 wells at 100 acre spacing and plans to drill its first well later this year.
Activity across all those formations led to an 82% lift in revenue last quarter to $368 million. As for capital spending, the company plans on spending $624 million this year, down from $696 million in 2012.
Eagle Ford will get most of the money, with the company earmarking $385 million for the play this year. Carrizo will also spend $35 million operating two rigs in Niobrara, where it has 18 net wells and plans for another 15 this year, and $75 million in Marcellus to maintain leases.
The drop off in total spend this year may coincide nicely with a recovery in natural gas prices. Money spent bringing Marcellus acreage to production last year is likely to pay off more quickly, particularly since gas prices have rebounded.
At $4 NYMEX prices, Carrizo estimates its Marcellus wells have a 1.8 year payback. Currently, front month natural gas prices are $4.14 per MMBTU, up from $3.30 at the end of 2012. The following chart shows Henry Hub prices since the start of 2011.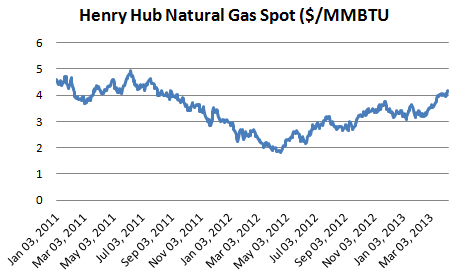 If natural gas prices continue higher, the question facing independents won't be how to offset natural gas prices but how to maximize them. If so, Carrizo's Marcellus acreage will help support shares.
As for timing, the second quarter is usually a healthy one for independents. At Carrizo, shareholders have enjoyed a profitable quarter in 8 of the past 10 years, with a median 16.75% return, suggesting now may be a good time to consider buying.
Source: Seasonal Investor

Source Material: Carrizo Investor Presentation.
Disclosure: I have no positions in any stocks mentioned, but may initiate a long position in CRZO over the next 72 hours. I wrote this article myself, and it expresses my own opinions. I am not receiving compensation for it (other than from Seeking Alpha). I have no business relationship with any company whose stock is mentioned in this article.