Coffee price are now off their May 2011 highs by 55% and just 26% above the lowest price we've seen in the past five years. Futures are trading just a dime or so above a key pivot point, at $125.00 (lower red line).
After consolidating in a tight, 20 cent range for the last five months, it appears we are bouncing off the lower end of this range. Notice the volume spike last week -- this is the largest volume spike (135,470 contracts), on a weekly basis, that we've seen in the last five years.
I'm not the only one finding value at these levels…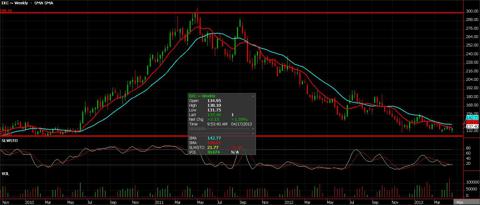 Click to enlarge
I'm in the process of constructing bullish futures and option trades for clients. I suggest trading the September contracts for now. This gives us nearly four months for the trend to turn and head higher. December contracts should also be considered, especially if you put any size behind this trade -- think about splitting orders between September and December contracts.
This is not a trade that I expect to buy today and sell tomorrow. Swing traders should be willing to stay with this for the next few quarters. And just because coffee is relatively cheap at these prices, there is still substantial risk of loss trading futures -- do not buy and fall asleep at the wheel!
But if we're right, we could be getting in on a bullish trade in its first inning. The median price of coffee on this time frame is north of $2.00/lb. With a contract size of 37,500 lbs., every 1-cent move in the futures market represents a $375 gain/loss. A move back to $2.00 from current prices gives a long position roughly $23,625 in profits. Requiring a margin deposit of just $2,750… do the math yourself, but we're looking at a pretty good return if we see $2.00 coffee.
While I am predominantly a technician, I do keep an eye on fundamentals. 2013/2014 is an "off year" for the production cycle of the coffee crop, so expect a reduction in supplies. A supply shortage may become even larger if an "El Nino" weather pattern remerges as forecast by a number of meteorologists. And even with last year's monster crop out of South America, coffee's global stock to usage ratio from last year will remain tight, shown here: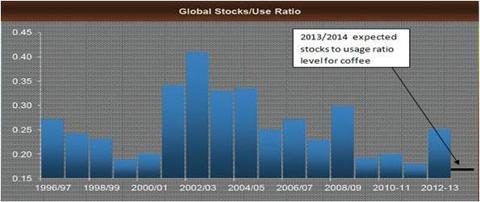 Click to enlarge
Risk Disclaimer: The opinions contained herein are for general information only and not tailored to any specific investor's needs or investment goals. Any opinions expressed in this article are as of the date indicated. Trading futures, options, and Forex involves substantial risk of loss and is not suitable for all investors. Past performance is not necessarily indicative of future results.
Disclosure: I have no positions in any stocks mentioned, and no plans to initiate any positions within the next 72 hours. I wrote this article myself, and it expresses my own opinions. I am not receiving compensation for it. I have no business relationship with any company whose stock is mentioned in this article.