The market action in the last few months has been very strong. A company that has been forming a base in the last few weeks is Stratasys Inc. (NASDAQ:SSYS). I have opened a position recently and like the action here over the 50-day moving average.
SSYS is a member and a leader in the 3-D printing stocks. My favorite company in this sector is 3D Systems (NYSE:DDD), and my recent analysis and why I am long can be seen here. SSYS is close second and will continue to add on dips. Keep an eye on other companies that have patents in the field like iRobot (NASDAQ:IRBT). Also The ExOne Company (NASDAQ:XONE) recently had its IPO and the chart continues to set up beautifully.
SSYS provides additive manufacturing solutions for the creation of parts used in the process of designing and manufacturing products and for the direct manufacture of end parts.
Numbers in the latest quarter were quite impressive. I believe the market for 3-D printing stocks will boom into 2014, but I believe the valuation of some of these stocks is still low. One should also note that 3-D stocks have not moved much in the last five months as the market rallied. SSYS was trading at around $90 per share in February, and is now down to $74.
Fundamental analysis
SSYS currently trades at around $74. Its market cap is around $2.85billion. It has a float of 30.91 million shares. Interestingly, 51% is owned by institutions, which is great. The company has no debt and has $154 million in cash, which allows it to look for acquisitions of smaller companies and also negates any chances a secondary offering of shares will be needed.
The company always manages to beat the earnings estimates as seen in the last four quarters here. In a recent report, a researcher postulated that 3-D printing will be an $8.4 billion market in 2025 led by automotive and aerospace applications. It goes on to say that longer term, 3-D printing has the potential to reshape the manufacturing system. Shorter term, cost optimization will be key.
The EPS growth looks great for the next few quarters. It also boasts a book value of $40.96. In the last quarter, the company managed to close its merger with Objet, and I believe there is huge potential with this merger. In the latest earnings report, management reported:
Objet was growing faster the last three years. And service revenue that we got was completely related to the growth in the install base. So when you look at the service revenue Object as standalone, which you don't have it, you could expect that Objet could grow faster than ever as combined company. The growth that you're seeing in 2012 is mainly related to the fast growth of their install base of Objet for the last two years.
I believe the second half of 2013 will be huge for this company as the COO recently said:
Revenue growth is expected to be relatively stronger in the second half of the year as we progress through our integration plan and revenue synergies from selling the combined product portfolio begin to end.
Technical analysis
I like the weekly chart as it looks like a base has been forming. However, note that the trend line has been broken and a new support is possibly forming.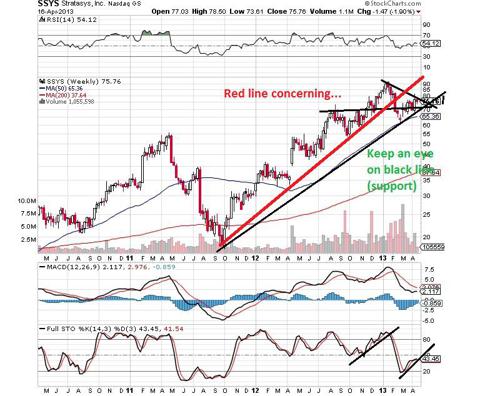 Conclusion
I like SSYS from a fundamental perspective. Technically, I believe a new base is forming but keep an eye on the black support line for further action. I will be adding to SSYS and keeping an eye on volume in the next week or so. Earnings are around the corner, and with a great balance sheet, the merger with Objet and future potential, I remain long in SSYS.
Disclosure: I am long SSYS. I wrote this article myself, and it expresses my own opinions. I am not receiving compensation for it (other than from Seeking Alpha). I have no business relationship with any company whose stock is mentioned in this article.