There are a lot of economic predictions out there and most of them will be wrong. The economic dots are all over the map. I could spin data to "prove" almost any point. But for investors, spin gets you into trouble.
As an engineer, you cannot spin failure. There are many ways to do something which will work – and many more ways which will not work. Everything is black or white – it works or it does not.
In construction engineering, we have a black science – geotechnical engineering. This is the group of people who tell us how the earth will behave when we build on it or change its contour. We see failures of geotech all the time – settlement, landslides, and the like. I have been directly involved with some very costly geotech failures.
We have tried to reduce geotech to a science. There are all those formulas and machines to test the soil. I used to cringe when a young geotech showed up to do an evaluation. I wanted gray hair.
The old geotech hands smelled and tasted the samples from the boring rig. They did testing which cannot be described in a text book. But even in an entire lifetime, a geotech has probably been deeply involved in much less than 1,000 design / build cycles. You became a top notch geotech from evaluating failure including your own.
Economics is also a black science where the average economist has lived through less than 10 cycles in their lifetimes. The cycle we are currently in is the largest (hopefully) any economist will experience. What chance is there that any economist is knowledgeable through the school of hard knocks? Statistically speaking, what equation or study has been tested in enough events to be considered reliable?
This economic crisis was unforeseen using our modern day tools. Economists believed they had a firm control over the economy, and that big economic swings were events of the past. Yet, here we are.
What is next?
This is the time to be a skeptic. Truth is what you can see or touch. Spin is taking truth for a ride. Do not trust even what you think is true or will be true in the future. We are in a black swan event because mainstream concepts are flawed. But it is equally as true that alternative concepts may be flawed also.
There is also a problem with data. As an example, there is massively conflicting data on whether insiders were net buyers or sellers of their company's stock. We also have the National Association of Realtors saying housing prices are increasing, while Case-Shiller data is showing prices are decreasing. And let us not forget the issue of inflation – depending on how I connect the dots – I could use existing government data to prove either inflation or deflation was occurring.
I fear that some of the data is being manipulated (in the name of national interest of course). Now we are faced with the media presenting the recession almost in past tense – the road to recovery.
So that leaves each of us to sort our way through this mess. You need to be experimenting in small ways with your investments. You cannot wake up one morning and jump back in with both feet. Very tiny steps until there is more certainty.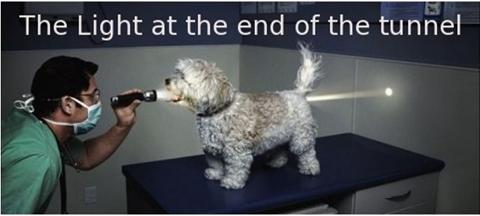 There is no economic certainty in our current conditions. Some people (including me) are seeing signs we are in a bottoming process right now. We are getting this from reading the tea leaves of the leading and coincident indicators. I see enough unresolved economic issues that I will not be making any sizeable investment decisions.
How will the economy play out? I am not certain. But I am certain that anyone who is telling you they know what is happening is bullshitting you.
Additional Economic Events from this Past Week
We have our first glimpse of GDP numbers for 1Q 2009 with the advanced numbers coming in at -6.1% (similar to 4Q 2009 -6.3%). Here is my take:
This is

the first time since Q3 1974 to Q1 1975 that the U.S. economy has contracted for three consecutive quarters

. One more quarter of contraction and this "recession" duration will only be beat by the Great Recession.

Consumer spending increased +2.2% in Q1 2009 after contracting -4.3% in Q4 2008. This was helped by a +9.4% jump in durable goods.

The ballbuster in this 1Q 2009 data is business exports, investment, and

inventories. This begins to explain the unusually high 1Q business earnings. When you do not invest, it usually means you will pay for this in future earnings. Business investment dropped -37.9% led by a record decline in spending on structures, which was down -44.2%. Business investment was the largest drag on GDP in Q1 2009, at -4.7%. The change in inventories came in at a record high -$103.7 billion, representing a -2.8% drag on economic growth as slow domestic and foreign demand meant there was no need for businesses restock shelves.

Housing investment growth of -1.4% dragged down the economy for a thirteenth consecutive quarter.

According to Bank of Tokyo – Mitsubishi, price measures were mixed in this GDP release with headline consumer inflation falling by -1.0% while the core rose +1.5%. The implicit GDP deflator came in higher than expected at an increase of +2.9% in Q1 2009, likely driven higher by the firming of commodity prices over the quarter. The real story here is the deflator or adjustment of the GDP. It is no wonder the argument between inflation and deflation continues. Even in presenting GDP, both effects are accounted for in the same document.
Other then the scary business numbers and the jump in durable goods, there really was not anything surprising – or data you could call a trend. In fact, one day after releasing the advanced GDP data, the BEA released the March 2009 personal income and outlay data showing a small contraction in consumer consumption (after spending increases in January and February).
And at the end of the week, the Commerce Department reported that orders to U.S. factories fell -0.9% in March, and showing durable goods declined by -0.8% weighed down by a drop in general machinery (-3.5%) and transportation equipment (-1.2%). This is in direct contradiction of the GDP growth in durable goods in 1Q 2009.
Remember this is advance GDP data, and the advance data for 4Q 2008 showed -3.8% versus the final -6.3%. What I am trying to tell you is that this GDP data is probably not good so there is no reason to think about it in any meaningful way.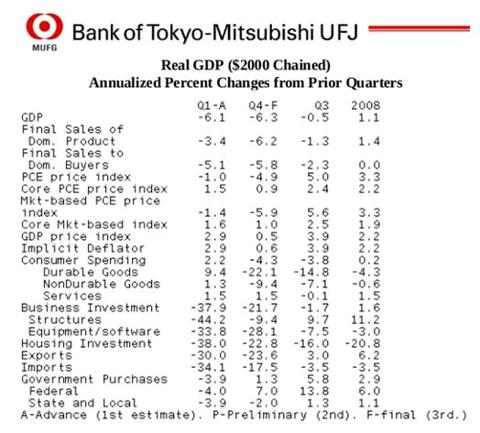 The dictators of American economic policy (the Federal Reserve's Federal Open Market Committee – FOMC) met in a planned special session this week. They took no new actions and only confirmed their current course. Their views:
the economy has continued to contract, though the pace of contraction appears to be somewhat slower. Household spending has shown signs of stabilizing but remains constrained by ongoing job losses, lower housing wealth, and tight credit. Weak sales prospects and difficulties in obtaining credit have led businesses to cut back on inventories, fixed investment, and staffing.

that inflation will remain subdued .... that inflation could persist for a time below rates that best foster economic growth and price stability in the longer term.

the target range for the federal funds rate at 0 to 1/4 percent and anticipates that economic conditions are likely to warrant exceptionally low levels of the federal funds rate for an extended period.

The Fed will continue buying all sorts of debt they previously announced that they would purchase to increase liquidity as they are not seeing economic traction yet. Oh, by the way, they will keep looking at the size and composition of the Federal Reserve's balance sheet in light of financial and economic developments.
Because Treasuries longer than 2 years has been edging up the entire month of April, I was expecting the Fed FOMC to announce they were going to jump in and start buying more longer term treasuries. They were silent on this obvious trend. The FOMC had this meeting for a particular reason so this lack of action is a signal. Are they thinking the worst is over? Are they seeing inflationary signs and are afraid to add more quantitative easing?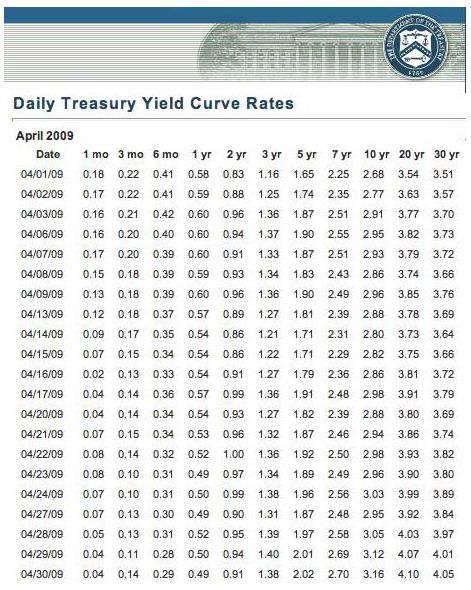 The Chicago Fed Midwest Manufacturing Index (CFMMI) fell 2.4% in March from a revised 0.4% in February, and their industrial production index for manufacturing (IPMFG) fell 1.7% in March. Auto production was the only bright spot rising less than 1%. There is no indication in this index that manufacturing is bottoming.

The Conference Board's consumer confidence index for April 2009 rose 12.3 points to 39.2 (50 points being neutral consumer sentiment) – which is the same level as November 2008. It is interesting that consumer confidence of the current situation only rose slightly in April to 23.7 from 21.9 in March. As a political strategist, it would be interesting that the index jumped mostly due to the consumer's expectations six months from now which was 49.5 points versus 30.2 in March. They have also convinced the masses that inflation of 5.9% will be here in 12 months – spend, spend, spend. This means the selling job by the government and the Wall Street punters are doing on the masses is working.
The April University of Michigan's consumer sentiment index showed that consumer sentiment improved further in late April. Long-term inflation expectations (5-10 year measure) sat at 2.8% in April. This is one half the inflation expectation of The Conference Board's Consumer Sentiment.
Mr. Toads magic ride continues with the Case-Shiller Home Price Index which continues to show declining home prices. The current trend of higher winter home value declines and less severe summer home value declines appears to be repeating with a "less negative" month-over-month results for February 2009. This data conflicts with the National Association of Realtor's home prices released last week which showed improvement in home prices for February. From a statistical point of view, I would put significantly more faith in the less biased Case-Shiller numbers. The Case-Shiller annualized rate of real estate decline is 25.2% in February alone.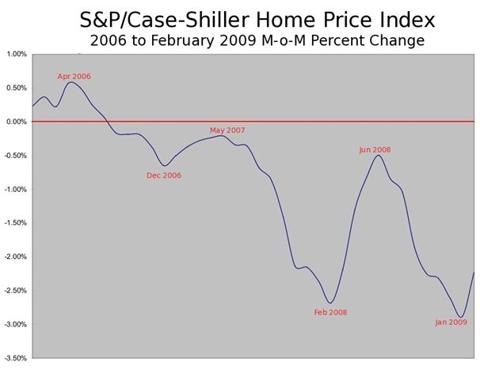 The four week moving average of mortgage loanapplication volume decreased 4.9% and increased 63% compared with the same week one year earlier. The refinance share of mortgage activity decreased slightly to 75.3% of applications. The average interest rate for 30-year fixed-rate mortgages decreased slightly to 4.62%.
Initial unemployment claims had a slight decrease for the week ending April 25 with the four week weekly moving average of 637,250 claims. It is good news that the 4 week average is holding steady, and has been ever so slightly trending down over the last several weeks. However, job loss totals more than 5.1 million since the start of the recession (reduction in payroll count), and is expected to peak around 8 million which would represent the largest percentage drop in the labor market of any downturn in our post-WWII economy. Next week we will see the unemployment rate near 9%.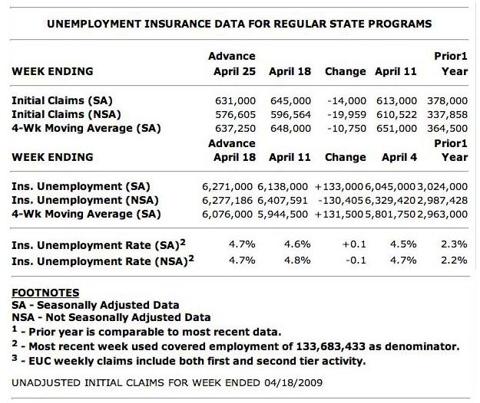 Filing for Bankruptcy: Chrysler. Bank failures this week: America West Bank (Layton, UT); Citizens Community Bank (Ridgewood, NJ); Silverton Bank, N.A. (Atlanta, GA) – 32 bank failures this year.
Economic Indicators Published this Past Week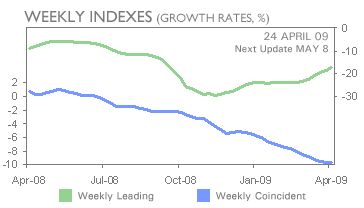 The WLI from ECRI is continuing to show improvement in economic conditions six months from now. In their statement last Friday, they said "With the level of the WLI in an upswing for seven weeks now, an end to the U.S. recession is now in clear sight."
You all are reading the headlines, worst is over, economy falling at slower rate, etc. The obvious conclusion is that shortly things will be getting better. Do not count on any of your lives being better six months from now – and unfortunately more people will be worse off six months from now than are better off.
Because the way a recession is defined, recovery is not a criteria for ending a recession. There is currently major resistance to recovering to a level we were at several years ago. For now conditions will continue to decline but at a slower rate.
The stock market recovery from my perspective may be based on false pillars:
In past recessions,

the largest inventory drawdown occurred coincident or one quarter prior to the start of recovery. This is logical and seems to be happening now (you will not know for sure until we look back).
In past recessions, recovery begins several months following the peak month of unemployment claims. The peak month was January.
Consumer confidence is returning because the media blitz is telling them things are getting better.
The operational word is recovery – and it appears the definition of recovery is no longer economically falling. I expect is a small economic bounce up after the economy bottoms and then economic stagnation. The market has priced in historical recovery. Think about our economy analytically. Debt and the resulting competition for investment dollars will continue to restrain economic recovery.
Disclosures: long MMFs, PYEMX, EWZ, TIP