Over the past six months every ETF or mutual fund wholesaler pulling their weight has dutifully suggested floating rate notes as the perfect ammunition to fight the fears of rising interest rates. Late last week at the behest of one of my followers, I committed to writing an article on which floating rate/senior loan vehicles I favored most. That got me thinking about a conversation I had last August with an unnamed mutual fund wholesaler. He made the case for adding floating rate notes to our strategic income portfolio via his fund. The idea was sound, but that wasn't what made me think twice, it was that I've been in countless meetings with wholesalers over the years, and there isn't one that I can remember when timely allocation advice was given. Its that out of the ordinary experience that made me question whether loans were appropriate in the current state of the credit markets. For purposes of discussion I want to compare and contrast some of the popular loan products available, but also detail some of the risks and rewards of this small corner of the bond market.
To meet their fixed income objectives, investors need to take one or both of two primary risks: interest rate risk and/or credit risk. I recently wrote an article discussing these two hazards entitled, The Crossroads Of Duration And Credit Quality. Depending on where interest rates or credit spreads are hovering, you are usually taking more of one risk than the other. With the 10-year treasury rate at 1.7%, even though credit spreads are tight, the risk du jour is currently in interest rates. That's where the 550 billion dollar senior loan market comes in, since they are typically tied to an interest rate index like LIBOR. Loans are higher on the capital structure than other unsecured obligations and some even carry floors to insure you earn a respectable yield even if rates stay low. Their coupon rate typically resets every 90 days resulting in a duration shorter than three months. The key trade off to keep in mind is that you are sidestepping interest rate risk in favor of credit risk, since most loans are rated below investment grade. In summary, loans are short duration, current income producing assets that can provide your fixed income portfolio with insulation from rising rates.
So how should a retail investor go about integrating some exposure to loans into their portfolio? Like any popular investment trend, the choices are becoming more abundant. In the table below I formulated a sampling composed of three funds:
1) An index based ETF, the Powershares Senior Loan Portfolio (NYSEARCA:BKLN)
2) A conservatively managed, higher quality strategy, the Fidelity Floating Rate High Income Fund (MUTF:FFRHX)
3) An aggressively managed, credit heavy strategy, The Guggenheim Floating Rate Strategy Fund (MUTF:GIFIX)
Other floating rate ETFs such as FLOT, FLTR, and FLRN were left out of this analysis due to their constrictions to invest in only investment grade securities, and their overweight exposure to the financial sector. In addition, they also produce very little income, with very low SEC yields that typically fall in the 0.5-1% range. For purposes of this analysis I wanted to focus on funds that can invest in a more diversified mix of below investment grade securities with higher cash flows, and opportunities for improving credit fundamentals.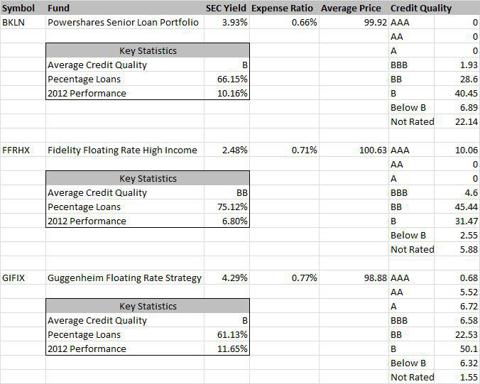 I primarily wanted to focus on credit quality in this analysis since its been the single largest contributor to past performance. Those that have taken more credit risk have been rewarded with higher total return. However, I don't believe such a fool proof assumption will work moving forward, in fact, quite the opposite. The Federal Reserve's accommodative policies have driven many investors to search for yield in unconventional places, and the senior loan market has been one of them. But with any diversified credit sensitive portfolio, you are purely worried about defaults and losses, and although the recovery rates are high at 75-80%, it can be a setback to your total return that coupon payments have to compensate for.
Depending on an investor's tolerance for risk they could easily layer either of these three senior loan funds into their portfolio. Taking a closer look, the debate of active vs. passive management is always something to consider. I prefer the actively managed funds on this list because they monitor a borrower's ability to repay its obligations, and that in turn may allow the fund to sidestep a potential default in the future. Looking at the expense ratios, its clear that there is not a significant step-up in price to purchase this type of oversight.
Timing new purchases in any investment can be difficult, but I particularly favor treating senior loans as you would an investment in high yield bonds. Since the overall size of the loan market can become constrained during volatility spikes, use any upset in the credit markets and the ensuing liquidity squeeze to your advantage to make new investments. This scenario often provides for the best buying opportunities as weak handed investors jump ship for the safety of treasuries. Looking at the chart below, all three funds have decent starts to the year, but with the run we have seen in all high yielding assets, I think we may get a better point to add during a correction in risk assets.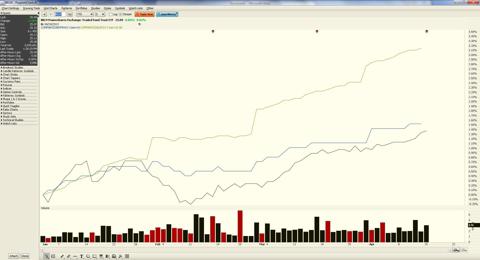 Click to enlarge
Developing a game plan to add loans could also coincide with other portfolio management decisions such as reducing exposure to higher duration core fixed income funds. Now that rates have fallen back below 2% to limits that don't offer the best chances for capital appreciation. Changes like that will keep your overall portfolio yield respectable, but also allow you to lower its sensitivity to interest rates.
Disclosure: I have no positions in any stocks mentioned, and no plans to initiate any positions within the next 72 hours. I wrote this article myself, and it expresses my own opinions. I am not receiving compensation for it. I have no business relationship with any company whose stock is mentioned in this article.
Additional disclosure: Fabian Capital Management, and/or its clients may hold positions in the ETFs or mutual funds mentioned above. The commentary does not constitute individualized investment advice. The opinions offered herein are not personalized recommendations to buy, sell or hold securities.