I am starting to become bemused by all these CEOs and industry titans making calls on the stock market; just the other day Sumner Redstone was calling for the birth of a new bull market and now DryShips (NASDAQ:DRYS) CEO, the always flamboyant George Economou, tells us dry bulk shipping stocks are "oversold".
Even more amazing; this company - at death's door due to debt just a month ago [March 30, 2009: DryShips Gets Going Concern Note] [January 22: DryShips (DRYS) - Reality Strikes Back] is ready to buy assets! "DryShips is uniquely positioned among its shipping peers to go after distressed assets and drive the long awaited consolidation of the industry."
How quickly the worm turns!
The company is doing a lot of interesting things; and indeed I do think there is potentially intriguing possibilities with the deep sea drilling component as well - but what a management. Let's see what they reported...
Via AP:
Greek

drybulk

shipper

DryShips

Inc. posted a first-quarter loss driven by a one-time charge of $166.2 million related to contract termination fees and forfeiture of vessel deposits. Late Thursday night the company, which provides marine transportation services for

drybulk

cargoes and offshore oil deep water drilling, reported a loss of $101.8 million, or 93 cents per share, compared with earnings of $176.3 million, or $4.58 per share, during the same period last year.
Results include a loss related to contract termination fees and forfeiture of vessel deposits of $166.2 million, or $1.53 per share; a

noncash

gain of $8.7 million, or 8 cents per share, associated with the valuation of the company's interest rate swaps; amortization of stock-based compensation of $9.3 million, or 9 cents per share; a gain on the sale of one vessel of $2.4 million, or 2 cents per share; and a gain on the contract cancellation of two vessels of $15.3 million, or 14 cents per share. Excluding these items, income was $47.3 million, or 45 cents per share. (Love it - just ignore every real cost, and they were minting money - this is why I say how expensive stocks really are in the "real world" but we all wink and just use 'as reported' earnings.) Analysts polled by Thomson Reuters estimated a profit of 19 cents per share, on average. Analysts typically exclude one-time items from their forecasts.
Revenue slipped 15 percent to $196.6 million from $232.1 million in the prior-year period. Analysts forecast an average revenue of $196.8 million.
For its

drybulk

carrier segment, the company said net voyage revenues fell 59 percent to $88.9 million.
Quarterly time charter equivalent rate -- a measure of hire rate -- plunged 57 percent to $27,115.
With DryShips at this point it's more about (ahem) staying afloat - this is basically a definition of a pure play on the return of global trade growth. On the plus side, they had to pay a massive fee to get out of some vessel purchases - but in their financial position, that's ok.
Via Reuters:
DryShips

, which had secured loan covenant waivers for its debt totalling about $1 billion, said as of March 31, it had liquidity of $1.67 billion.

DryShips

, which was once predominantly a spot market operator, changed its chartering strategy by employing a majority of its vessels in the long-term charter market. (That is a big change - it's too bad George did not make that decision about 12 months ago when he could of locked in monster rates) ...said 65 percent of remaining operating days in 2009 are fixed in long-term charter contracts.

Economou

said total revenue from long-term time charters are expected to be $1.1 billion over the next 3 years.
"We have reduced capital expenditures totaling $2 billion and at the same time

de

-levered our balance sheet by raising $500 million of equity,"

Economou

said.
Now what made me favorable to DryShips last year was their stealth deep sea driller business [May 22, 2008: DryShips - Earnings Growth Continues & Potential Deep Sea Oil Drilling Play].
Below came some great news on that front.
The company also said it signed a three-year $630 million contract with

Petrobas

, the Brazilian oil concern, to support exploration drilling in the Black Sea.
The company has two

newbuldings

, one of which is expected to come online in late 2010. Credit

Suisse's

Lewis said financing for those

drillships

remains a concern as the company is yet to start discussions with the bankers. Last year,

DryShips

had agreed to buy two ultra deep water

drillships

for $1.6 billion and those

newbuildings

are yet to be contracted. "Should

DryShips

be able to secure long-term contracts for these

unfinanced

drillships

, clearly that would go a long way in helping them in securing financing," Lewis, who has an "

underperform

" said.
Lewis also said the company has enough time to address these two

unfinanced

drillships

but added that the company may have to raise debt to pay for the

newbuildings

.
DryShips is always an interesting stock as it is daytrader central, with a CEO that... well, let's just say he is controversial. But if they can escape the debt load, and Baltic Dry shipping rates stabilize anywhere near here - they can make money. The switch to long term rates will factually make them less volatile but I assume traders will skip this fact, and still treat DRYS as if they are 1:1 loaded with direct correlation to the Baltic Dry Index. Last, they have the deep sea driller (my favorite area of the oil complex) as the kicker.
I might have to get this one back on my radar due to this switch to longer term rates, and the covenant waivers. If they can get financing for those deep sea rigs - that would be a huge win. I hate the big debt load but investors seem to whistle past the debt yard nowadays. Still a lot of moving parts but if things were clear, this would not be a sub $10 stock.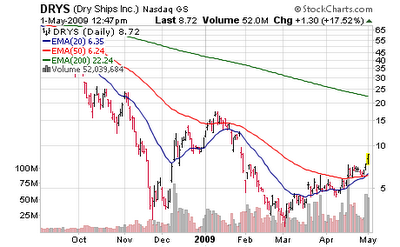 Related posts:
No position