By Santiago Rodriguez
Once industrial titans of the 19th century, railroad companies are fighting their way to the top. One great example is Kansas City Southern (NYSE:KSU), which I will come back to shortly.
The Wall Street Journal named 2013 the revival of the Railroad age, and while I agree that the railroad industry's activity this year is moving in the right direction, I also believe that its correlation to domestic and international industries and markets poses a threat to the industry's revival and to the companies that navigate its railways.
A Look at Yesterday and Tomorrow
Summary of N.A. Rail Freight Traffic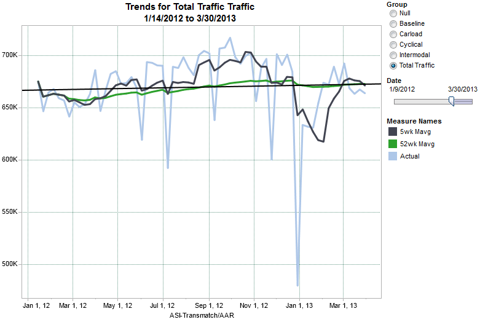 Last year was a tough year for the rail industry; it saw a 31.64% drop in total traffic, a 11.3% drop in total coal consumption, a 20.06% drop in coal and energy product carloads, a 5.68% drop in agricultural products carloads, rising gas prices, tougher regulation, increased long-term debt and a sluggish commodities market. However, that was yesterday, and despite the negativity, 2013 is gearing up to be an interesting year.
Tougher regulation for the industry resulted in more spending and in more borrowing. According to the Association of American Railroads, capital expenditures for the rail industry in 2012 saw a record $13 billion, and greater cap ex is expected for 2013. Also attributable to the stricter rules are fewer fatal and non-fatal accidents. Stricter regulations in the form of environmental laws have resulted in greener locomotives, which have reduced the industry's ecological footprint and have also allowed for longer freight travel while consuming less gas. As for commodities, coal demand in emerging markets is expected to continue rising, and according to the International Energy Agency's annual Medium Term Coal Report 2012, coal will soon come close to surpassing oil as the world's top energy source.
The Effects of Correlation
For the primary companies of the railroad industry, devaluation in company performance and in stock value can be attributed to a correlation with the level of industrial production and to commodity consumption.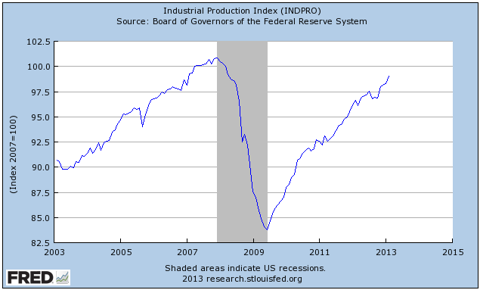 Industrial production, a measure of output of the industrial sector of the economy, began dropping circa the fourth quarter of 2012 and began an ascent back to normal levels near the beginning of 2013. February's total Industrial Production level was two and a half percent above its level of a year earlier and the greatest change year-over-year occurred in business equipment, construction and in mining. That is good news considering that for many of the rail companies, Industrial Production is closely tied to their lines of business and ultimately their bottom line. Unfortunately for the rail industry, the U.S. Industrial Production Index does not paint a pretty picture because according to the index, IP levels should begin dropping in late April or in May.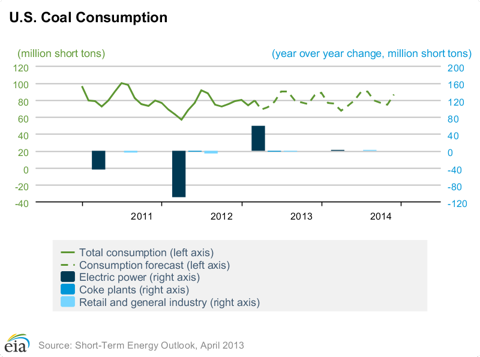 According to data published by the U.S. Energy Information Administration, U.S. Coal consumption has been steadily declining since 2010 and a look at the Dow Jones U.S. Coal Index demonstrates just how grave the situation is for the commodity. The decline has affected the industry and in order to cushion the blow, many firms began better distributing the relative weights of their freight classes. Some companies acted sooner and fared better than others. According to Trefis, Union Pacific's energy commodities freight comprises only 15.5% of the company's stock price, but for CSX, coal freight makes up 24.8% of the company's stock price.
Dow Jones U.S. Coal Index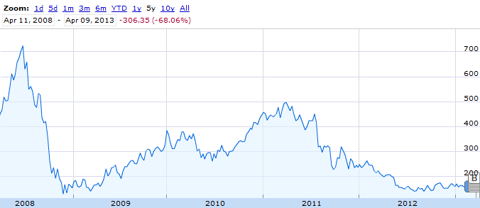 According to Ernst & Young's Global Steel report, global demand for steel is unlikely to improve significantly and according to McGraw-Hill Construction's VP of Economic Affairs, global construction levels will improve only slightly.
As appetite for goods, coal and other commodities increases in emerging markets, so do shipping needs. I believe that demand in emerging markets will play a vital role in the evolution of the rail industry. I also believe that the companies that best capitalize on this demand will be highly rewarded.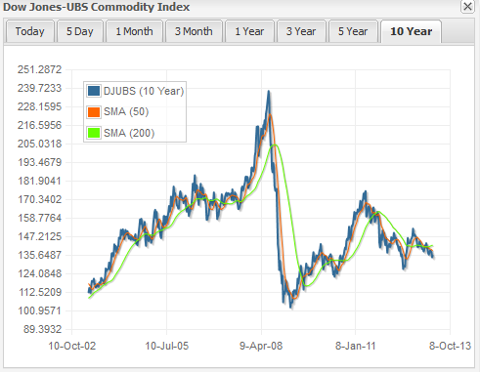 Investing in Themselves for a Brighter Tomorrow
On average, for the first three quarters of 2012, the best performing rail companies saw rising share prices but saw prices tumble in the beginning of the fourth quarter. Luckily for Kansas City, CSX (NYSE:CSX), Norfolk Southern (NYSE:NSC), Union Pacific (NYSE:UNP), and for Canadian National (NYSE:CNI), prices began picking up in the end of the fourth quarter and, as the chart beneath demonstrates, the run continued into the first quarter of 2013.
The future of the industry relies on how well the companies that comprise it anticipate changes and how well they react. Most companies have already begun to modify their business models and their lines of business, as well as investing in their infrastructure.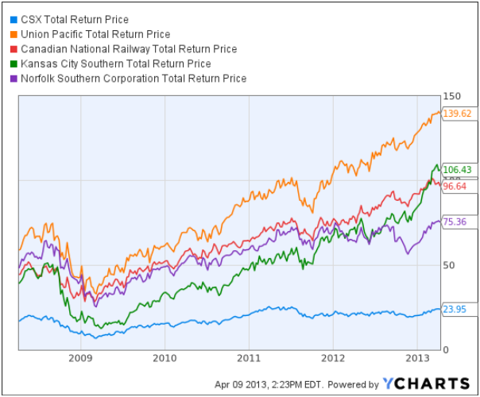 In 2012 CSX suffered a $500 million loss to its coal business due the rising availability of natural gas. As a strategic move, management began building up the merchandise and intermodal lines of business, while reducing its coal business. CSX continues to invest in a multi-year project to raise highway bridges and enlarge mountain tunnels to create enough space for double-decker containers, a move that hopes to increase efficiency and productivity. CSX also continues to take advantage of rising coal demand in emerging markets by shipping coal from mines to ports where the coal is then shipped to the respective country.
Union Pacific continues to invest in upgrading its railways, and in expanding its current rail network. The company will invest $14 million on construction of two new tracks for its new giant $3.6 billion unloading terminal near Santa Teresa, N.M. It also plans on building a new $500 million bridge over the Mississippi River to replace an older bridge that causes shipping delays. In the last year, Union Pacific built six new tracks in Odessa, TX, and also plans to build two more tracks as well as one connecting line.
Norfolk has also continued to shift the relative weights of its business lines by building up the best performing groups. The company also continues to increase productivity by cutting costs and expenses, and continues to give back to the communities in which its tracks are located. Norfolk recently won the 2012 National Achievement Award from Transportation Community Awareness and Emergency Response for its efforts to help communities respond to hazardous materials transportation accidents. Norfolk also plans to spend $2 billion this year on capital improvements in support of rail service, safety and sustainability.
For Canadian National and for Kansas City, the plan is growth and the strategy is to seize opportunities that competitors do not. Canadian National seized the crude-by-rail movement and has since enjoyed the ride. As of 2009, crude-laden carloads have risen 50-fold. As for Kansas City Southern, the company is building an intermodal center in the important Kansas City region to increase relevance in its home town. Kansas City is the only Class I Railroad to own tracks both inside and outside of Mexico's boundaries and it also operates a newly expanded intermodal facility in Salinas Victoria.
Expectations
All in all, the world's markets are alive with movement despite talks of wars between states and between currencies, talks of asset bubbles, active central banks, quickly growing emerging markets, low U.S. labor force participation rates, and record high youth unemployment in Europe. I believe that to succeed, management will need to invest today in the company to prepare for tomorrow's woes.
I also believe that the companies of the rail industry are moving in the right direction and will continue to see rising share prices, but only if they continue to seize domestic opportunities as well as opportunities abroad and continue to hedge against a poorly performing commodities market and a bleak U.S. Industrial Production forecast.
Disclosure: I have no positions in any stocks mentioned, and no plans to initiate any positions within the next 72 hours. I wrote this article myself, and it expresses my own opinions. I am not receiving compensation for it (other than from Seeking Alpha). I have no business relationship with any company whose stock is mentioned in this article.