Millennial Media - Mobile Advertising Growth and Concerns
Millennial Media (NYSE:MM) is a company with market cap of 480mm, revenues of 180mm, which engages in innovative advertising in the mobile space. The share price has decreased by 75% in the last year alone.
As we review MM, we will attempt to prove that the current valuation is getting close to a margin of safety purchase price - due to the high growth mobile advertising industry that MM is in.
For a full review of the mobile advertising industry, take a look at the excellent article by James Sands here.
"Mom and Pop" Concerns.
"We work with 85 of the top 100 Ad Age advertisers. These are the largest advertisers in the world that is measured by Ad Age, big global advertisers and we think that penetration of 85% of this top 100 is second to none, certainly in mobile and we think across digital." - Michael Avon, Millennial Media CFO.
As Mr. Avon, the CFO of MM, points out in his quote, MM's focus has really been on large brand advertisers. In mobile advertising there is generally a lack of success, thus far, with direct response campaigns. Direct response is a campaign in which the advertiser is looking for an immediate return after click-thru on a mobile ad.
A real life example of direct response would be an insurance broker with a call center taking inbound calls. If they pay X dollars on mobile ads, they need to generate X inbound calls, leads, and new customers. Their goal is not to brand their company name by buying mobile traffic, but generate immediate results from the campaign. The ROI, thus far, has not been attractive for the majority of direct response campaigns through mobile. Mom-and-pop advertisers (such as lead buyers, real estate agents, local stores, single programmer mobile apps, and in general, small companies) are dabbling in mobile ad buying, for the purpose of increasing sales. Some have good sized budgets (probably in the $1,000-$10,000 range) that enable them to do optimization of landing pages, optimization of ads, knowledgeable targeting; all the specific details that bring them success on other sources of traffic, such as Facebook (NASDAQ:FB) ads and Google (NASDAQ:GOOG) Adwords. Yet, there has not been a positive return on investment in mobile. The result is a high turnover in "mom-and-pop" mobile advertisers.
So the mobile ad money is being made in branding spend. These are medium to large-cap companies that can allocate a larger budget to a mobile ad campaign and measure the success through a 100 different metrics, rather then a simple profit/loss on sales from the campaign.
Google makes money from both the big brand names and the mom-and-pop shops with their Adwords product. Direct response campaigns succeed on Adwords, with time and effort on the advertiser's part. Ideally, MM will figure out how to successfully help the smaller companies have positive monetization on campaigns. The mMedia product from MM does has the capability of allowing smaller advertisers to login and self-service, but it needs to retain those advertisers.
This lack of direct response ROI, combined with the lack of maturity of the mobile ad market, translates into lower CPM results. One CPM is a thousand ad or page impressions. I get paid $10 for every one thousand people that read this very article, so a CPM of $10. The site that the article is hosted on, SeekingAlpha.com, might get double or triple that from advertisers, so a $20 or $30 CPM. I've seen targeted niche sites in the finance industry collect a $125 CPM to their advertisers and keep that inventory filled with advertisers. To put it in perspective, the current global mobile eCPM is $1.90, per Opera Software Reporting. This includes all smartphone and tablet devices, and global traffic. Here is Business Insiders perspective: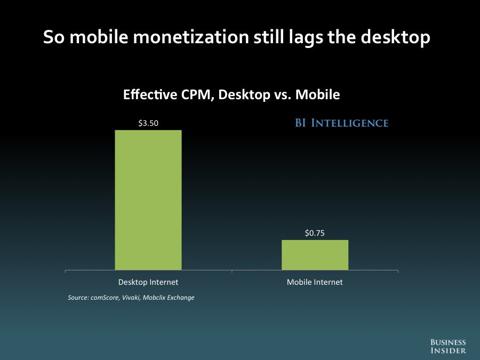 Source: Business Insider
The chart shows an effective eCPM in mobile as low as $0.75, with display CPM's being about 4.5x higher. Regardless of how it's analyzed, mobile CPM's are still a fraction of the results and success of traditional online display CPM's. As the mobile market matures, these eCPM's should increase, which would benefit MM.
Competitors
Okay, where do we even start with MM's competitors? Google Admob, Apple iAd, Velti, Facebook, Jumptap, Adlibrium, inMobi, ExactTarget, MoPub, Mojiva, Motricity, and list goes on and on. Although some of these are not apples to apples comparisons, there is many options out there for advertisers looking to do mobile traffic. MM may have the broadest reach, and best technology, for in-app advertising, but those may not be competitive advantages that last long.
Have broad demographic targeting has set MM apart, for now, but in time, that competitive advantage may also wane. The theoretical ability for a local McDonalds to target walk-by customers with a McCafe ad on a mobile device is truly powerful stuff, but MM competitors are working on the same concepts, and have been for years. So what other competitive advantages are there for MM? Maybe a large amount of in-app inventory- which is the result of a great sales team, and high profit sharing deals with app developers. In time, MM competitors can also obtain an equally great sales team, and equally large amount of app publisher relationships.
Industry growth rates - It's no secret that the mobile ad industry is growing rapidly, and in our opinion the primary driver of MM's future success.
Annual tablet shipments are expected to double in 3 years from 200 million per year to 400 million per year - a growth rate of 26% per year.
Mobile broadband connections are expected to go from a current 500million to 2billion by 2015 - a growth rate of 100% per year.
55 Billion Apps are being downloaded every year.
App revenue has grown from 900mm in 2009 to over 6billion in 2013, an annualized growth rate of 60%.
Smartphone users consume huge amounts of content, and smartphones are only 1/6 of penetration currently, globally. Huge emerging market potential for smartphone traffic.
People spend more time on apps then global web. Google controls mobile search, so there is not much opportunity there for MM. Facebook controls mobile display, so limited opportunity there for MM. The key for MM in mobile is apps, apps, apps, which is where the majority of MM's revenue already comes from.
(sources: business insider)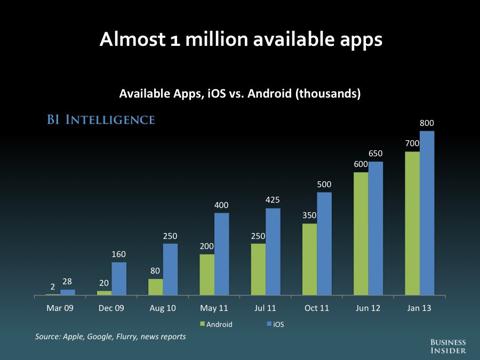 Source: Business Insider
So MM has advertising relationships with 39,000 apps, out of 1 million total apps available. At first, the 1mm total apps appears to be tremendous potential - but it's necessary to apply the 80/20 rule in this case, since only 20% of apps will get sustainable traffic levels to be considered worthwhile publishers. So the potential is truly closer to 200,000 apps, and growing annually. Based on 200,000 apps there is about 6x their current advertising potential for MM in apps alone, if they can get those apps into their publisher inventory.
The fact that MM is expanding internationally is a possible growth catalyst for the firm, although we would like to see their focus additionally on the BRI's, as per this chart: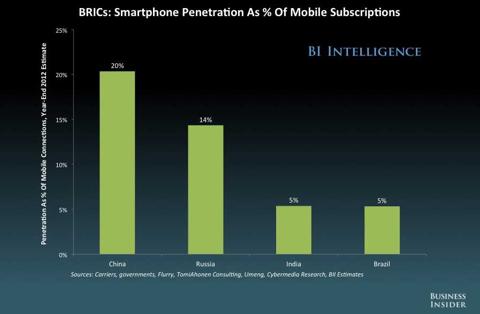 Source: Business Insider
As low cost smartphone hit the BRIC's, the penetration increases, along with mobile ad opportunities. Right now it looks like MM is mostly focused on Asia-Pacific, and the Middle East and Africa - high growth areas, but some insight into their Brazil, Russia, and India operations would be nice, I haven't seen any details on these countries from MM management. The BRI countries appear to have the most potential in 3-5 years, due to the low current smartphone penetration rates.
Our Valuation - For What It's Worth
This is a step by step analysis to obtain a realistic valuation of MM.
Growth Rate: With MM expanding internationally, the growth potential is large. In looking at industry growth rates, per the stats above, it ranges from 26%, 60%, to 100% yOy growth ahead. This includes everything from smartphones, to tablets, content and app usage, and international growth. Per eMarketer, Mobile ad spending in the U.S. is projected to increase from $1.5 billion in 2011 to $27 billion in 2017, a 62% CAGR. If MM cannot grow their EPS at a minimum of 25% per year in this high-growth industry it would be mismanagement. We believe an average EPS growth of 25% for the next five years is a highly conservative estimate.
Future P/E ratio: We can look at relative PEG ratios for tech and growth companies for this. The result is a PEG of greater then 1.5, which we can then work backwards from our growth rate of 25% to find P/E. Using a conservative 1.2 PEG, less than the average 1.5, this gives a realistic future P/E expectation of 30 for MM.
Determining 2013 EPS: Analysts are expecting MM to hit 0.14 EPS for this year on average. We can use a lower estimate of 0.11 for our valuation, in the event that MM does not hit analyst estimates, possibly due to the extra spending they are doing to expand their international operations and costs spent on acquisitions and their integration.
Final Valuation: Using a minimum acceptable rate of 15% rate of return the current intrinsic valuation of MM is then $7.60 / share. The valuation is based on them hitting that 0.11 EPS for 2013, and growing EPS 25% per year for five years in the future. However, we need a margin of safety purchase price, which is at least 30% lower than the intrinsic price, but normally 30-50% lower. A 30% margin of safety results in a maximum purchase price of $5.32/share. Will MM hit $5.32 per share and provide an opportunity for value buyers?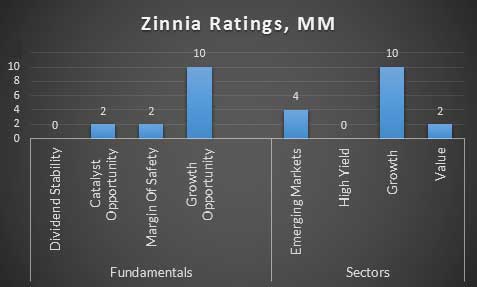 Disclosure: I have no positions in any stocks mentioned, and no plans to initiate any positions within the next 72 hours. I wrote this article myself, and it expresses my own opinions. I am not receiving compensation for it (other than from Seeking Alpha). I have no business relationship with any company whose stock is mentioned in this article.