Facebook (NASDAQ:FB) is one of the most rapidly developing and innovating corporations in the world today. Throughout the last several years the company has identified several computing trends, and has shifted its policies towards monetizing those trends. One of the major shifts in consumer behavior has been a move to mobile computing. Smartphone saturation has been increasing rapidly across the developed world, and Facebook knows this better than anyone. Facebook took the time to develop quality mobile applications for a variety of operating systems, but has recently made a more aggressive move by altering the underlying code behind the omnipresent Android operating system. The result of its work is called Facebook Home.
Facebook Home isn't a piece of hardware or a special kind of phone. It's a free, optional download on the Google Play Store (the Android app store). Upon downloading, Facebook Home changes your phones function and heavily integrates it with Facebook.
While previously you may have had a regular lock screen on your phone, with Facebook Home you are presented with a live news feed about your friends and their activities. With one quick swipe you can open up Facebook Messenger, the website's popular chat program. Facebook Messenger completely bypasses "texting"; it processes your messages directly through Facebook, using data to transmit information rapidly between you and whomever you feel like speaking with.
Facebook Home also changes the home screen on any Android operating system. Normally you would see a grid of applications that you have installed, and whatever "widgets" you choose to place. With Facebook Home, there are 3 buttons that stay on top of your programs, allowing you to instantly "check-in" to a location, upload a photo, or update your Facebook status.
Facebook Home makes your phone that much more Facebook-friendly. The move to create a more streamlined, Facebook oriented interface isn't just a stab in the dark: it is backed by genuine consumer demand.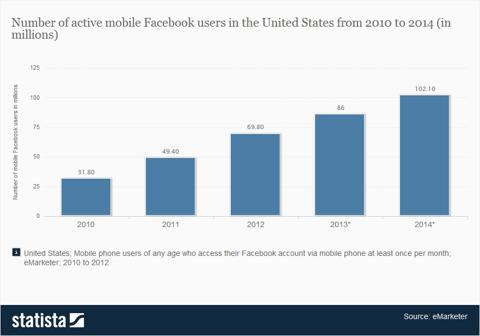 Click to enlarge
According to research firm eMarketer, Facebook mobile usage has been on an upward trend. eMarketer projects that over 100 million people will be using Facebook on their phones by 2014.
With increasing usage comes increasing advertising revenue. Although Facebook still generates most of its revenue from home computer usage, the amount of money that they make off of mobile advertising is on the upswing.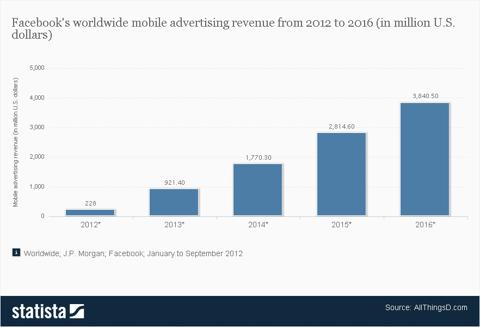 Click to enlarge
With these statistics it wouldn't make sense for Facebook to not make its own iteration of the Android operating system. People use Facebook on their phones, and they do so rabidly. Facebook Home should catch on with those that want to fully integrate the social network into their phone's operating system. The adoption will allow Facebook to mine data even better than before, as they will now have access to all of your mobile computing information.
With more data comes better advertisements. As any investor knows, advertisements are Facebook's lifeblood. The corporation essentially earns all of its revenue from taking people's data and monetizing it through well-targeted ads. With the recent introduction of Facebook AdX and Facebook Home, Facebook is taking serious steps to up its bottom line. The palpable aggression that is evident from the corporation's latest developments leads me to believe that they will continue to better monetize mobile and generate more profit. Going long Facebook is a safe bet.
Disclosure: I am long FB. I wrote this article myself, and it expresses my own opinions. I am not receiving compensation for it (other than from Seeking Alpha). I have no business relationship with any company whose stock is mentioned in this article.