There is plenty of positive weather news for production and recreational agriculture across the central part of the U.S. this spring.
Soil moisture levels have wiped out last year's drought over all of the region, with the minor exception of a few counties in far northern Indiana. Perception is often more important than reality so, perhaps more importantly for recreation agriculture, soil moisture is higher than the 5-year average.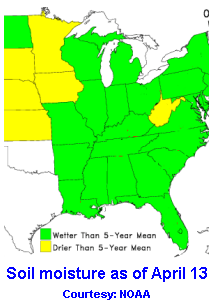 Indeed, the influence of perception may be true for most of the eastern half of the country. The average homeowner is noticing that the soil is moist and that is a significant change from last year's parched conditions, especially across Ohio, Indiana, Illinois, and Missouri.
Although it will be a local phenomenon, retailers like Lowe's (NYSE:LOW), Home Depot (NYSE:HD), and manufacturers such as Deere & Co. (NYSE:DE), Husqvarna (OTC:HUSQF) and Toro (NYSE:TTC) will see an uptick in sales as homeowners replace plants that died in the drought, in addition to the usual spring gardening purchases. Both perennial and annual flowers, grasses and small shrubs suffered in last year's dry, hot conditions.
Providing there's enough discretionary money available, lawn mowers and power equipment that normally would have been purchased last summer may sell well this spring and early summer, lowering supplier inventory.
The ample moisture will slowly dry up over the course of the summer as rainfall dwindles again in July and August, so any positive sentiment in the lawn and garden industry will also take a downward turn mid-summer.
Disclosure: I have no positions in any stocks mentioned, and no plans to initiate any positions within the next 72 hours. I wrote this article myself, and it expresses my own opinions. I am not receiving compensation for it (other than from Seeking Alpha). I have no business relationship with any company whose stock is mentioned in this article.