On the 18th of April, Nokia (NYSE:NOK), everyone's favorite "casino" stock, will offer the potential for Bitcoin-esque returns as it announces the 1st quarter 2013 results - results that are being heralded as make or break!
It's been an incredible story from what was once the monopoly in mobile phones, but as they have proved, in the consumer industry, you are only one step away from losing! In 2000, Nokia sold over 420m phones and surprisingly, they are still selling: 335m to be precise. The problem is the geographic shift in sales, where low quality, low priced phones, adored by LEDC consumers, have become the main volume driver. The problem with $30 phones is there is only so much money you can make!
Forget the 40% margins that iPhone currently enjoys, even with more than twice the sales, Nokia continually grinds to operating losses because of constant restructurings and lack of innovation.
Microsoft To The Rescue
Yes, the title was meant to be tongue in cheek. It's ironic that the sleeping giant of the OS world decided to tie up with her equivalent in the mobile world and as most expect, two overweight, old and tired companies haven't made the sweetest music.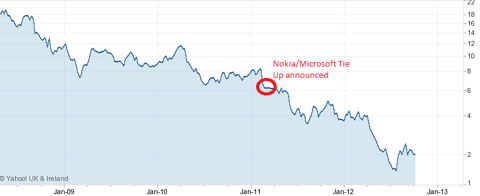 Since the tie-up, Nokia has lost a further 66% of market value while Microsoft (NASDAQ:MSFT) themselves have been cast as solely responsible for the dying PC market with their laughably bad Windows 8. (On a side note, I recently purchased a Windows 8 machine and I think it's awful!). Despite all of these failures it may be surprising but the Windows 8 phones look surprisingly Fresh.
If you read my blog semi-regularly, you will know that I consider mobiles to be a fashion accessory and the design will dictate a significant amount of sales revenue (besides the ecosystem, which is more important). I happen to think that the Lumias are visually appealing. The colors are eye catching and the chassis looks of a much higher quality than that of the Galaxy. It's not a 100% knockout great looking phone, but it's close. Even the dare to be different tile set up is a welcome change from the other operating systems currently available.
The public have warmed to the phone as the Lumia's seemed to have seriously outsold the BlackBerry 10s despite not generating the hype that BlackBerry (NASDAQ:BBRY) has managed to do. Furthermore, the Asha phones (which use a different OS) have also been a hit in countries such as India, Pakistan and Russia. Surely there is life after Symbian.
Unfortunately, the Nokia division I'm talking about is actually the biggest thorn in its side and I value the business ex mobile @ EUR 2.93 a share (13 percent premium to today's close). This valuation comes as a sum of the parts even after I severely impair the cash and cash equivalents because of the cash burn from mobile. If Microsoft were to come and offer a £1 for the mobile business, Nokia should bite their hands off as this will unlock a tremendous amount of value that the shares do have - not just my 13% premium but the impaired cash as well.
Valuing the Un-Valuable
As the company is effectively made out of a number of divisions, the only way we can come around to a valuation is with a sum of the parts. There is no real point valuing mobile, as this is in effect a binary number. Analysts have used 0.2/0.3x ev/sales but if the division is a constant cash burner and unsuccessful the valuation may as well be zero or negative (as the market is currently implying).
Nokia Siemens Networks
Without a doubt the jewel in the crown of the Nokia empire. This company, little known by the typical Nokia consumer, specializes in the manufacturing of base stations for mobile phones. This allows the company two lines of revenue, one from the sale of the initial base station and the other from the services. The main competitors are Ericsson (NASDAQ:ERIC) (which is also restructuring everything), and from Asia, Huawei and ZTE. The industry has been shaken up as of late with the Chinese manufacturers able to more or less destroy the European prices to such a degree that Ericsson saw their mobile operating margin drop from 13% to 6% YoY! (gross margin from 34.8% to 31.2%).
Clearly the environment has changed significantly, but the Europeans have been helped by the fact that the US government decreed that Huawei and ZTE were capable of espionage and were therefore not trusted as equipment providers.
According to consensus, EV/EBITDA for Ericsson is 6.7x in 2013 and 6.0x in 2014, and in order to come to a good idea as to NSN's valuation (a private 50:50 JV between Nokia and Siemens) we have to consider which company we prefer. After a significant restructuring by NSN, the company is looking in good shape. Although loss-making at the bottom line, the company did manage an 800m profit if you strip out the restructuring charges.
NSN also managed to increase Mobile and Service margins as well as drastically reduce working capital. Compared to the margin losing, WC intensive Ericsson, this is a dream. I therefore think it's prudent to give NSN a superior valuation and without giving away my numbers I come to the conclusion that NSN makes up EUR1.60 per share of value for Nokia shares.
The next up is their patent portfolio, which I pull from their mobile division as it generates a steady EUR480m per year. Using a 10% discount, I value this portfolio at EUR4.8bn or EUR1.28 per share.
On the balance sheet, their cash and equivalents is worth EUR 9.4bn, which is roughly EUR 2.50 per share. Stress testing for value destruction and profitability in mobile after 4 years, I get EUR 1.48 per share.
This means that currently, excluding mobile and HERE (the maps segment, which has a value), the value of Nokia is EUR 2.80 and just to be fair, I halved the valuation figure for HERE from the most bearish analyst as even the division has revenues of over 1bn, it is significantly loss making.
What can I learn from this?
Simply put, the market believes that the mobile segment will destroy EUR 0.27c of value, or EUR 1,280m of value. Amusingly after all of my calculations, can you guess the operating profit of the mobile phone's business? It's minus 1,000m.
Does this mean that if the company isn't profitable next year, the Nokia share price will be valued at market? Not quite - it depends on the performance of the other divisions, but remember I impaired the cash on balance sheet to assume that the mobile division will burn through 30% of their cash pile (a little over 3bn) before profitability. So in reality the market believes that the mobile business is destroying nearly 4bn of value.
Unfortunately, fundamental analysis stops here as you need to decide whether and if so, when, the mobile division becomes profitable. Furthermore, if it isn't profitable, will Microsoft take it out, or will Nokia cut their losses. If this were to happen, how much money would have been burned at this point?
Despite all the different elements in this casino stock the 5m Windows phone sales in 1Q13 seems to be the number to watch, if it beats - good news for shareholders, if not, well - there's always next quarter.
Disclosure: I am long NOK. I wrote this article myself, and it expresses my own opinions. I am not receiving compensation for it. I have no business relationship with any company whose stock is mentioned in this article.