Apple (NASDAQ:AAPL) is currently priced with the expectation for essentially zero earnings growth going forward based on its anemic trailing Enterprise Value to Free Cash Flow ratio of 4.7 coupled with a 2.5% dividend yield. This for a company where 52% of its revenue is focused in a market (smartphones) expected to grow 32% in 2013, and then 13.3% per year from 2014 to 2017. Within the smartphone market, China is both the largest and fastest growing segment, expected to grow 41% in 2013 to 301 million units. Apple has set its sites on China, more than doubling its iPhone revenue in this segment last quarter, and expects to significantly increase its share going forward. Based on my research and analysis, incremental Greater China iPhone sales on their own could add almost 25% to EBIT in FY14.
Greater China Operating Breakout
Starting last quarter, Apple chose to breakout Greater China (China, Taiwan, Hong Kong) from Asia-Pacific a as separate operating segment. This not only allowed investors to see the incredible growth and execution that Apple has had in China (78% growth in FY12), but gives insight into where the company believes its growth will come from.
According to Apple's FY13 Q1 results, Greater China's revenue increased 80% year-on-year (Figure 1) while iPhone sales within the segment more than doubled. By breaking Greater China out from the rest of Asia-Pacific, Apple has dispelled the misconception that growth in China will be less profitable than the former expansions in the Americas and Europe. To the contrary, on 80% revenue growth, Greater China had the highest incremental operating margin (margin of the revenue growth only) of any region at 31.6% and is now the third largest region and the second most profitable, ahead of both the Americas and Europe.
Figure 1: Apple FY13 Q1 (December Quarter) Results by Operating Segment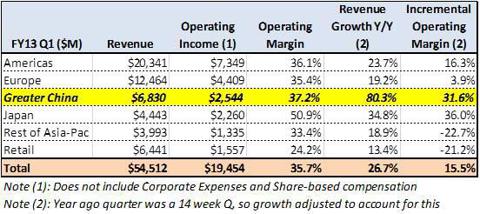 Upcoming China Catalysts for Apple
Apple needs to successfully execute on both its China Mobile (NYSE:CHL) agreement and the short-term bifurcation of its iPhone product strategy. Apple and China Mobile signed a confidentiality agreement back in January and have been working on the completion of a supplier agreement since. China Mobile is a Chinese state-owned telecommunications company with about 70% market share in China, or more than 700 million mobile subscribers - the holy grail of smartphone potential for Apple.
As part of the China Mobile strategy, Apple has split its upcoming iPhone 5S product launch into two offerings: A lower cost 5S for the China Mobile subscriber base and a next generation performance improved 5S for the Americas and European market. Both products will be in the same footprint/screen size as the iPhone 5, with a larger sized screen next generation model planned for launch early to mid next year.
Look for the low cost iPhone 5S launch with China Mobile to be in July with a significant volume ramp up initiating then. Apple's suppliers are already preparing by adding capacity. For example, Foxconn has added 10,000 workers per week to its ZhengZhou factory since late March to prepare for the new iPhone demand.
China Government Criticism and Subsequent Praise
China sent a shot over the bow at Apple back on March 15th, from state run China central television complaining about Apple's warranty policy and how it differed in China. After no response from Apple, it fired a second shot on March 28th from two sources: a state marketplace regulator (in the State Administration for Industry and Commerce) and from China National Radio urging authorities to protect consumer rights, mentioning Apple. The China People's Daily then attacked Apple for its "unparalleled arrogance." Sensing escalation, Apple followed with a statement that it respected Chinese consumers and that its warranty policies were roughly the same worldwide with specific adjustments to adhere to Chinese law. This was not the response China's leadership was looking for. Public appearance means everything to the Chinese government, and they would like to favorably position the relationship prior to a major launch by an American company. A little public respect and deference on the part of Apple was required to show who is in charge of the relationship. This is the nature of the China business courting process.
Fearing impending retribution, Tim Cook then followed with a full apology on April 1st and communicated a new iPhone warranty policy on some of its phones sold in China. Almost immediately the praise for Apple rolled in from various China state owned media outlets and by the Foreign Ministry itself. I believe the speed and positive language of the Chinese response shows it always wanted the China Mobile deal with Apple (they are concerned about the dominance of Android, and would like a strong number 2 in the market), it just wanted the relationship positioned on its terms.
Greater China Growth Forecast and EBIT Impact
While most of the information I have presented here has been rumored and reported by various analysts and media outlets in pieces, what has been overlooked is the sheer size and potential of the agreement with China Mobile. Based upon various sources, I estimate that Apple sold about 22 million iPhones in Greater China during CY12 (~11% share of ~200M smartphone average from digitimes and IDC). Based on a reduced cost iPhone 5S coupled with the opening up of 70% of the market through the China Mobile agreement, Apple should confidently achieve the goal of capturing an additional 100 million iPhones per year by FY14, bringing their Greater China total to about 120 million phones. If Apple is successful in achieving this goal, their Greater China market share will be about 30% in FY14.
In terms of EBIT impact, I have assumed an average Greater China iPhone price of $450 (30% reduction) at 30% incremental operating margin (20% cost reduction) on 100 million incremental units. That would deliver $13.5M of incremental EBIT (nearly a 25% increase from FY12) just from the incremental Greater China smartphones. This does not include incremental iPads that could be sold through the agreement as well.
Conclusion
Apple has aligned its regional, segment reporting and product strategies to execute on a prolific market share gain of smartphones in Greater China. China itself welcomes a strong number two in its market as it is concerned about Android's dominance, and thus Google's (NASDAQ:GOOG) potential to exert control. This has set the stage for China to drive both Apple's growth and profits over the next couple of years by expanding Apple's operating profit by an estimated 25% with next generation iPhone's alone from just one operating segment. Based upon today's exceptionally low valuation and expectations, this should provide a positive catalyst for the stock over the next 3 to 6 months as this story plays out.
Disclosure: I am long AAPL. I wrote this article myself, and it expresses my own opinions. I am not receiving compensation for it (other than from Seeking Alpha). I have no business relationship with any company whose stock is mentioned in this article.