HudBay Minerals Inc. (NYSE:HBM) appears to be at a very good entry point, as for no justifiable reason, shorts have been pouring it on HudBay, even though it is well-financed and recently communicated it has more measured, indicated, and inferred mineral reserves at its Constancia mine than originally believed.
That, and production set to begin at its Reed copper project near Snow Lake, Manitoba in the fourth quarter of 2013, make this miner an excellent prospect going forward.
Macro-Economics and HudBay
While it doesn't explain the increase in the number of investors shorting the company, the recession in Europe and Japan, along with slowing growth in China, has put a damper on commodities in general, and no doubt is one of the factors in HudBay's weak share price. The possibility that the U.S. is on the verge of going into another recession has those researching the probable effects on natural resources nervous.
Yet when considering HudBay, there are a lot of mining companies in far worse shape than it is, but without the out-of-proportion number of investors shorting the firms. This presents a terrific opportunity, because it gives a snapshot of HudBay that isn't accurate, and those who know the company could do very well over the next several years if they buy at around these prices.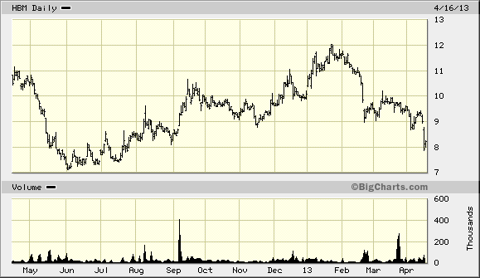 Analysts Ratings
Most analysts agree with my conclusion, as the majority have a "Buy" rating on HudBay, with 12 of the 17 holding that position. The average price target by analysts on the miner is $12.90. The average estimate for earnings per share is $0.03 for this quarter; $0.02 for the next quarter; $0.14 for this fiscal year; and $0.40 for the next fiscal year. Earnings for last year (2012) were $0.25 per share. On the New York Stock Exchange, Hudbay has a 52-week low of $7.11 and a 52-week high of $12.04. Its market cap is $1.41 billion based upon a price of $8.19 per share.
Is HudBay Minerals Oversold?
HudBay's Relative Strength Index, or RSI, has dropped to below 30, which is the metric used to determine whether or not a stock is in oversold territory. As of this writing, HudBay is below 28, confirming it is resting at a good entry point on the buy side. An entry point of course doesn't mean a stock can't or won't fall further, just that it is in a good position to make investors money at a specific price level range over time. In contrast, the RSI of Spot Gold is over 33, while Spot Silver is hovering around 20. Metals in general have an RSI between 34 and 35. I report these in a range, because they are fluid and consistently changing quickly in the current volatile market.
HudBay's Reserves
Part of the reason a solid project like Constancia isn't impressing investors at this time is the length of time before commercial production, along with the boost in the capital expenditure budget of HudBay, which secured capital from Silver Wheaton (NYSE:SLW) for its Constancia and 777 mines. Investors don't like miners with big budgets in the current economic climate.
Even so, with bankers in Europe no longer reliable financing partners for the mining industry, securing financing, especially with the solid resources HudBay has, should be considered a big positive. HudBay and Silver Wheaton have a long-term contract where Silver Wheaton will get 100 percent of the gold production at the 777 mine of the company for $400 an ounce through 2016 (it could extend longer), along with being able to acquire silver at $5.90 an ounce at 777 and Constancia.
In return, HudBay received $500 million for immediate use, and the potential of two payments of $125 million if the company meets specific metrics put in place. The first $125 million will be paid once capex reach $500 million, and the second $125 million will be paid when capex reach $1 billion. Measured, indicated, and inferred mineral reserves at HudBay were recently reported as increasing significantly.
HudBay reported this in a recent press release:
HudBay Minerals Inc. today announced an increase to its copper equivalent proven and probable mineral reserves for the third consecutive year. Copper equivalent proven and probable mineral reserves increased by 12% to approximately 3.6 million tonnes, including approximately 4 million ounces of precious metal equivalent proven and probable reserves, which increased by 16% from 2012. In addition, Hudbay has approximately 1.9 million tonnes of copper equivalent measured and indicated resources and approximately 2.2 million tonnes of copper equivalent inferred resources, including approximately 2 million ounces of precious metal equivalent measured and indicated resources and approximately 3 million ounces of precious metal equivalent inferred resources.
Reed Copper Project
The Reed copper project close to Snow Lake, Manitoba, Canada, is 70 percent owned by HudBay, with the remaining 30 percent owned by VMS Ventures Inc. (OTC:VMSTF).
Here's the most recent economic assessment of the project on a 100 percent basis:
Initial production at Reed is expected by Q3 - 2013 and will ramp up to full production of approximately 1,300 tonnes per day by Q1 - 2014. - Average expected reserve ore grades of 3.83% copper, 0.48 g/t gold and 6.02 g/t silver, slightly better than PEA due to the exclusion of the inferred resources in the pre-feasibility study. - Assumed metal recoveries in Hudbay's Flin Flon Concentrator of 94% copper, 58% gold and 62% silver. - Average production in concentrate of approximately 17,000 tons per year of copper metal. - Total operating costs estimated to average approximately $90 per ton milled ($67 per ton mining, $16 per ton milling and $7 per ton administration) over a five year mine life. - Sustaining capital expenditures are expected to total approximately $52 million over the five year mine life. - Pre-Feasibility pre-tax NPV (8%) of $57.4 million using weighted average metal prices of US$2.95/lb. for copper, US$1,269.09/oz. for gold and US$24.78/oz. for silver.
So far, the Reed project is projected to stay within budget. At this time, the joint venture has invested $30 million into the mine, with another $28 million expected to be spent on it. For 2013 capex are projected to come in at about $44 million. So far in a little less than a year, there have been no accidents resulting in lost time.
Consequently, production is expected to begin at Reed in the projected fourth quarter of 2013. Full production at the mine, which will generate about 1,300 tons a day, will be reached in the first quarter of 2014, barring any unforeseen events.
Conclusion
Although the Reed copper project is secondary to HudBay in the scheme of things, it's not insignificant that the company is building it out within budget and on schedule. It gives confidence in the management, effectiveness and competence of HudBay. Add to that the boost in its measured, indicated, and inferred mineral reserves at its Constancia project, and you have some solid reasons to like this undervalued and oversold miner.
When looking at the company as a whole, it seems the only negative weighing the share price down is the fact Constancia won't be commissioned until the first quarter of 2015 at the earliest. That of course has a similar effect as a mining company having production delays. It's likely that once production at Reed copper begins, it will give a positive boost to the share price of HudBay near the end of 2013, even though it should rebound nicely before that becomes part of the equation.
While there are a lot of legitimate reasons to short many mining companies, HudBay is one that shorts may be sorry for targeting, as it is simply a solid company positioned for a good run, especially at the share price it now sells for. Externally, the only other factor is the global economy, which will have a similar impact on the majority of commodity companies, of which HudBay is in a stronger position than most.
I think the shorts have done HudBay investors a favor by giving the appearance there is something amiss at the company, when all indications are it's doing extremely well. Those buying in at these price levels should do very well both short and long term.
Disclosure: I am long SLW. I wrote this article myself, and it expresses my own opinions. I am not receiving compensation for it (other than from Seeking Alpha). I have no business relationship with any company whose stock is mentioned in this article.