By: John J. Critchley, Jr.
Google (NASDAQ:GOOG) is set to report Q1 2013 earnings after the bell on Thursday, April 18th, and the Google rocket ship is expected to keep skyrocketing.
The underlying has been on a nice run this year, up 8.5% year-to date.
The Google success story has been well chronicled, but let's recap it's portfolio of products that makes the Mountain View, Calif., colossus such a juggernaut:
World's dominant and number 1 search engine - The company's emphasis on maintaining its leading spot in search has all but guaranteed that it will be the dominant player in desktop and mobile platforms for many years to come.

YouTub e-

the very popular video sharing website that Google acquired in 2006.
The most popular mobile operating system, Android. Nearly three quarters of the world's smartphones use Android. This dominating position in the mobile arena has allowed Google to generate robust mobile revenue growth.
The street expects Google's earnings to produce net income of $3.5 b, or $10.69 per share, a substantial 23% increase from last year's report of $2.8 billion, or $10.08 per share. On the revenue side, Google's is expected to announce $14 billion, according to a Thomson Reuters poll of Wall Street analysts. If this number is reached, that would amount to a 31% increase from $10.65 billion in the first quarter of 2012. (Click Here)
Currently, 30 analysts have a rating on GOOG with 20 maintaining Strong Buy ratings, 3 Buys and 7 Holds. There is mad love in the analyst community, as there are no analysts with a negative rating on the stock even though the company just pulled back from an all time high and is up more than 30 percent over the last year. At the current price of $785, Google lies a mere 5.5% from an all time high. Google has also outperformed the S&P 500 over the past, gaining nearly 30% versus a 13% rise in the broader index.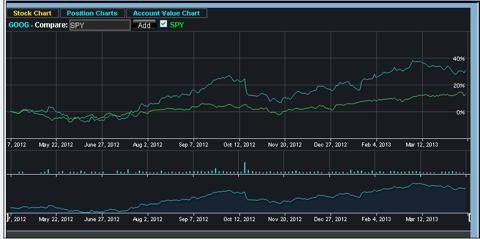 Source: sogotrade.com
However, more importantly than beating estimates and what ratings the analyst community have on the underlying, of course, is how the underlying reacts after reporting. In this area, GOOG has a mixed record in the last 7 quarters. The shares have gone higher in the following day in four of the last seven reports and lower in the other three quarters.
The average non-directional based percentage move has been 6.05%.

Options Play
With GOOG trading only 6.7% from all time highs, the implied volatility of the options is quite a distance from its 52 week highs. The 30 day implied volatility is trading around 25.81%, significantly less from the 52 week implied volatility high of 39.13% hit last July.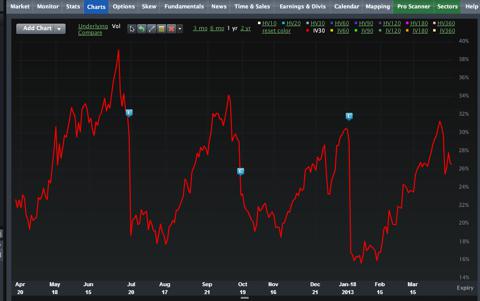 Source: Livevol(NYSE:R) Pro (livevol.com)
Options Plays
Trade idea #1-A Long Options Premium Play
What makes playing GOOG's earnings through the use of options quite tricky is that the company has a mixed history in the underlying movement post earnings.
Confused on what to do with the earnings? Long or short? How about playing both ways?
Although Google is trading nearly 6% off its recent highs, the implied volatility of the options is down 13.32%. from its 52 week highs.
Let's take advantage of these reasonable implied volatilities to initiate a position that takes advantage of any post-earnings move in the underlying. If you believe this scenario may play out, let's buy a straddle.
This is not a specific trade recommendation, but a trade analysis.
The play:
Buy April monthly 2013 780 strike straddle for $ 38.90. The implied volatility of this straddle is seemingly quite high at approximately 78.32% IV (Implied Volatility). This IV reading is, however misleading because the most important determinant of an options real value as it gets closer to expiration is the premium only, not the actual IV% reading. The premium over parity (POP) number of $38.90 is what is really paramount.
Net debit: $38.90
Why the 780 line? You are buying the At-the-Money straddle for $38.90. The breakevens for this straddle in the underlying are $741.10 and $818.90, respectively. These breakeven points represent a 4.9% move in the underlying.
As mentioned earlier, the average non-directional based percentage move has been 6.05%. If you buy the straddle, you are making the "bet" that the underlying will move in line with previous earnings moves and your buy of a (4.9% move) straddle will pay off.
Risk: The earnings report does not cause the expected movement in the underlying. This bet appears to have some edge (1.15%) However, there is an enormous amount of premium ($38.90) that you must lay out and potentially lose it the earnings area non-event.
Be forewarned. You may lose the entire premium. This play is for speculative monies only.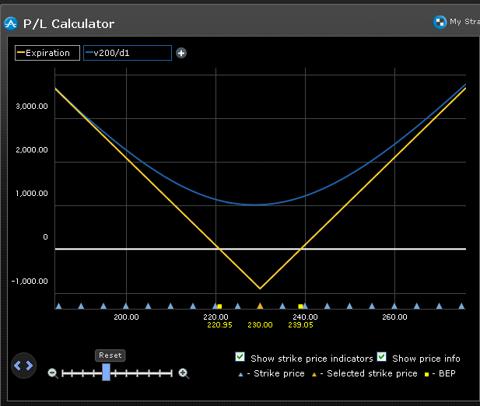 Source: sogotrade.com
Notes: Prices quoted where the prices at time of submission and do not reflect current market prices.
Disclaimer
We are not liable for any trading decisions made by any reader. No advice is given or implied. The information offered in this article is for demonstration purposes ONLY and should not to be either construed as an offer or considered to be a recommendation to buy or sell any options.
Your use of this information is entirely at your own risk. It is your sole responsibility to evaluate the accuracy, completeness and usefulness of the information. You must assess the risk of any trade with a professional broker, or financial planner, and make your own independent decisions regarding any trades mentioned herein. This is not a solicitation to buy or sell any options, or to purchase or sell any credit spreads. Trading options only carries a high degree of risk, is not suitable for all traders/investors, and you may lose all of your premium money invested in the options. If you have never traded options before, we strongly recommend that you read a little background information made available by the government. Only you can determine what level of risk is appropriate for you. Also, prior to buying or selling an option, a person must receive a copy of Characteristics and Risks of Standardized Options.
Past performances DO NOT guarantee future results. Please consult with your own independent tax, business and financial advisors with respect to any trade. We will NOT be responsible for the consequences of anyone acting on this purely demonstration material.
Disclosure: I have no positions in any stocks mentioned, and no plans to initiate any positions within the next 72 hours. I wrote this article myself, and it expresses my own opinions. I am not receiving compensation for it (other than from Seeking Alpha). I have no business relationship with any company whose stock is mentioned in this article.